PRESS RELEASE
Featuring high-speed autofocus as fast as 0.1 seconds and zoom assist monitor for easier telephoto photography
Tokyo, Japan, November 15, 2011-Ricoh Co., Ltd. (president and CEO: Shiro Kondo) today announced the development and release of the CX6, a new digital camera featuring a high magnification 10.7x (28-300 mm) optical wide-angle zoom lens that achieves even shorter autofocus (AF) times through the introduction of a new AF system.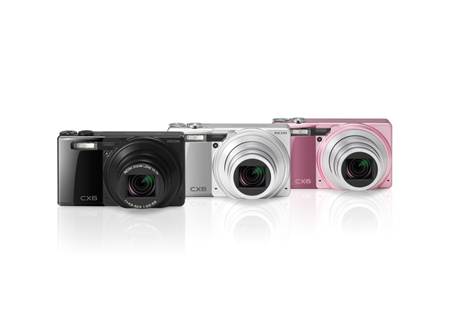 With the adoption of a new system enhancing both the hardware and software of the hybrid AF system introduced on the CX5, the new CX6 achieves AF focusing times as fast as 0.1 seconds. You will be sure to capture that fleeting shutter chance.
The high-brightness LCD monitor is approximately 1.7 times brighter than the previous model for better visibility outdoors. The CX6 also adds a function for automatic adjustment of brightness based on the level of brightness of the subject, and this make it possible to minimize the loss of visibility that can occur due to changes in the shooting environment. In addition, for telephoto shooting, the new zoom assist monitor function displays a small image on the LCD monitor so that you can always check the framing of the shot.
The new aperture/shutter-speed priority modes enable you to more richly express the atmosphere of the subject, and the snap movie function lets you more easily enjoy shooting movies. A release button especially for movies has also been added, and a wider range of functions (autofocus, zoom, etc.) are available for movie shooting.
The CX6 compact digital camera takes the design concept of "A tool you will want to use every day" another step forward. The CX6 will be available at SRP £259.99 in early December.
<Main features of the new CX6>
1. Even greater speed achieved with enhancement of Ricoh's original hybrid AF system
・ With the new system created, by enhancing both the hardware and software of the hybrid AF system introduced on the CX5, the CX6 achieves focusing times as short as 0.1 seconds not only at 28 mm wide-angle but also at 300 mm telephoto. No matter where in the zoom range you are shooting, you can capture that shutter chance.
・ AF continuous shooting has been added to the continuous shooting menu. With this function, the CX6 can continuously shoot even moving subjects at speeds of up to 3 frames/second while continuing to focus.
*AF focusing times were measured under Ricoh measurement conditions.
2. Easy framing of telephoto shots with the new zoom assist monitor function
・ During telephoto shooting at 93 mm and higher, the new "zoom assist monitor" display mode simultaneously displays on the LCD monitor a small image equivalent to an 85 mm focal length. The resulting ability to always confirm the framing position makes telephoto shooting even easier.
3. Super-resolution technology and a noise reduction function for high image quality across a wide range of photo expression
・ By performing noise reduction processing immediately after the signal is output by the CMOS sensor, the CX6 is able to reduce noise while maintaining resolution, tone characteristics, and color saturation. When noise reduction is set to MAX, it is possible to do sophisticated variance-estimation type noise reduction processing in which the sensor image data's noise distribution is analyzed and the optimum processing is done for each region.
・ The back-illuminated CMOS sensor is strong in low-light shooting situations.
・ Super-resolution technology enables the CX6 to record photographs with a high-resolution feel by automatically discerning outlines, details, and gradations in the image and processing it based on the optimum settings for each. The level of super-resolution can be set to Off, Weak, or Strong.
4. Aperture/shutter-speed priority (A/S) modes have been added to the mode dial for even greater shooting freedom
・ The CX6 expands your shooting freedom by adding aperture priority (A) mode and shutter-speed priority (S) mode. These modes bring the photographer a richer range of expressive possibilities. For example, the ability to specify maximum or minimum aperture can be used when you want to make the subject stand out in macro photography, and the ability to adjust the shutter speed will enable you to handle situations where you want to emphasize subject movement or freeze the movement of a subject in motion.
5. 10.7x 28-300 mm optical zoom plus super-resolution zoom equivalent to up to 600 mm
・ Ricoh's original retracting lens system has made it possible to fit the high-magnification 10.7x optical wide-angle zoom lens into a thin 28.5 mm compact body.
・ The super-resolution zoom can zoom up to 2x. It enables you to do telephoto photography up to an equivalent of 600 mm with minimal image quality deterioration.
・ Using the digital zoom enables you to magnify the subject beyond the super-resolution zoom level and shoot with super-telephoto photography at a maximum of 2880 mm.
6. Movie release button added for easier movie shooting
・ In a first for the CX series, the CX6 has a new release button especially for movie photography. Now you can easily enjoy shooting movies even without a mode dial change.
・ The addition of autofocus and zoom functions enhances your ability to shoot high-quality movies.
・ There is a "snap movie shooting" function for shooting of short video clips and also functions for easily segmenting and playing video clips. Together these capabilities make it easy for you to create and view video works in the camera. Stereo sound recording* is also possible so you can shoot not just images but also movies with a realistic feel.
*The sound is recorded in stereo, but playback on the camera is done in monaural.
7. High-brightness LCD monitor approx. 1.7 times brighter than before; automatic brightness adjustment function also added
・ The 3.0-inch 1.23-million-dot* VGA LCD monitor has a wide viewing angle and a brightness level approximately 1.7 times higher than the CX5. It achieves excellent visibility even outdoors.
・ A function has been added for automatic adjustment of brightness by the camera. It minimizes loss of visibility caused by changes in the shooting environment.
・ The screen has a fluorine coat to prevent soiling, a hard coat to prevent scratches, and an anti-reflection coat for excellent visibility.
* White pixels added to RGB for approximately 1.23 million dots.
8. "Bleach bypass" added for more creative fun with creative shooting mode
・ Recording images with heightened contrast and muted colors, bleach bypass enables you to create pictures with atmosphere and an austere elegance.
<CX6 options>
Product Model
Rechargeable battery DB-100
Battery charger BJ-10
Soft case (black) SC-100BK
Soft case (white) SC-100WT
Cable switch CA-2
HDMI cable  HC-1
Neck strap (black) ST-4BK
Neck strap (pink) ST-4PK
Neck strap (blue) ST-4BL
Neck strap (green) ST-4GR
Neck strap (brown) ST-4BN
* All of the focal lengths in this release are converted to the equivalent values for a 35 mm film camera.
* The term "MP file" used in this release refers to "Extended MP files" conforming to the "multi-picture format" standardized by the CIPA. (The file extension is MPO.) With MP file images recorded by the CX6, a selected frame can be extracted and saved as an individual JPEG image within the camera.
<CX6 Major Specifications>
Effective pixels:
Approximately 10.00 million
Image sensor:
1/2.3-inch CMOS sensor (total pixels: approx. 10.60 million)
Lens:
Focal length: f=4.9-52.5 mm (Equivalent to 28-300 mm on a 35 mm film cameras. With step zoom set, option of 8 fixed lengths: 28 mm, 35 mm, 50 mm, 85 mm, 105 mm, 135 mm, 200 mm, and 300 mm.)
F-aperture: f/3.5 (wide-angle) - f/5.6 (telephoto)
Shooting distance (from front of the lens):
Normal shooting: Approx. 30 cm - infinity (wide-angle), approx. 1.5 m - infinity (telephoto)
Macro shooting: Approx. 1 cm - infinity (wide-angle), approx. 28 cm - infinity (telephoto), approx. 1 cm - infinity (zoom macro)
Construction: 10 elements in 7 groups (4 aspherical lens elements with 5 surfaces)
Zoom:
Optical zoom: 10.7x (Equivalent to 28-300 mm on a 35 mm film cameras.)
Super-resolution zoom: 2.0x, up to 21.4x (equivalent to 600 mm) when used with optical zoom
Digital zoom: 4.8x, up to 103x (equivalent to 2880 mm) when used with optical zoom and super-resolution zoom
Auto resize zoom: 5.7x*1, up to 61.0x*1 (equivalent to 1710 mm) when used with optical zoom
Focus mode:
Multi AF / Spot AF / Face-priority Multi AF (contrast AF method, with AF auxiliary light) / Subject-tracking AF / Multi-target AF (contrast AF method) / Manual Focus / Snap / ∞ (fixed-focus method)
Image stabilizer:
Image sensor shift method image stabilizer
Shutter speed:
Still Image*2: 8, 4, 2, 1 - 1/2000 sec.
Movie: 1/30 - 1/2000 sec.
Continuous shooting:
Continuous shooting speed*3: Approx. 5 frames/sec. (when shooting 10M 4:3F, the speed from the 12th shot on is 3 frames/sec.)
Continuous shooting capacity: 999 pictures
Exposure control:
Exposure metering mode: Multi (256-segment) / Center-weighted Light Metering / Spot Metering
Exposure mode: Program AE / Aperture priority AE / Shutter speed priority AE
Exposure compensation: Manual (-2.0 to +2.0 EV in increments of 1/3 EV) / Auto Bracketing (-0.5 EV, ±0, +0.5 EV)
Exposure range (auto mode, center-weighted metering): Wide-angle: 3.2 - 16.2 EV, Telephoto: 4.6 - 18.4 EV
(Exposure range for auto ISO calculated using EV for ISO 100.)
Note: At 6.0 EV or lower, each drop of 1.0 EV is associated with a 0.5 EV drop in brightness. Brightness drops by no more than -1.0 EV.
ISO sensitivity (standard output sensitivity):
Auto / ISO 100 / ISO 200 / ISO 400 / ISO 800 / ISO 1600 / ISO 3200
White balance:
Auto / Multi-Pattern Auto / Outdoors / Cloudy / Incandescent 1 / Incandescent 2 / Fluorescent / Manual, White balance bracket function
Flash:
Flash mode: Auto, Anti Red-eye, Flash On, Flash Synchro, Flash Off
Flash range: Approx. 20 cm - 4.0 m (wide-angle), approx. 28 cm - 3.0 m (telephoto)
(Auto ISO with maximum ISO of 1600; measured from front of lens.)
Flash compensation: ±2.0 EV in 1/3 EV steps
Monitor:
3.0-inch transparent LCD (approx. 1.23 million dots)
Shooting mode:
Still Image:
Auto / My Settings / Aperture/Shutter-Speed Priority / Continuous / Creative Shooting (Dynamic Range Double Shot, Miniaturize, Bleach Bypass, High Contrast B&W, Soft Focus, Cross Process, Toy Camera) / Scene (Portrait, Landscape, Discreet, Night Portrait, Night Landscape Multi-shot, Fireworks, Cooking, Sports, Pets, Golf Swing Continuous, Zoom Macro, Skew Correct, Text) / Scene Auto
Movie:
Movie / Snap Movie
Picture quality*4:
F (Fine) / N (Normal)
No. of Pixels Recorded:
Still Image/Multi-Picture: 3648 x 2736, 3648 x 2432, 2736 x 2736, 3648 x 2048, 2592 x 1944, 2048 x 1536, 1728 x 1296 (multi-picture only), 1280 x 960, 640 x 480
Text: 3648 x 2736, 2048 x 1536
Movie: 1280 x 720, 640 x 480
Recording Media:
SD memory card, SDHC memory card (up to 32 GB), Internal memory (approx. 40 MB)
Eye-Fi card (X2 series) *5
Storage Capacity (Pictures/Time)*6 (internal memory approx. 40 MB):
Still Image/Multi-Picture/Text: 3648 x 2736 (F: 10, N: 17), 3648 x 2432 (F: 11), 2736 x 2736 (F: 13), 3648 x 2048 (F: 13), 2592 x 1944 (F: 15), 2048 x 1536 (F: 24), 1728×1296 (N: 57) (M-Cont Plus), 1280 x 960 (F: 43), 640 x 480 (F: 158), 640 x 480 (N: 254)(Speed Cont)
Movie*7: 1280 x 720 (7 sec.), 640 x 480 (21 sec.)
Recording File Format:
Still Image: JPEG (Exif ver. 2.3) *8
Multi-picture: CIPA DC-007-2009 Multi-Picture Format
Movie: AVI (Open DML Motion JPEG Format compliant)
Compression method: JPEG Baseline method compliant
Other Major Shooting Functions:
Still image/Multi-Picture/Text:
Continuous mode, Self-timer (operation time: approx. 10 seconds, approx. 2 seconds, Custom), Interval shooting (shooting interval: 5 seconds to 1 hour, in increments of 5 seconds), Color bracket, Focus bracket
Movie:
Optical zoom, Stereo sound, Shoot with splitting (available number of split point: up to 10 points)
Display:
AE/AF target shift, Histogram display, Zoom assist display, Grid guide display, Electronic level
Other Major Playback Functions:
Still Image/Multi-Picture/Text:
Thumbnail view, Enlarged view (maximum ×16), Resize, Level Compensation, White Balance Compensation, Skew Correction, Trim, Flag Function (the display order option is available), Slide show, DPOF
Movie:
Split Movie, Flag Function (the display order option is available)
Interface:
USB/AV Out dual terminal: USB 2.0 compliant, mass storage compatible*9
HDMI Micro output terminal: Type D
Video Signal Format:
NTSC, PAL
Power Supply:
Rechargeable Battery (DB-100) x 1
Battery Consumption*10:
Using the DB-100, approx. 260 pictures (when Sleep is OFF*11)
Dimensions (W × H × D):
103.9 mm x 58.9 mm x 28.5 mm (23.1 mm at thinnest part)
Weight (approx.):
Approx. 201 g (including the supplied battery and SD memory card)
Approx. 180 g (body only)
Operating temperature:
0 °C to 40 °C
*1. VGA image size
*2. Shutter speed upper and lower limits vary depending on Shooting Mode and Flash Mode.
*3. Values measured under Ricoh measurement conditions using a Panasonic PRO HIGH SPEED 8GB SDHC memory card. The continuous shooting speed and number of pictures will vary depending on the shooting conditions, the type of recording media used, the condition of the recording media, etc.
*4. The picture quality modes which can be set vary depending on the image size.
*5. Eye-Fi cards are approved for use in the country of purchase only. For more information on Eye-Fi cards, visit the Eye-Fi webpage http://www.eyefi.co.jp).
*6. Estimated number of still images it is possible to record and estimated amount of movie recording time.
*7. The maximum size for one instance of movie recording is 4 GB. When the movie size is 1280 x 720, the maximum recording time is 12 minutes, and when the size is 640 x 480, it is 29 minutes.
*8. Compatible with DCF and DPOF. DCF is the abbreviation of the JEITA standard "Design rule for Camera File system." (Full compatibility with other devices is not guaranteed.)
*9. Mass storage driver is compatible with Windows® XP, Windows Vista®, Windows® 7, Mac OS X 10.1.2-10.6.7.
*10. Shooting capacity was measured using CIPA-standard parameters. These are only estimates; performance may vary depending on usage conditions.
*11. When Sleep is 10 seconds, the number is approximately 300 pictures.