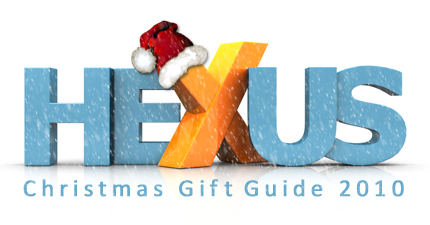 It's that time of year again. The HEXUS editorial team recently attempted a bout of Christmas shopping at Birmingham's Bullring, and the massive crowds coupled with the coldest November temperatures since 1985 have convinced us to realise an obvious truth; it's easier, warmer and more convenient to get your shopping done online.
To that end, the team has put heads together and come up with a series of 10 technology gift guides that we hope will help take the guesswork out of your 2010 Christmas shop. Over the next fortnight, we'll be suggesting a wide range of gear that we ourselves wouldn't mind finding under the tree come December 25th.
This second installment attempts to dig through the burgeoning number of smartphone solutions and present to you our pick of the best budget options, as well as our favourite handsets running the big four operating systems - iOS, Android, BlackBerry and Windows Phone. And, if you're in the market for the smart but not the phone, we'll also be giving a nod to our preferred tablet computer.

Budget smartphones
Orange San Francisco

If you're still reluctant to give up your trusty Nokia 3210 in favour of a smartphone, what you need is a smartphone that costs just £99. The Orange San Francisco fits the bill, and is designed as a means to bring Google's Android operating system to the masses. The phone ships with Android 2.1, features a 600MHz processor, a 2GB microSD card, both 3G and Wi-Fi connectivity, FM radio, a 3-megapixel camera and a 3.5in capacitive touchscreen.

It's available exclusively from Orange, and that means two-for-one cinema tickets on Wednesdays and a free Christmas gift when purchased with a pay-as-you-go SIM.

Pay as you go price: from £99 at orange.co.uk

Three ZTE Racer

The Orange San Francisco isn't the only low-cost Android handset on the market, and if you're tempted by Three's offer of free Skype-to-Skype calls, take a look at the ZTE Racer. Priced at a penny under one hundred bucks, the Racer provides many of the same low-cost features - including a 600Mhz processor, a 2GB microSD card, 3G and Wi-Fi connectivity, FM radio and a 3-megapixel camera.

The 3.2in resistive display might take the gloss off the deal, but Three sweetens it up by throwing in a free All in One 10 top-up that provides 100 mins, 500MB internet and 3,000 texts right out of the box.

Pay as you go price: £99.99 at three.co.uk
Best of the rest
Apple iPhone 4

Despite growing competition from all corners of the mobile world, Apple's iPhone 4 remains the smartphone by which all others are judged. It's also one of the most expensive, but if you're already made your mind up - and you're willing to hold it the right way - the iPhone 4's retina display, abundance of apps and super-slick interface provide plenty of wow factor.

Apple's 5-megapixel camera captures impressive stills, and it's capable of shooting 720p HD video at 30 frames per second, too. The fact that it's also a high-end iPod heightens the appeal, and other features include FaceTime video calling, GPS navigation and regular software updates delivered right to your phone.

SIM-free price: from £499 at store.apple.com
HTC Desire

Choosing an iPhone is easy, but picking out an Android device? That's a whole other ballpark as there's now an abundance of handsets to choose from. The HEXUS team has been picking one another's brains for the past week, and we've come to a unanimous conclusion; HTC's Desire remains an excellent Android solution.

There are newer alternatives on the market - including HTC's own bigger, badder Desire HD - but the original Desire now rocks Android 2.2 and continues to improve through updates and signs of ongoing refinement. Armed with all the ingredients of a modern-day smartphone, the Desire packs a 1GHz Snapdragon processor, a 3.7in AMOLED screen, a 5-megapixel camera and HTC's lovely Sense UI. Whether or not the phone will be upgraded to feature the upcoming Android 2.3 "gingerbread" release is anyone's guess, but the HTC Desire already provides plenty of value Froyo money.

SIM-free price: £356 at amazon.co.uk
BlackBerry Torch

Q: What do most of the HEXUS team carry in their pockets? A: BlackBerrys.

Is it still the ultimate business phone? That's debatable, but the BlackBerry still rocks an excellent QWERTY keyboard and offers a long-running killer feature: BlackBerry Messenger (BBM). The latest addition to the BlackBerry range, the BlackBerry Torch, packs a 3.2in touchscreen, a slide-out keyboard, a 5-megapixel webcam and the latest release of the BlackBerry operating system.

The BlackBerry app store might be under-developed, and the handset's 624MHz processor isn't the quickest, but fans of the BlackBerry ecosystem aren't likely to be disappointed.

SIM-free price: £424 at amazon.co.uk
Samsung Omnia 7

iPhones, BlackBerrys and Android handsets might have been obvious choices last Christmas, but this year there's a new kid on the block that's hoping to disrupt the established order. It's unimaginatively dubbed Windows Phone 7, but it features on our list courtesy of its fresh new interface and its attempts to do things a little differently. With a tight grip on the software ecosystem and a wide variety of handsets, Windows Phone 7 is hoping to find a middle ground between iPhone and Android, and the initial batch of devices show plenty of promise.

Our pick is the Samsung Omnia 7, primarily due to its lush 4in Super AMOLED display. A 1GHz chip ensures snappy performance, and there's a good selection of multimedia features including a 5-megapixel camera that can shoot HD video and exclusive Xbox Live integration. Microsoft's operating system is missing a few key features in its early days - copy and paste comes to mind - but Samsung's Omnia 7 is genuinely interesting to use. And, if Microsoft delivers on its promise of regular over-the-air updates, the phone should only get better with time.

SIM-free price: £480 at play.com
The tablet factor
Apple iPad

Love it or loathe it, there's no denying that Apple's iPad has brought the tablet form factor back to life. Rival solutions are being introduced thick and fast, but we've yet to see anything that's as well finished and enjoyable as Apple's trendsetter. Having been left disappointed by some of the industry's first major alternatives, two members of the HEXUS editorial team have recently bitten the bullet and ordered an iPad apiece.

The 9.7in multi-touch display makes the most of an excellent mobile browsing experience, and the combination of an instant-on operating system and up to 10 hours of battery life make it one of the most convenient computing experiences available. Users who demand a physical keyboard will be better served by a notebook, but casual computing doesn't come much easier than this.

Price: from £429 at store.apple.com
HEXUS Christmas Gift Guides 2010