Today UK telecoms watchdog Ofcom has announced measures that it believes will result in "faster and cheaper mobile data services," for both businesses and consumers. In an email to HEXUS Ofcom said that mobile operators will, in the future, be able to make use of the 700MHz frequency band, where your digital terrestrial TV (DTT) services and wireless microphone (PMSE) signals operate. The plan should be implemented by 2022 but possibly up to two years earlier.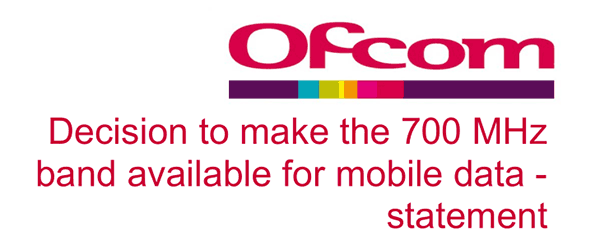 Ofcom has issued a press release about its decision to make the 700 MHz band available for mobile data and to explain the reasoning behind the move. Also it promises that enabling mobile broadband at 700MHz won't cause significant disruption to TV viewers or wireless microphone users.
Clearly the demand for mobile broadband is growing and Ofcom quotes estimates that "demand for mobile data could be 45 times higher by 2030 than it is today". So this is one of the changes coming up to make more mobile broadband available with the finite amount of spectrum available for it.
Using the 700MHz band doesn't just free up more capacity, Ofcom says that it "will allow mobile networks to provide better performance at a lower cost, which will bring considerable benefits to citizens and consumers". There are costs involved in the change but on balance the costs are outweighed by the benefits, says Ofcom. The new plan will be implemented "without causing significant disruption to viewers," we are told. The only negative impact upon the average UK resident will be the need to retune their TVs some time in 2019.
Ofcom says that implementation of this plan will start immediately as it needs to coordinate with DTT providers, PMSE stakeholders, the government and TV viewer representatives. As mentioned in the intro mobile broadband speeds and capacity should be seen to benefit by 2022 but it will be implemented "sooner if possible".
A PDF statement with further details about why Ofcom made this decision and its implementation plans is available here.