Troublesome telcos
UK telco regulator Ofcom has published its latest quarterly summary of complaints data. It reveals that the most complained-about company for landline and broadband services is TalkTalk, while the most ire-inducing mobile operator is 3.
The charts below illustrate the complaints per 1,000 users between April and June of this year, as well as the previous two quarters. The first one covers landline providers and, as you can see, TalkTalk is easily the most complained-about, although it does seem to have got its act together in the past few months.
Over to broadband and TalkTalk is once more the main focus of consumer wrath. You have to assume that many of the complaints Ofcom received for TalkTalk are for both landline and broadband, as they follow a pretty similar pattern. BT seems to be going down in its users' estimations on the broadband side of things, and is in danger of supplanting TalkTalk at the top of the list of shame.
On the mobile side of things 3 is far and away the most complained-about operator in the last chart, and things seem to be getting worse. This could, in part, be a consequence of its recent marketing drive to promote its unlimited mobile broadband tariff, at a time when its competitors are applying ever-tighter caps to theirs.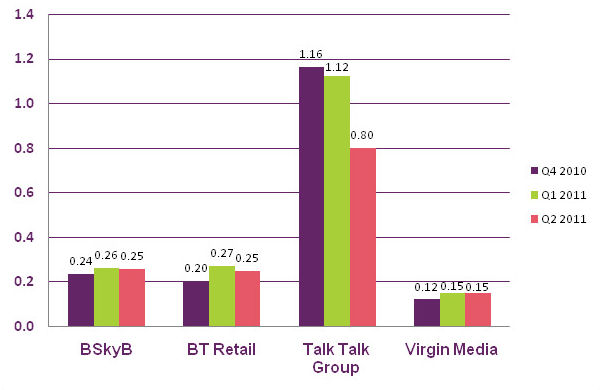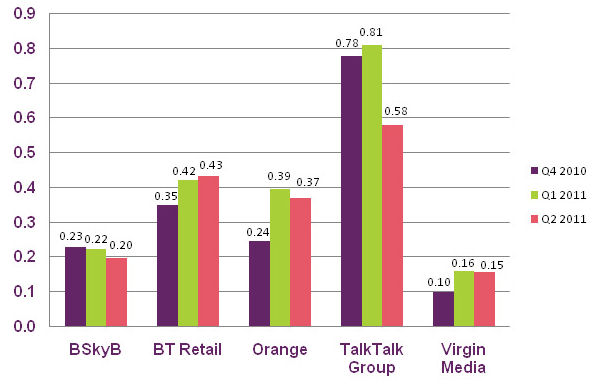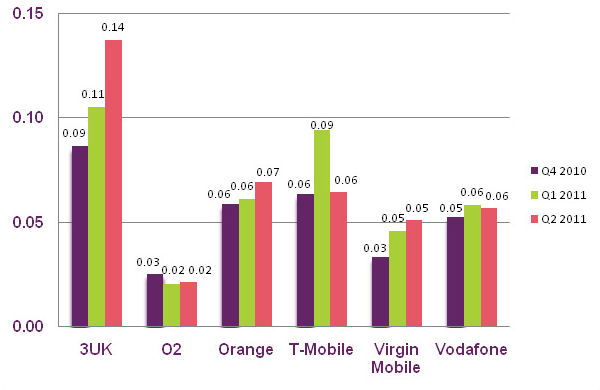 One thing both of TalkTalk and 3 have in common is being relatively new to the market, and thus having to be extra aggressive in competing for market share. As is often the case, per pursuit of growth, first and foremost, can come at the expense of the quality of product. While TalkTalk seems to be headed in the right direction, 3 needs to be careful it doesn't drive its hard-won new customers away.
And Virgin shows that being a market underdog doesn't have to mean cutting customer service corners. The only company to feature in all three charts scores pretty well across the board, making Virgin triple-play - or quad-play if you fancy cable TV too - a very credible option.