Fruit salad
The official launch date and up-front pricing for the iPad in the UK was announced today, and mobile operator Orange has wasted little time in offering a range of 3G data tariffs.
Orange has tried to offer a broad range of options for users who will probably have no idea what their data requirements will be for this new type of device. But it's generally assumed that watching video will be one of the main uses of the iPad, so it will be interesting to see what typical monthly data usage is.
If you've really got no idea what your 3G data requirements will be, Orange has a pay-for-what-you-use option in which it provides you with the requisite micro-SIM and give you £10 credit when you sign up. Thereafter you pay 5p per megabyte, but Orange says you'll pay no more than £40 per month. We're looking into whether this means it's capped at 800 MB.
There are also a few 'bundles' offering daily, weekly and monthly rates as detailed below. We hadn't seen any announcements from the other operators at time of writing.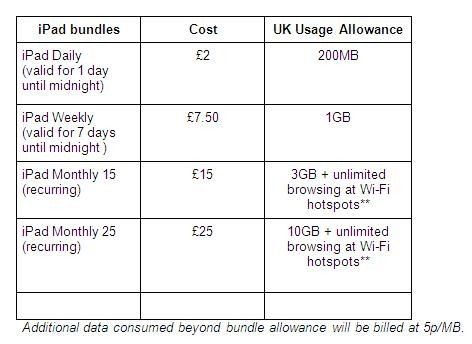 UPDATE - 18:00, 7 May 2010: We've just heard from Orange and the 5p per MB deal does allow you to go over 800 MB without incurring any extra charge. It's subject to 'fair use', which we understand gives you a further 2 GB of wriggle room once you hit £40 before Orange is likely to have a word.
There's also a fair usage policy applied to the BT Openzone Wi-Fi hotspot offer of 750 MB.