A new market report from Ecom Insights suggests that Microsoft's Surface products are having a huge impact in disrupting the balance of sales in the tablet market. Windows focussed site WinBeta got early access to a report by Ecom Insights, which observes that Microsoft achieved number one spot in US tablet sales in October.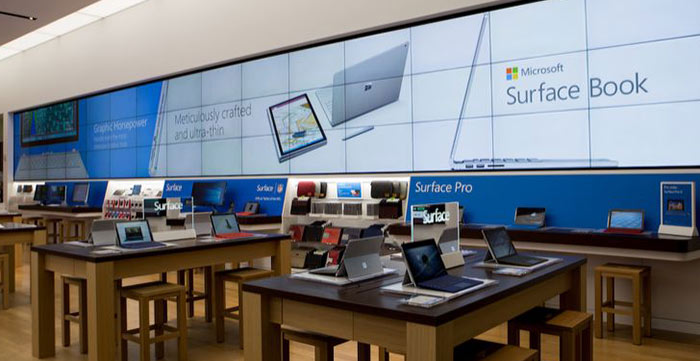 The full title of the yet to be officially published report is '1010data Facts for Ecom Insights, January 2014 – October 2015'. The data is sourced from millions of online shoppers in the US. Ecom Insights says that it "applies advanced, proprietary statistical modeling, machine learning, and data science techniques to ensure that its panel is representative of the Internet Browsing Population in the U.S. and suitable to extrapolate observations to the broader population." The top 100 online retailers in the US, "which make up over 95 per cent of hard line goods ordered online" are covered by the statistics gathering.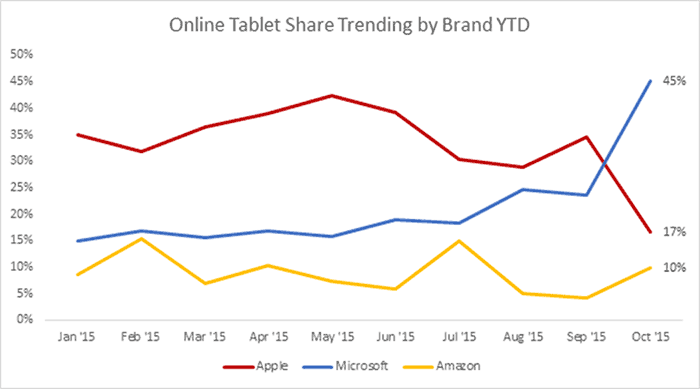 Until October you can see that Microsoft's share is climbing slowly - and then it spikes. Figures for that month suggest tablet share in the US was 45 per cent for Microsoft, Apple's share dropped to 17 per cent and Amazon held 10 per cent. As most tech watchers will be aware, October coincides with the introduction of the Microsoft Surface Pro (tablet) and Microsoft Surface Book (2-in-1). The report counts 2-in-1s in its tablet sales figures.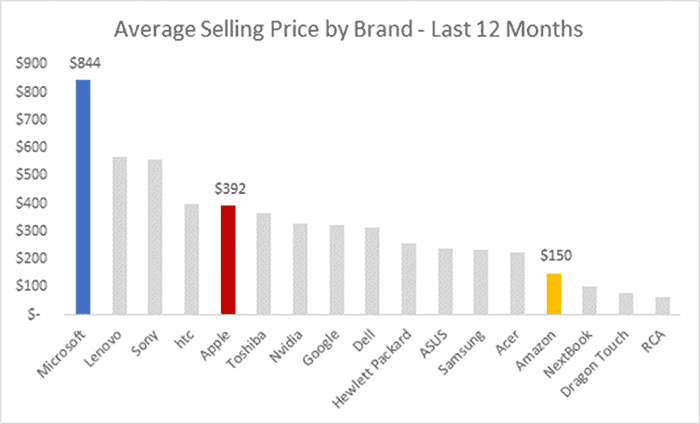 Impressively for Microsoft its average selling price is head and shoulders above rival tablet makers. Apple might be trying to address that with the 12.9-inch iPad Pro which was announced in September but only became available in the second week of November.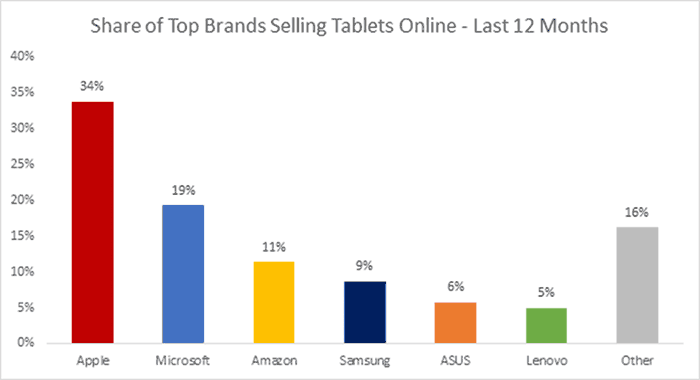 Looking back over the last 12 months puts Apple in a commanding lead for overall tablet sales, as you can see above. The industry is expecting 2-in-1s to be one of the most popular types of computing devices in the coming months. It will be very interesting to see the tablet sales numbers this time next year – will the iPad Pro help claw back market share for Apple or is it too little, and too expensive, too late?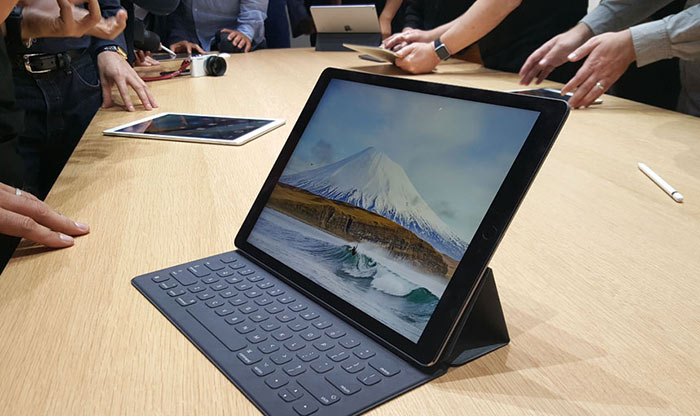 All charts from Ecom Insights, via WinBeta.