Amazon first publicised its plans to deliver goods by drone a couple of years back. Now, with 'Cyber Monday' upon us, the etailing giant has revealed further practical details about its Prime Air delivery service. Former Top Gear presenter Jeremy Clarkson explains how the new fast delivery service will work in a newly published YouTube video.
The video above represents the first time since the initial announcement in 2013 that Amazon has shown off its prototypes in public, reports the Wall Street Journal. Amazon's Prime Air service will deliver good in 30 minutes or less.
It is interesting to hear design specifics about the Prime Air prototype and its capabilities. Clarkson's voice over states that the drone uses its propeller like a helicopter to climb up as high as 400ft before changing the prop orientation to work like an aeroplane (400ft is the US FAA limit for 'hobby aircraft'). The drone in the video "can fly for 15 miles," implying a maximum return journey of about 7 miles each way. It has built in sensors for navigational parameters, obstacles. We could see that its air speed was approaching 60mph. The Amazon Prime Air purchaser is seen using a special 'helipad' mat to designate a safe landing area for the drone, in their back garden.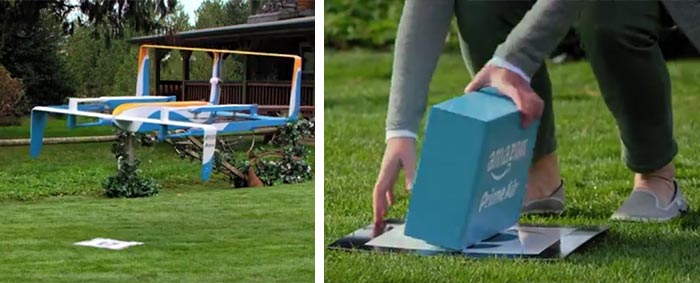 As the WSJ says, the new video reaffirms Amazon's commitment to the Prime Air project. In addition to the drone we see in this video, the firm plans a series of drones for different environments and cargo types. Google and Walmart are also looking into drone delivery services, however no player has firm published plans or schedules for implementing this type of delivery system.
Amazon Fire TV smart device control
In another piece of recent Amazon news, smart home device control via simple voice command functionality has been announced for the 4K Fire TV box. For example you can ask your 2015 Fire TV STB to dim the lights as you sit and queue up a movie. Voice commands can also now go as far as searching local businesses and restaurants.