Amazon has announced that Amazon Prime members in the UK can enjoy Sunday deliveries at no extra cost - "making every day an Amazon Prime delivery day". The infrastructure in place right now means that not everywhere in the UK is covered, despite the small size of this island nation, only London, Birmingham, Milton Keynes, Oxford, Nottingham, Manchester and Leeds are covered by the Sunday service right now.
The Sunday delivery service was trialled in London during December, in the run up to Christmas, and as a 'success' is now being spread much wider than just the capital city. Readers should note that the US version of the service is also limited to large conurbations such as LA and NYC with other large cities also earmarked to get the service shortly.
"Delivery on a Sunday means every day is now an Amazon delivery day and that Prime members can enjoy even more convenience when shopping on Amazon," said Jamie Stephenson, UK Director for Amazon Logistics. "At Amazon, we're continually innovating on behalf of our customers. We know customers really appreciated the immediacy of Sunday deliveries during the Christmas period and we were able to deliver thousands more parcels in this way in those four weeks."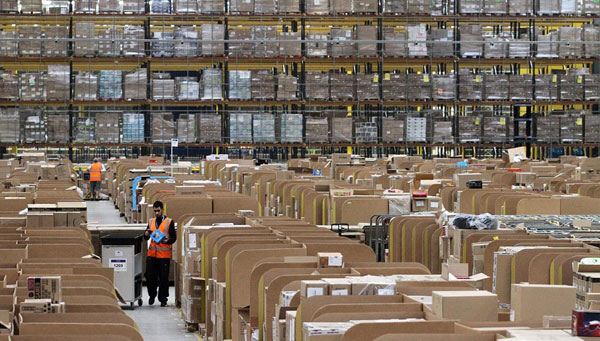 If you are in one of the designated areas and an Amazon Prime member you will simply add an Amazon Prime eligible item to your basket and you will see the Sunday delivery offer as part of the One Day Delivery promise on the relevant day. Amazon adds that this will occur or cusmtomers "when it is available in their region," - so some of the cities listed above may not be ready for the Sunday delivery option at this time - it's not clear.
Amazon's anticipatory shipping - predicting local demand
Just before the weekend there was an interesting story about Amazon preparing to ship things even faster and more efficiently to the customer. A patent was found detailing 'anticipatory shipping' which some news sites put a spin on, making it sound like Amazon would send you stuff that it knew you wanted even before you ordered it. Anyway, it's just an interesting system where stock is sent to warehouses near areas of high predicted demand for that product - it should make shipping easier/quicker when things are subsequently ordered.