Amazon today launched its AutoRip service for UK customers. Amazon customers in France, Germany and Italy got AutoRip functionality earlier this week. People who have bought CDs, cassettes and vinyl recordings from Amazon from as far back as 1999 (2000 in France) will have MP3 versions of all the music they have bought added to their Amazon Cloud Player automatically, for free.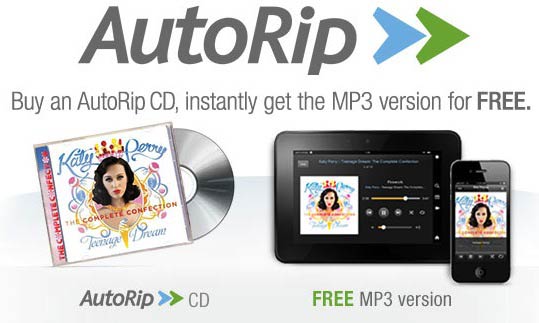 "What would you say if you bought CDs, vinyl or even cassettes from a company 14 years ago, and then 14 years later that company licensed the rights from the record companies to give you the MP3 versions of those albums... and then to top it off, did that for you automatically and for free?" said Jeff Bezos, Amazon.com Founder and CEO. "Well, starting today, it's available to all of our Amazon.co.uk customers – past, present, and future – at no cost. We love these opportunities to do something extra for our customers."
The AutoRip service started for US customers in January this year and we covered it here in HEXUS news. Readers were, on the whole, very positive about the service and looked forward to it launching in the UK. Just as in the US, European customers just need to look for the AutoRip logo next to the CD sales listings to see if the free downloads will be automatically added to their account. "More than 350,000 albums, including titles from every major record label, are available for AutoRip, and more titles are added all the time," says Amazon. However I note that in yesterday's Wired article about the European AutoRip launch that German users will have access to even more albums; as many as 500,000.

With Amazon's Cloud Player you can enjoy this purchased music anywhere "instantly from any Kindle Fire HD, Kindle Fire, Android phone or tablet, iPhone, iPad, iPod Touch and any web browser". The music files can be downloaded as "high-quality 256 Kbps MP3s" for offline playing. As well as being a kind of "back up" for your CDs it also lets you purchase your physical media and while you wait for it to be delivered in the post you have full access to the AutoRip files immediately. While the AutoRip music is automatically added to your Amazon Cloud Player storage the files don't count towards using up your Cloud Player storage limits.
The Guardian spoke to Amazon's vice president for digital music Steve Boom and got some interesting background information on the new UK service. Boom said that people "can get the best of both worlds. A lot of people still like having that physical product. They like to collect, or they like the album art and liner notes that aren't as good in digital." He also suggested AutoRip builds a bridge between physical and digital realms which would be gentle on users' sensibilities. The Amazon VP told how it has taken "several years" to get all the rights from the music publisher labels sorted out.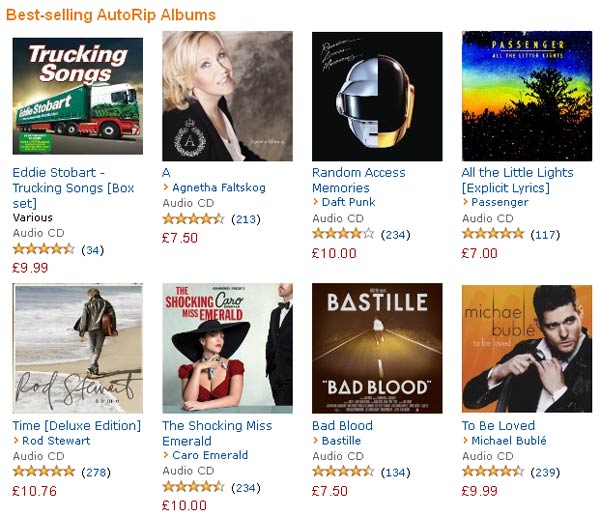 An interesting angle, looking at the benefits of AutoRip for musical artists, was also revealed by the Guardian interview. Boom told the daily UK newspaper "… AutoRip is adding value back to owning an album. The digital business is very track-focused, and not as much album-focused. Artists like this (AutoRip) because it encourages people to buy the whole album."
I've just optimistically checked my Amazon Cloud Player to find it completely empty…