Google Street View's latest virtual tour is taking armchair explorers to Nepal and the region surrounding Mount Everest. Google announced its partnership with Kathmandu-based start-up Story Cycle and Apa Sherpa, the Sherpa mountaineer who "holds the world record for reaching the summit of Mount Everest 21 times," via its Maps blog.The team has gathered breathtaking images of the local communities of the Khumbu region surrounding the world's tallest mountain.
The special project saw the crew travel through the heart of the Sagarmatha National Park, showing a rare glimpse of life in what has been deemed as one of the most inaccessible places on Earth. Embarking on a 10-day journey on foot, over 45,000 panoramic images of the remote villages inhabited by the ethnic Sherpa community near the mountain were taken using two single-lens tripod cameras and a 15-lens custom-built 'Trekker' unit designed for backpacks.
Although the project does not take viewers to the top of the mountain, it covers communities at the base of Everest including Phortse, Khumjung, Thame, Lukla, and the Namche Bazaar. Google's latest tour allows viewers who want to enjoy Everest but stay warm at the same time to explore each village in detail, showing medical centres, churches, and even the residents of the communities including Kancha Sherpa, the last living survivor of the first expedition to summit Mt. Everest.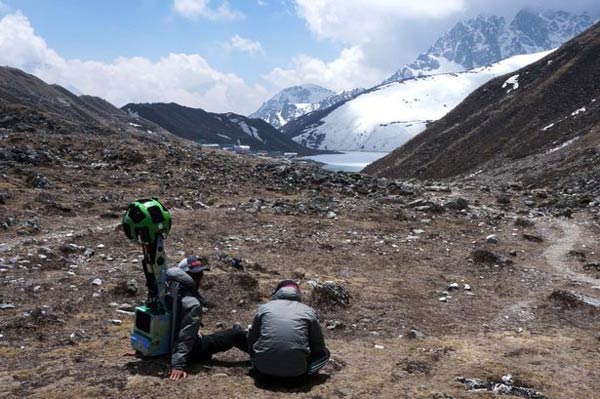 "Everyone in the world knows Mount Everest but very few people know how hard life is in these villages," said Apa Sherpa, who was forced to drop out of school at 12 and work as a porter after his father died. After retiring from climbing, he set up a nonprofit educational charity that works to give more opportunities to the children in Lhumbu. "Thanks to Google Street View, everyone can see these villages and understand that people here need help. Hopefully we can then raise funds to build more schools and hospitals for them."
You can explore and take a look around by clicking here. A video highlighting the Google Maps team trek is embedded below.
A previous Google mapping project, The Seven Summits, covered the Everest peak, as well as iconic mountains such as Aconcagua (South America), Kilimanjaro (Africa) and Mount Elbrus (Europe).