Last week Microsoft started giving OneDrive users an extra 100GB storage for free, for two years, through its Bing Rewards programme. Interested cloud storage fans weren't required to redeem Bing Reward points only to sign up for a newsletter. The offer only worked in the US because that is the only region where the Bing Rewards programme runs.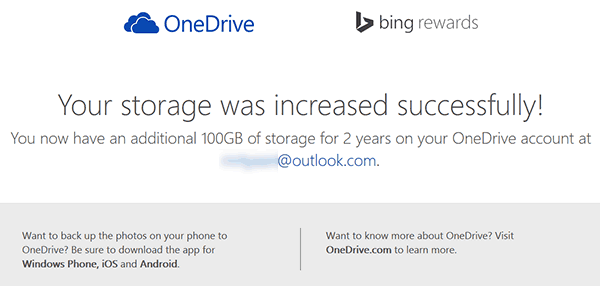 Microsoft OneDrive users outside of the USA voiced their disappointment about being excluded from this 'freebie' and yesterday Microsoft opened up the extra free storage offer to anyone, worldwide, as noted by WMPowerUser. The 100GB extra storage link seems a bit convoluted, and I can't find the official source of it. However I tried it (I'm based in the UK) and it worked without a hitch. Kerching! - extra cloud storage free for two years that might be useful.
Dropbox users get an extra 100GB OneDrive storage
Have you used up your 100GB of extra storage already? Or perhaps you just like to hoard cloud storage. Well, if you have a Dropbox account you can get an additional 100GB free OneDrive storage, thanks to a new promotion Microsoft has put in place. As noted by NeoWin, all you have to do is visit the OneDrive bonus offer page and verify your Dropbox account. This extra storage expires in one year.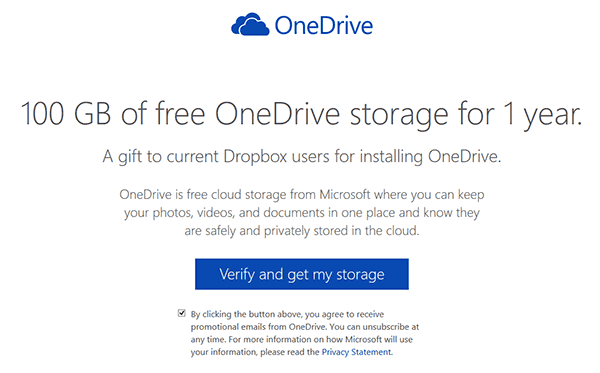 It's interesting to see this promotional campaign targeted at a competitor like Dropbox. The amounts of free space offered by Microsoft simply dwarf anything offered by Dropbox. I've just had a peek at my Dropbox account and when a certain Samsung promotion I have on the account expires in a few months I'll only have 2.9GB free space left on it. I know that Dropbox has a lot of integration in popular apps on Apple's iOS platform but how long can it take the pressure of a large company like Microsoft offering such generous cloud storage capacity for free?