A fortnight ago Microsoft dished out the first information regarding its SkyDrive rebrand. A short post on the OneDrive blog told us how it wasn't easy to rebrand the service but it would become even bigger and better under its new moniker. As a user you will get "everything you love about SkyDrive and more," we were told.
At the time we heard about the change of name to OneDrive there was also talk of some 'loyal' SkyDrive users getting a storage boost, for a year, up to 20GB of storage. However wouldn't it be better to get a smaller boost that won't be taken away (for write access) without you having to cough up cash? Now it looks like such a permanent storage boost scheme is in the offing.
Screenshots posted by LiveSide show a range of incentives on offer which, in return for certain user actions, will boost the OneDrive user's cloud storage capacity permanently. The rewarded actions include something I remember doing when I got my DropBox account; referring friends for storage increases. Microsoft will also boost your cloud storage for backing up your 'Camera roll' to its service.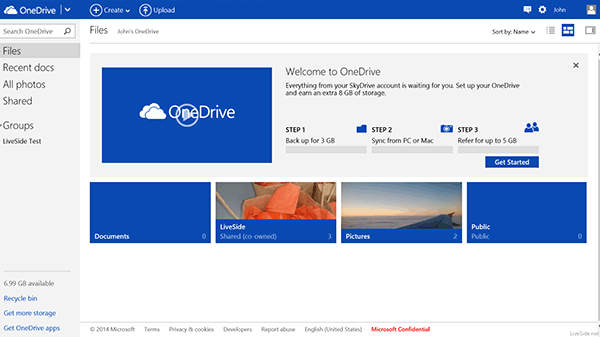 Assuming a OneDrive account starts at 7GB for new users, like SkyDrive does, doing your Camera Roll backup and referring enough friends could boost your permanent Cloud storage capacity a further 8GB - to 15GB.
Looking at the screenshots you can see that for choosing to sync your Camera Roll from Windows Phone, iOS or Android you will be allocated an extra 3GB of storage. Friend referral offers an incremental amount of extra storage at 0.5GB per friend, up to a maximum of 5GB (10 friends).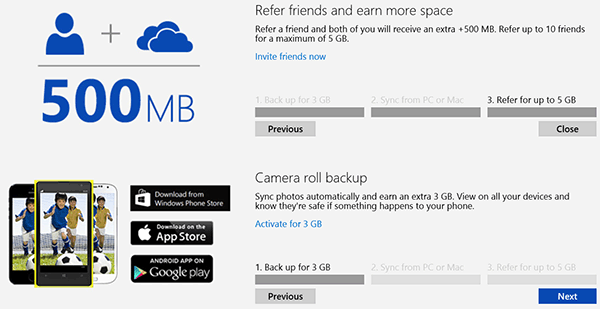 While these screenshots and the accompanying information appears credible and may be accurate at this time please remember that as the OneDrive service hasn't been launched as yet - incentives, amounts and duration of bonus storage earnings may change. However these kinds of user referral incentives are a proven growth method for the likes of DropBox mentioned earlier. A likely date for the introduction of OneDrive could be when the Windows 8.1 Update 1 arrives, and also when Windows Phone 8.1 is made available.
In related news a couple of days earlier it was reported that OneDrive would have a new 'co-owned folders' feature. John Hsu writing for LiveSide explained "if someone adds you as a co-owner to a folder on their OneDrive, not only can you view or edit files in that folder, but it will appear as one of your own folders." This addresses a common complaint about the way the current SkyDrive system doesn't sync files or folder that are shared with you for offline access.