As Dr Dre prepares for Beats Music's launch today, Spotify announced its partnership with Topspin a day ahead in a bid to try to improve its reputation - by offering a commission-free merchandise feature allowing artists to sell their wares to music fans.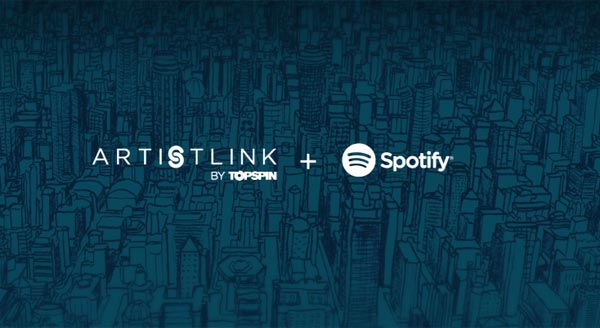 It would seem that Spotify really sees Beats as its major new rival as Spotify's removal of monthly limits for its desktop player was also reported last week. We can sense a lot of effort is being made to stay ahead of Beat's possibly intense competition and launch PR onslaught.
Spotify has been looking to improve its relations with artists after recently coming under attack with accusations of paying measly royalties to artists started to emerge. This included a number of high profile artists such as Thom Yorke from Radiohead, who started a campaign to boycott Spotify for poor payouts and being unfriendly to new musicians.
It is understandable however, that music streaming services offer lower revenue when compared to music downloading services such as iTunes where users have to purchase their music before being able to enjoy it.
In helping artists sell merchandise like t-shirts, vinyl records and posters, Spotify has highlighted that it will not be taking any percentage from products sold through the platform. Groups such as Led Zeppelin and Oasis have already uploaded their back catalogue as they begin trialling the new system. The merchandise will no doubt provide additional revenue prospects to artists and make the platform a more appealing choice for those musicians who are still not part of its catalogue.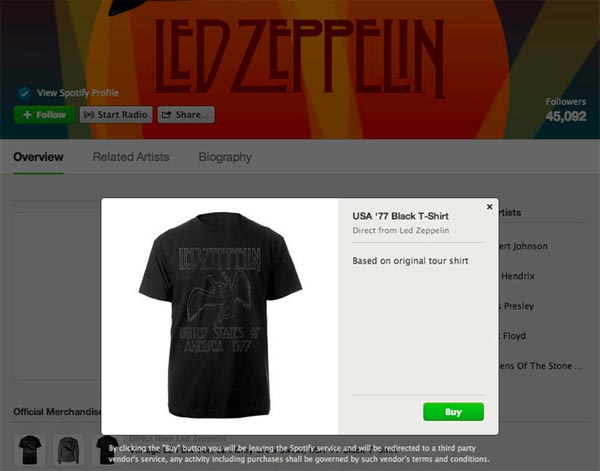 According to BBC News, Spotify's head of artist services, Mark Williamson, said: "We're really excited that Spotify's 24 million music-loving users can now see merchandise and concerts while listening to their favourite artists, and that we, in turn, can provide additional revenue opportunities for artists of all sizes."
We would like to highlight that Spotify is not the only company improving their services in the face of the heavyweight competition out there as we saw reports of Pandora's Personalized Station Recommendations and Rdio's free streaming services, both announced in the past week. With music streaming services appearing to struggle to make a profit and competition emerging more and more frequently, the benefactors should be the users, who will be getting better services as the industry gets more crowded.