Microsoft has announced that it will discontinue Groove Music and is helping users transition to Spotify. From 31st December 2017 the Groove Music app will no longer offer the option to stream, purchase, and download music. However, users will still be able to use Microsoft's app to playback and manage owned music across devices.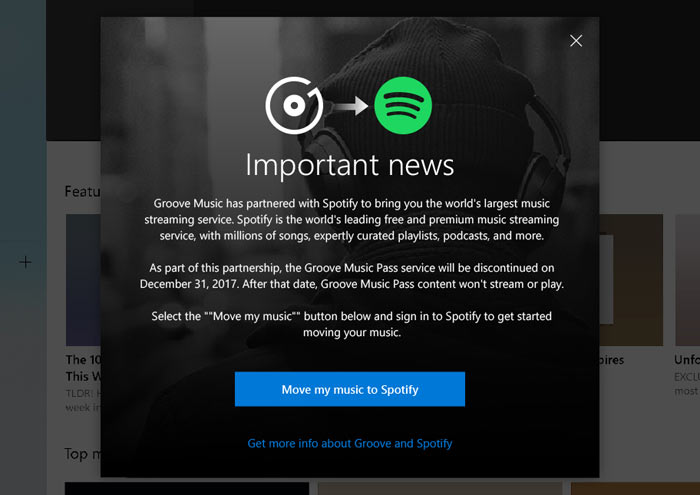 In its blog post announcing the changes Microsoft talks up the quality and quantity of music offered by Spotify. It informs us that Spotify on Windows provides a range of popular genre playlists, and personalised music experiences, across a very wide range of devices, with a music catalogue of over 30 million songs.
Starting this week Windows Insiders will be able to transition their music collections and playlists to Spotify "with just a few clicks". The same transitional feature will roll out to non-Insiders (on Windows 10 or Xbox One platforms) next week.
Microsoft makes clear make the transition procedure to move to Spotify, in a step by step guide. First you launch the latest Groove app version from the Windows Store or Xbox One. Once signed in you will see a popup about the 'important news' above. Then you create / log into a Spotify account on your PC. Microsoft says that once signed into the Spotify app "we'll move your music collection and playlists from Groove Music to Spotify". New Spotify users may be eligible for a free trial of Spotify Premium, lasting 60 days.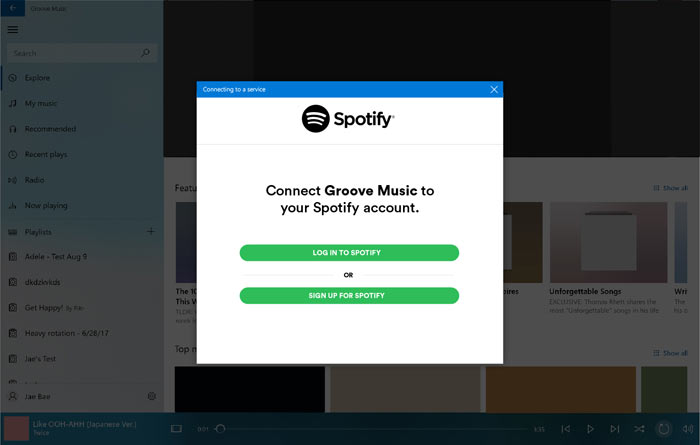 An FAQ on the above has been prepared by Microsoft in anticipation of user puzzlement. One of the main points concerns those who have pre-paid for Groove Music subscriptions beyond 31st December 2017. Very simply, you will receive a pro-rata refund from Microsoft for any time after that date. However, those within their first 30 days of Groove subscription can cancel with a full refund anyway. It's important for users to download and backup Groove music purchases before the end of the year.