The latest State of the Internet report from Akamai, the internet cloud content delivery network, shows that the average download speed of internet users actually fell last quarter. In the UK, in the final 3 months of 2011, the average speeds slipped from 5.1Mbps to 4.9Mbps. That's approximately a 4 per cent drop. Worldwide the figure was even more significant at 15 per cent!
Eight of the top ten countries contributed to the decline but the top two countries, Japan and South Korea, saw increases in their speeds to hit averages of 9.1Mbps and 17.5Mbps respectively. Yesterday's report said "Cities in the Asia Pacific region again constituted the majority among the top 100 in the fourth quarter, holding 69 spots on the list, including Hong Kong, one in Australia, six in South Korea, and 61 in Japan. Twenty-four cities in North America made the list, including two in Canada and 22 in the United States. The remaining seven cities were from four countries in Europe, including one each in Romania and Latvia, two in Switzerland, and three in Sweden."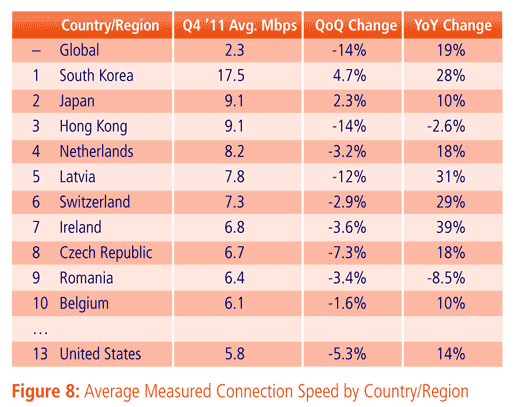 Download speed chart courtesy of Akamai
However, despite this blip, the long term trend of growth in our connection speeds continues "Looking at year-over-year changes, the global average peak connection speed was up by a quarter as compared to the fourth quarter of 2010. All of the top 10 countries/regions saw long-term growth in average peak connection speeds."
Dial up, the AOL cash cow, declines too "While the short-term trends (quarter-over-quarter changes) for global high broadband and broadband adoption headed in the "wrong" direction in the fourth quarter, global narrowband adoption continued to head in the "right" direction, declining 1.2% from the third quarter, staying at an adoption level of 2.5%".
In the 56 page report packed with statistics Akamai had no concrete explanation for the drop last quarter. The declining speeds figures don't include mobile internet so it's not a case of the mobile networks choking on mass smartphone adoption bringing our average speeds down. Another possibility was congestion and traffic shaping in peak hours becoming more advanced and aggressive. A November 2011 survey by uSwitch "found that broadband ISP download speeds in the United Kingdom fell by an average of 35% during periods of peak usage (between 7– 9 PM), when most people go online; peak speeds were observed between 2 – 3 AM."
Do HEXUS readers experience irritating levels of internet slowdown at these peak times?