We all know that Amazon is a hugely successful company. In the UK it's the biggest online retailer and one of the biggest tax dodgers, possibly. New figures from Deepfield Networks cast light on what a huge part of the internet Amazon and Amazon Web Services (AWS) really are. It's not that more and more people are Amazon shopping crazy; AWS are used by many other big name web sites for their infrastructure. Famous name AWS users include Netflix, Pinterest, Instagram, ZYNGA, Reddit and Dropbox.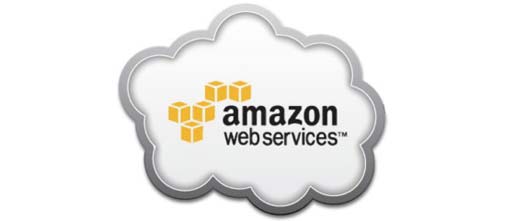 Clearly then the Amazon cloud is the base for a great deal of the internet economy. The Deepfield Network blog says "One way to gauge the importance of Amazon is to ask how frequently will a typically Internet user visit a web site based on Amazon infrastructure? The answer: an amazing 1/3 of all users every day. This number is all the more impressive when you consider that our data includes millions of users and end devices of limited scope or activities, such as users who only check mail and home game consoles."
Another indicator of Amazon's importance in the internet world is the figure for internet traffic volume which was measured at 1 per cent. CEO Craig Labovitz of Deepfield Networks said "this one percent represents the broad reach of Amazon infrastructure across hundreds of client companies." As a comparison YouTube, with its much higher bandwidth content, was measured at 6 per cent of traffic volume.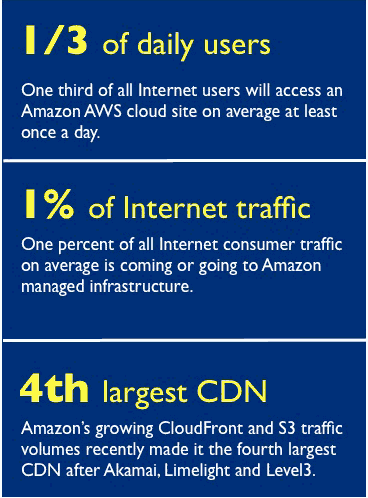 Infographic from Deepfield Networks (CDN = Content Delivery Network)
These are great usage stats for Amazon, however some of the financial figures quoted in the Deepfield Networks blog don't really add up. For instance they say that in 2010 AWS cloud services are estimated to have brought in $200 million. Later they say Amazon has a commanding lead in the cloud computing market which is worth $200 billion in total. I'm not surprised it's hard to find out exactly how much Amazon are making from its cloud computing services though. It does definitely ring true however, that other web giants like Google and Microsoft are investing millions to try and gain a bigger slice of this profitable cloud services pie.