Finding out Microsoft's Windows 10 distribution intentions hasn't been easy. We have had to make the most of dribs and drabs of incomplete information from blogs, Tweets, conference speeches and so on. This means that Microsoft has had to step up and explain off-the-cuff statements and Tweets and we have had uncertainty until recently about: upgrade rights, Windows editions, pricing, upgrades for non-genuine users, minimum hardware specs, DirectX and so on.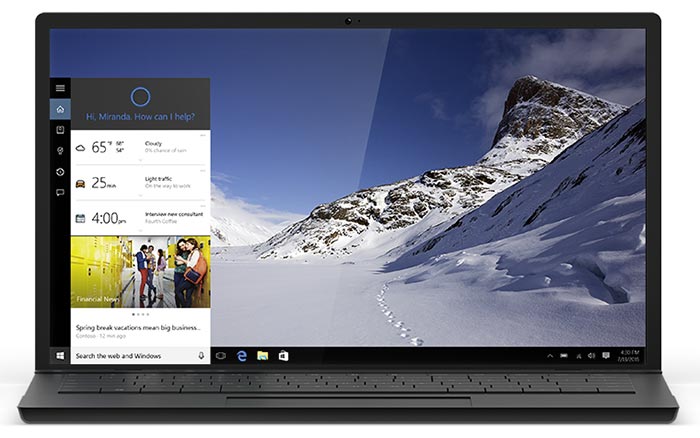 Only recently was it confirmed that even those who upgrade to Windows 10 from Windows 7 or newer would be free to install Windows 10 from scratch subsequently, if they wish/need to do so. That was great for enthusiasts and tinkerers who need to install Windows more often than the average mom & pop. This nugget of essential information was squeezed from a Twitter conversation in which Microsoft's Gabe Aul took part.
The latest Windows 10 revelation comes again, from Mr Aul's Twitter account. Aul penned a blog post, dully entitled Upcoming changes to Windows 10 Insider Preview builds in which it was inferred that any Windows 10 Insider would be able to snaffle a free full copy of Windows 10 when it becomes available. It also said that the Insider program will continue after Windows 10 becomes final.
The following paragraph stirred up PC enthusiasts:
"Windows Insiders running the Windows 10 Insider Preview (Home and Pro editions) with their registered MSA (Microsoft Account) connected to their PC will receive the final release build of Windows 10 starting on July 29th. This will come as just another flight. I've gotten a lot of questions from Windows Insiders about how this will work if they clean installed from ISO. As long as you are running an Insider Preview build and connected with the MSA you used to register, you will receive the Windows 10 final release build. Once you have successfully installed this build, you will also be able to clean install on that PC from final media if you want to start over fresh."
To make things absolutely clear Ars Technology Editor @DrPizza asked the question "@GabeAul so to be clear: install 10130, upgrade to RTM when available, and it'll stay genuine + activated with no money spent, forever?" To which Aul replied "@DrPizza Install 10130, connect registered Insider MSA, upgrade to RTM, stays genuine."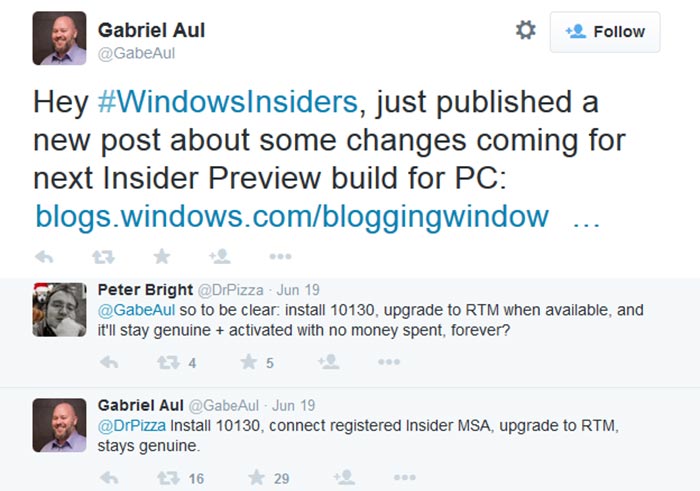 Surely such generosity will help Microsoft on its goal to 1 billion Windows 10 devices and will be a welcome reward to those who have dedicated a spare PC to testing the various builds. ZDNet thinks that the Insider giveaway move will be good for Microsoft's image and save customer friction by making activation a cinch - while costing it just a tiny blip on its balance sheet. It notes that Mac owners testing Windows 10 in Boot Camp or those testing it in a VM will also be able to enjoy the gift. Remember, Windows 10 final will be released on 29th July.
UPDATE
There's been an update on the Microsoft Windows Blog. Basically you can choose to continue as an 'Insider' software tester, or else you will be subject to the same upgrade offer as everyone else - Windows 7 or newer users can upgrade to Windows 10 for free. Thus "This is not a path to attain a license for Windows XP or Windows Vista systems. If your system upgraded from a Genuine Windows 7 or Windows 8.1 license it will remain activated, but if not, you will be required to roll back to your previous OS version or acquire a new Windows 10 license. If you do not roll back or acquire a new license the build will eventually expire." Further explanation and an apology from Mr Aul for any confusion is here.