If you're not yet using our SCAN2HEXUS Loyalty Programme, now's the perfect opportunity.
HEXUS is offering all of our readers free delivery on orders placed with Scan.co.uk, and all you need to do, is be a registered user of the HEXUS forums and make a minimum of 20 posts - which, of course, is a minimum, we would love you to stick around and join in our great community!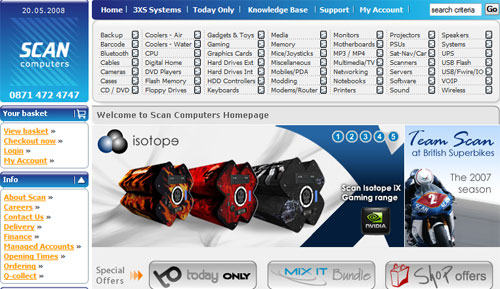 Once you've signed up to our forums, associate your Scan account with your HEXUS username the day after achieving 20 posts by clicking here, and hey presto, shipping charges will be removed from your future orders! (Please note you may need to wait up to 24hrs in order for your HEXUS username to be recognised by Scan.)
There is a minimum order value of £20 excluding VAT and the SCAN2HEXUS Loyalty Programme applies only to items dispatched to addresses within the mainland UK. Please also be aware that it can take up to 24 hours for your SCAN2HEXUS association to be confirmed and abuse of the service could result in being banned from using the SCAN2HEXUS Loyalty Programme in future.
Head on over to the HEXUS forums for further details, and happy shopping!
Useful links
Scan.co.uk
Scan2HEXUS Loyalty Programme - Free Delivery Information and Rules