Nvidia has released its latest set of quarterly financials. Its Second Quarter Fiscal 2020 covers the quarterly calendar period ending 28th July 2019. Looking at the headline figures, the green team raised $2.58 billion in revenue (earnings of $1.24 per share), compared to $2.22 billion in the previous quarter. However, a year ago it earned $3.12 during the same period - spurred by the massive demand for GPUs to mine cryptocurrencies.

The results beat analyst expectations. Wall Street was looking for 1.14 per share on revenue of $2.54 billion. Nvidia CEO Jensen Huang was very pleased with the results, which showed sequential growth in all Nvidia's businesses. PC gaming graphics remains the biggest earner for Nvidia - gaming generated 50.3 per cent of total revenue, and GPUs 81 per cent of revenues.
In a statement accompanying the results the CEO claimed that real-time ray tracing hardware adoption was about to take off. "Real-time ray tracing is the most important graphics innovation in a decade. Adoption has reached a tipping point, with Nvidia RTX leading the way," Huang told investors.
In gaming in the most recent quarter, Nvidia "Supercharged its GPU lineup" with GeForce RTX 2060 Super, GeForce RTX 2070 Super and GeForce RTX 2080 Super graphics card releases. You can read through six detailed HEXUS reviews of these new graphics cards here. Importantly RTX support announcements by developers continued with blockbuster titles like Call of Duty: Modern Warfare, Cyberpunk 2077, Watch Dogs: Legion, and Wolfenstein: Youngblood - all coming with real-time ray tracing compatible engines.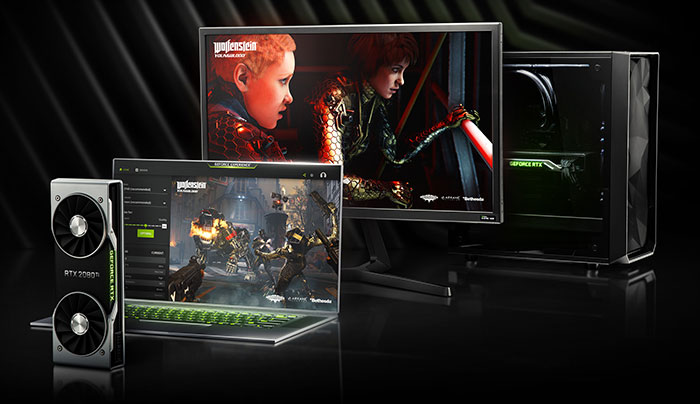 Laptops were instrumental in Nvidia's good fortune in the latest quarter. It announced 25 more Turing GPU packing gaming laptops and 27 premium laptops as part of the RTX Studio line, powered by GeForce RTX and Quadro RTX GPUs. Desktop gaming GPUs were actually down in the most recent quarter - but figures were offset by growth in gaming laptops.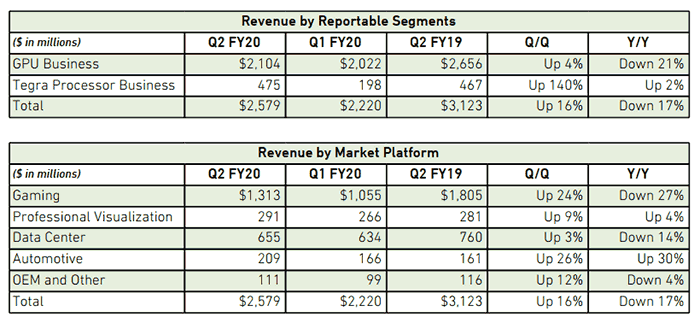 Another business that the Nvidia CEO was pleased to highlight was its work with AI. Interestingly, AI tech spans several of Nvidia's business segments; Data Centre, Automotive, and to a lesser extent - Gaming. "Nvidia accelerated computing momentum continues to build as the industry races to enable the next frontier in artificial intelligence, conversational AI, as well as autonomous systems like self-driving vehicles and delivery robots," said the CEO. Automotive was a particularly perky segment, up 30 per cent from a year earlier and up 26 per cent sequentially. It is easy to see that AI in vehicles still has plenty of growth potential.
For its third quarter Nvidia is expecting revenue of $2.90 billion, plus or minus 2 per cent.