Nvidia has published its latest set of financials. This time around it is for the quarter and full financial year ending on 28th January 2018. Nvidia refers to these periods as Q4 FY18 and FY18 respectively. The headlining news is that Nvidia delivered record quarterly and full year revenue, up 34 per cent and 41 per cent respectively from a year earlier. Earnings per share were up a chunky 88 per cent. Beating analyst estimates, the shares have risen strongly in afterhours trading – vy as much as 11 per cent.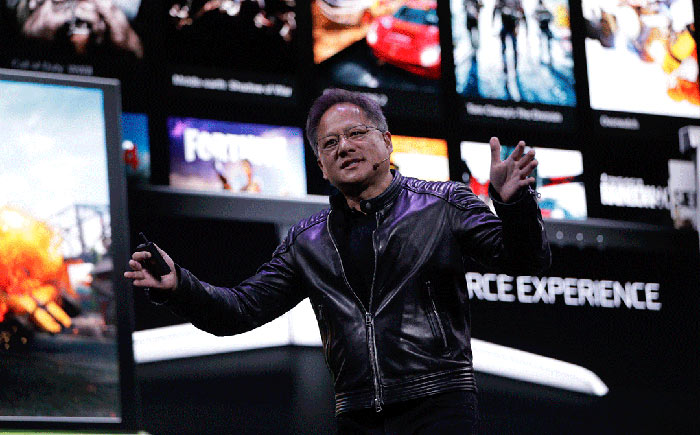 CEO Jensen Huang said the results capped an excellent year for Nvidia. Providing a gestalt feeling of progress, he harked back to Nvidia GPU Technology Conference attendance figures, which have gone up tenfold in just five years. Huang indicated that Nvidia's products had inspired developers in AI, self-driving cars, internet and cloud services, to embrace Nvidia hardware.

Directly above you can see the key financial figures for Q4 FY18. We like to see the performance of the market segments behind the headline numbers, so if you look below I have screen-grabbed the FY18 to FY17 comparison from the CFO commentary PDF.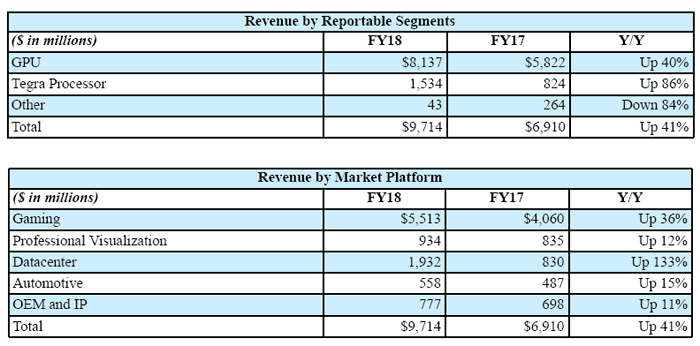 Gaming is still Nvidia's largest revenue generator by a big margin. Furthermore, it is showing consistent and strong growth, cast in the shade only by Nvidia's data centre revenues. On the topic of gaming GPU sales, Nvidia said that "strong growth across our Pascal-based GeForce gaming GPUs was driven by new games, holiday-season demand, iCafe upgrades, eSports and cryptocurrency mining."
Several gaming segment achievements were noted in the financials for Q4 FY18, including; the introduction of Max-Q laptop designs, the introduction of big format gaming displays (BFGDs), the launch of the Star Wars themed NVIDIA TITAN Xp GPUs, an enhanced GeForce Experience software and tools release, and the increase in GeForce market share in the Steam user survey to 86 per cent.
For other segment highlights - Nvidia Tesla V100 GPU accelerators became available; and Nvidia Drive Xavier, the world's first autonomous machine processor, was announced, demonstrated and became available.