Nvidia has just published a very hearty set of financial results. The results for its fiscal first quarter 2018 (the quarter ending 30th April 2017) show revenue of $1.94 billion - up by 48 per cent year-on-year, and earnings per share of $0.79 - up 126 per cent year-on-year. Furthermore, Nvidia observed "broad growth across all platforms," signalling shrewd business choices by the management in previous years.

CEO Jensen Huang pinned the excellent results on the acceleration in adoption of Nvidia's AI and GPU deep learning platform by researchers, internet giants and start-ups. A closely related stellar performer was Nvidia's Datacentre GPU computing business, which nearly tripled from last year - again on the back of AI and deep learning platforms. Looking at further potential for growth, Huang said that "One industry after another is awakening to the power of GPU deep learning and AI, the most important technology force of our time."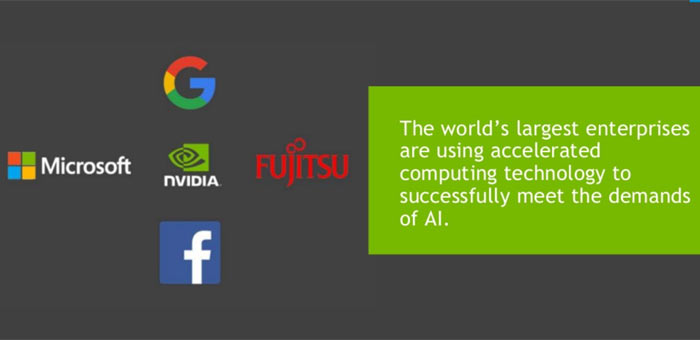 Highlights of Q1, as noted by Nvidia, were the launch of the GeForce GTX 1080 Ti for gaming, and the TITAN Xp for enthusiasts and researchers. A significant datacentre contract was made with Microsoft to bring Nvidia Tesla P100 and P40 GPUs to the Azure cloud. Additionally Facebook was announced as another big-name partner and it will be leveraging Tesla P100 GPUs in its Big Basin deep learning servers.

In market platform segmented figures presented by the Nvidia CFO (see chart directly above) you can see the breakdown in revenue from; gaming, professional visualisation, datacentre, automotive, and OEM & IP. Gaming is still Nvidia's cash cow by a large margin but datacentre could easily grow to bring in about half as much revenue in subsequent quarters this year. You can also see here the seasonality of GPU sales to gamers, as sequentially quarterly gaming revenue is down 24 per cent.
Nvidia made some predictions for its second quarter. It says revenue will continue to climb to $1.95 billion with margins stable. No specific hardware or software releases were teased by Nvidia in its investor communications.