On Tuesday we saw Nvidia launch an attractive new games bundle entitled 'Prepare For Battle'. This promo bundled a GeForce GTX 1070 or 1080 with your choice of either Ubisoft's For Honor, or Tom Clancy's Ghost Recon Wildlands, for free. In the official press release Nvidia sold the idea of using the GeForce Experience as a streamlined way to enter and use the free game code. The green team claimed that using its helper app neatly sidestepped any "long sign up webpages". Subsequently the game would then start to download via Steam, Origin or whatever.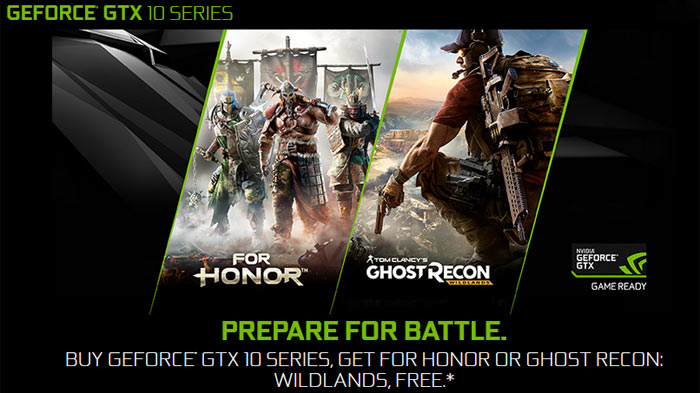 However, there's a 'dark side' to this GeForce Experience free game code usage, as outlined in Nvidia's revised code redemption FAQ. If you scroll down to the bottom of that page you will see two important new questions and answers, as reproduced below:
Q: Why is GeForce Experience required to redeem a coupon code received along with a GPU purchase?
A: Game coupon codes offered as part of a qualifying GPU or PC purchase are intended for use by the purchaser. As part of the coupon redemption process, Nvidia uses GeForce Experience to perform a hardware verification step to ensure the coupon code is redeemed on the system with the qualifying GPU.
Q: Why must game bundle code redemptions be completed with a qualifying graphics card, desktop or laptop?
A: Game coupon codes offered as part of a qualifying GPU or PC purchase are intended for use by the purchaser. Redeeming the code on a qualifying system helps Nvidia verify the game is redeemed by the purchaser. Please note that only one game copy can be redeemed per qualifying GPU.
In the first bullet point above you will see that users have to have installed a qualifying GPU for the bundle code being activated. In the case of 'Prepare for Battle' it will be checking for a GeForce GTX 1070 or 1080 equipped system. If you already own the free game(s) or don't want either of the choices this new hardware verification stage severely restricts your selling options.
The motive behind the move by Nvidia isn't very clear. As Techspot reports users can remove the GeForce experience software after they have the game, they can also use it on any other machines they have their Steam account on, for example, regardless of GPU installed. We know that Nvidia is very keen for as many people as possible to sign up and use the GFE, but the hardware verification step added on top will be seen as going too far by many.