Riding the wave
Microsoft's GM of its worldwide system builder channel, Dana Manciagli, used her keynote speech to highlight some of the latest money making opportunities created by emerging technologies.
She appeared to agree with the Gartner speakers that software-as-a-service (SaaS) and virtualisation are the hot topics of today and the foreseeable future and that the channel should be sure to make the most of them, if it knows what's good for it.
Apparently IDC has predicted 32 percent growth in the SaaS market between 2007 and 2011. It is expected that it will be worth $29 billion by 2011.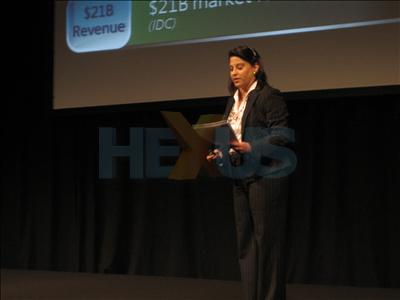 Virtualisation, said Manciagli, can be whittled down to the desire on the part of businesses to do more with fewer physical resources by more fully utilising those resources at their disposal.
She reassured delegates that any consequent reduction in hardware sales can be more than made up increased software and services sales. Also, a commitment to using virtualisation should also drive customers to upgrade their existing hardware.
As already covered on HEXUS.channel, she said that resellers with a laptop focus can profit from improving the customer experience and offering premium PCs. Much, it must be said, as Apple has always done.