OCZ displays Trion 150 and RevoDrive 400
Loading...
Been waiting a while?
Get Flash
to see this player.
Focussing on budget and performance.
OCZ Storage Solutions had a couple of interesting consumer-focussed SSDs on display at CES 2016. Following on from the entry-level Trion 100 launched last year, OCZ is updating the TLC-based drive with 15nm Toshiba NAND and releasing it as the Trion 150.
OCZ says it was conservative in the longevity of these TLC drives so expect the Total Bytes Written (TBW) to be improved over the previous generation, even though the NAND fabrication process is smaller. Expect pricing to be very sharp, too.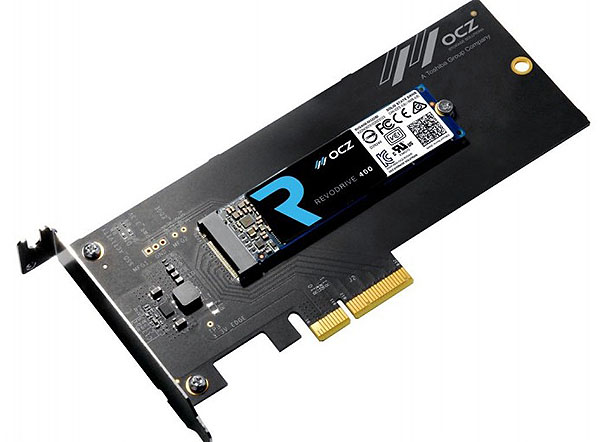 On the performance side, the RevoDrive 400, pictured above, is an NVMe-based PCI Express Gen 3 x4 SSD presented in an M.2 form factor. Two kits will be available, one with the solitary M.2 drive and the other with the add-in PCIe connector for regular motherboards.
Speeds are quoted as up to 2.4GB/s read and about 1.5GB/s write, based on the best-case scenario. It looks pretty damn quick, and OCZ has clearly laid sights on the Intel SSD 750 with this drive.