Toshiba has released a competitor into the high performance consumer SSD space. It has launched the OCZ RD400 NVMe SSD Series in capacities ranging from 128GB to 1TB, with immediate availability across Europe and North America. The drive is in the M.2. form factor but Toshiba offers an optional PCIe x4 M.2 adapter cards for those of us with motherboards lacking the requisite slots. Headline performance figures published by Toshiba claim sequential read/write up to 2,600/1,600MB/s and random read/write (4kib): up to 210,000/140,000 IOPS.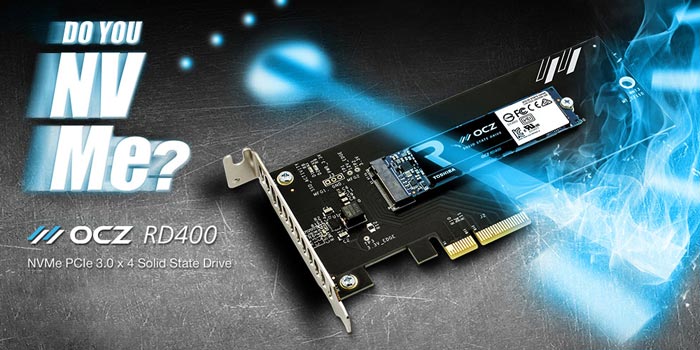 Compared to typical SATA SSDs, Toshiba claims that its new OCZ RD400 NVMe SSD will provide and uplift of up to 4.5x performance in sequential reads, and up to 3x faster speeds in sequential writes. The effect on your PC will be a more responsive experience with improved storage latency on PC platforms ranging from laptops, desktops and workstations. Much of the performance gain comes from the PCIe Gen3 x4 lane interface, and Toshiba claims its own 15nm MLC NAND flash memory contributes to storage performance, efficiency and durability.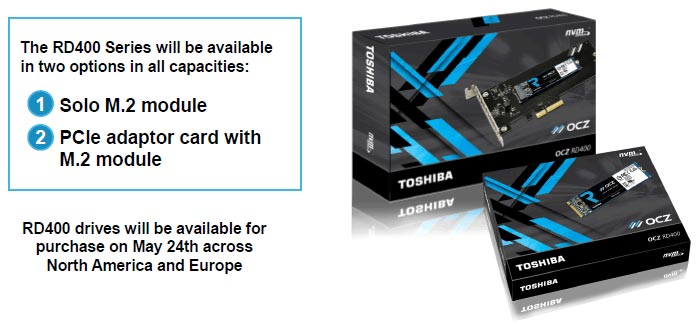 Putting values to its speed claims, Toshiba has provided an OCZ RD400 performance matrix for the various sizes of drives being made available. Please check over the performance chart below.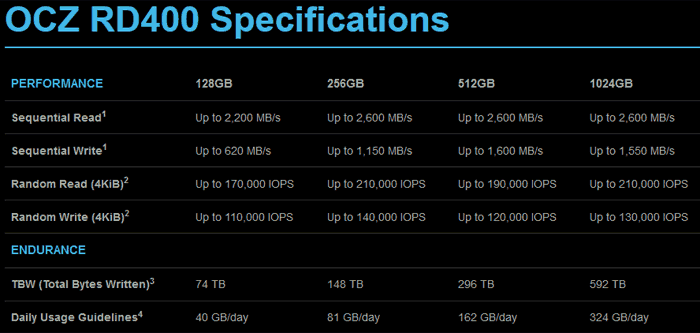 There are faster NVMe drives out there, such as Intel SSD 750 with its significantly faster random read IOPS performance, but it's good to see more competition in this space.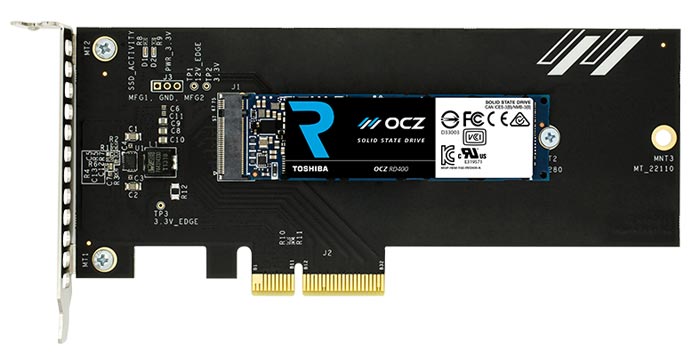 Toshiba provides an advanced limited warranty for five years with all the new OCZ RD400 NVMe SSDs, for piece of mind.