Introduction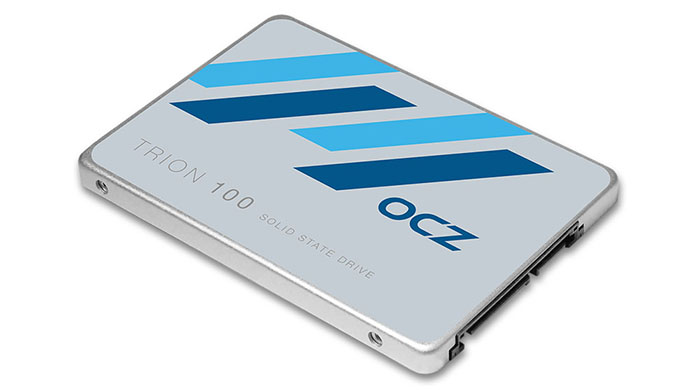 OCZ Storage Solutions broadened its consumer solid-state drive line-up with the entry-level Trion 100 drive released last week. Available in common capacities of 120GB to 960GB and presented in a standard 2.5in form factor, the Trion, badged as an OCZ drive, is ostensibly produced by parent company Toshiba.
Building a cheap-as-chips solid-state drive requires concessions on the performance front. OCZ/Toshiba achieves this aim by using a wholly in-house controller and cost-effective triple-level cell (TLC) memory. We can see how this potentially plays out by taking a closer look at the specifications.
OCZ Trion 100 Series

Capacity

120GB

240GB

480GB

960GB

Controller

Toshiba TC58

NAND

Toshiba A19nm Triple-Level Cell (TLC)

Interface

SATA 6Gb/s, compatible with SATA 3Gb/s and 1.5Gb/s

Sequential Read Speed

550 MB/s

550 MB/s

550 MB/s

550 MB/s

Sequential Write Speed

450 MB/s

520 MB/s

530 MB/s

530 MB/s

4KB Random Read (QD32)

79,000 IOPs

90,000 IOPs

90,000 IOPs

90,000 IOPs

4KB Random Write (QD32)

25,000 IOPs

43,000 IOPs

54,000 IOPs

64,000 IOPs

Form Factor

2.5in

Dimensions (LxWxH)

100 x 69.85 x 7.0 (mm)

Weight

Max. 48g

Supporting Features

TRIM (requires OS support), Garbage Collection, S.M.A.R.T

Data Security

None

Reliability

MTBF (Mean Time Between Failures): 1.5 million hours

Endurance (Terabytes Written)

30 TBW

60 TBW

120 TBW

240 TBW

Power Consumption

Active Read/Write (Average): Max. 4.8W
Idle: Max. 830mW


Temperature

Operating: 0ºC to 65ºC
Non-Operating: -45ºC to 85ºC

Vibration

Non-Operating: 10~2,000Hz, 20G

Shock

Non-Operating: 1,500G, duration 0.5ms

Warranty

3 Years ShieldPlus

MSRP (inc. VAT)

£38.49

£60.99

£124.99

£219.99
Focusing on the NAND first, Trion uses Toshiba's proven A19 using TLC memory. As a refresher, TLC memory houses three memory bits per cell compared to two for regular MLC found on almost all other consumer drives. The benefits of having more bits per cell are patently obvious - fewer cells are required to house the same capacity, reducing size and cost to the manufacturer.
The downside of storing an extra bit is the need to increase the number of possible voltage states to eight compared to four for MLC and just two for ultra-expensive SLC. Checking all of these voltage states poses a two-pronged problem: random reads take longer because more states need to be checked and, secondly, the cells tend to wear out more quickly because you're applying different voltage states more often.
Lower speed and lower endurance doesn't sound like a great deal for the consumer, even with a lower price, but recent advances in technology have meant that TLC-based drives retain adequate performance; Samsung and Toshiba have both been pioneers in this regard.
Perusing the specs, the TLC nature of the drive is in evidence with the lower-than-normal 4K random write speeds across all capacities, because top-tier MLC drives tend to have 4K read-matching numbers. But 4K random write is more of a theoretical exercise than a useful metric for consumer drives; sequential performance is arguably more important.
Regarding reliability, OCZ ships the Trion 100 with a three-year ShieldPlus warranty which covers the drive rather than the original purchaser. Endurance, meanwhile, seems reasonable enough, increasing with the drive capacity and, presumably, amount of overprovisioning available. Taking the review 480GB model in account, OCZ says you can write 110GB per day over three years.
Not all SSDs are created equal, of course, and the budget origins are indirectly revealed by Trion featuring no hardware encryption support and, looking closer, a relatively high idle power draw of 0.83W - this information is pertinent if you plan to install it in a laptop. The company's SSD Guru software manages the drive and enables it to boot under Linux, Mac OSX as well as the usual Windows.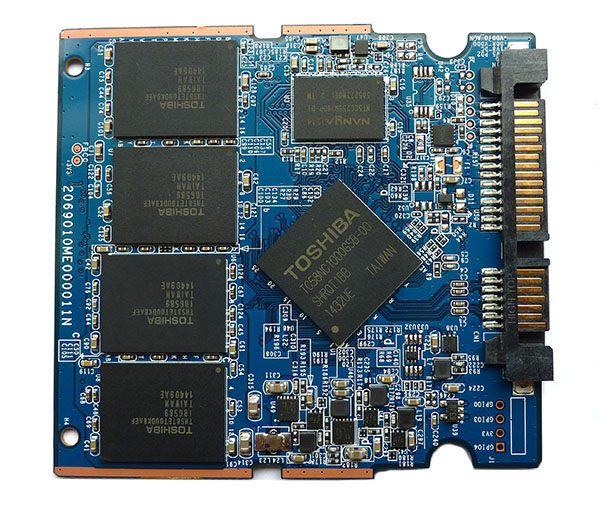 Cracking open the case reveals the tiny nature of the single-sided PCB. The Toshiba TC58 controller's operations are buffered by Nanya's DDR3 memory. Four 1024Gbit TLC NAND modules sit alongside, and we can see this drive being repurposed into smaller form factors should OCZ wish. Such as it is, Trion 100's 2.5in form factor is, clearly, for laptops and desktop machines alone.
OCZ understands that pricing is absolutely key in convincing users to invest into the SSD fold. The 480GB's drive's £125 street price is competitive against well-reviewed drives such as the Crucial BX100/MX200. Can it keep pace? Let's find out.