Toshiba has announced that its OCZ Trion 150 Series SSDs are now available. Touted as "an affordable performance upgrade for mainstream notebooks and desktops," these budget priced drives deliver an important boost in real-world performance compared to the previous Trion 100 Series SSDs.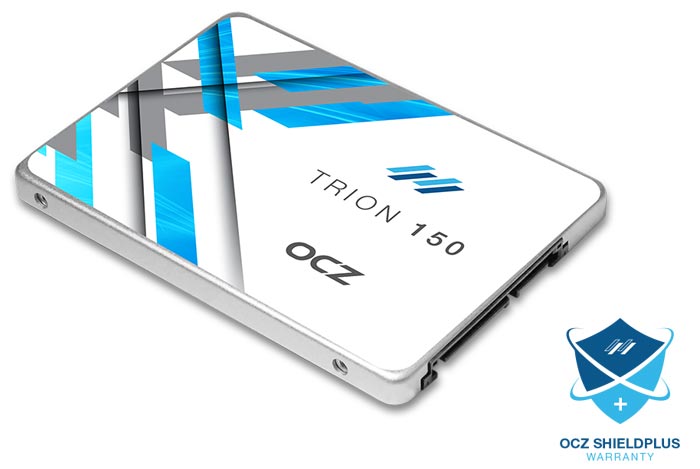 OCZ Trion 150 Series SSDs are built with Toshiba's latest 15nm Triple-Level Cell (TLC) NAND flash. The NAND upgrade, compared to the 100 Series, boosts drive performance while the reliability, endurance and value on offer remain. "We are continually looking for ways to improve both SSD real world performance and value to end users and are pleased to introduce the new Trion 150 series which leverages the latest Toshiba 15nm Triple-Level Cell NAND flash to deliver an even better storage solution for value oriented mobile and desktop users," said Steve Fingerhut, SVP and GM of SSD BU, at Toshiba America.
Headline performance speeds offered by the Trion 150 range are; sequential read speeds up to 550 MB/s, sequential write speeds up to 530 MB/s and random write I/O performance up to 91,000 IOPS. Endurance of up to 240TB total bytes written (TBW) is claimed and the whole range come with Toshiba's 3 year ShieldPlus Warranty.
OCZ Trion 150 Series SSDs are now available in four capacities; 120GB ($50), 240GB ($70), 480GB ($140), and 960GB ($270). You can see the performance specifications of the respective drives in the table below.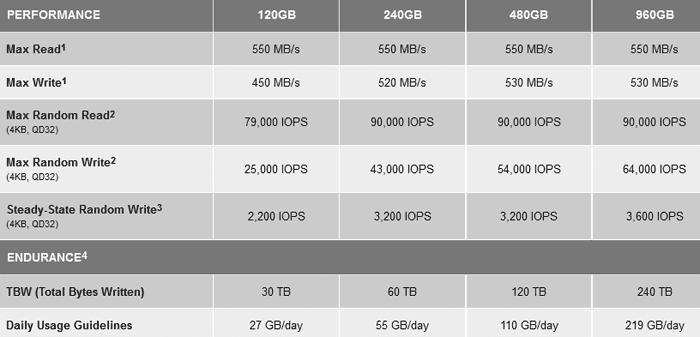 Other important specs shared by the whole range of Trion 150 Series 2.5-inch SATA III SSDs are that they all use the Toshiba NAND Controller, measure 100.00 x 69.85 x 7.00mm, weigh 48g, have an MTBF of 1.5 million hours, and consume 830mW power when idle, and 4.8W of power when active.