MSI highlights 4K-ready Vortex cylindrical gaming PC
Loading...
Been waiting a while?
Get Flash
to see this player.
Primed to take on the Corsair Bulldog.
MSI has seen the promise of living-room PCs and designed accordingly. Debuting at CES 2016, the firm showed off the intriguing Vortex PC. Having more than a passing resemblance to the Apple Mac Pro, the cylindrical Vortex uses a similar line of thinking to cooling.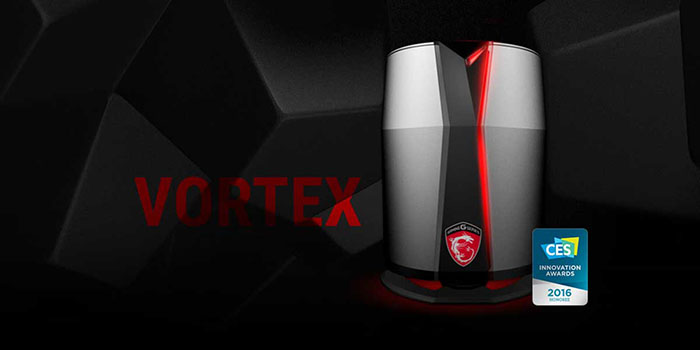 So what's there to cool, you may ask, from this full-metal, RGB-lit box that occupies 6.5l. Unlike Apple, MSI goes after the gaming enthusiast, and it shows in the specs. There's the obligatory high-end Intel Skylake processor, two full-fat GeForce GTX 980 cards in the laptop-friendly MXM form factor, four SODIMM slots for DDR4 memory, and two M.2 SSDs, all kept in check by the '360 SilentStorm cooling system'.
Lots of connectivity 'round back, including two Thunderbolt 3 and two mini-DisplayPorts, make it good in this respect too. Expect to pay around $3,000 for the top-of-the-range model though. Small on the outside, big on the inside.
Vincent from MSI runs us through the look, feel and specifications of the Vortex in the video above.