Road to 4K
The companies that manufacture computer monitors and high-end televisions are actively seeking ways of increasing the average selling price of flat-panel screens. The recent trend, however, has been going in the opposite direction, with large TVs and a wide range of computer monitors becoming cheaper and cheaper via economies of scale derived through mass production.
New technology often paves the way for increasing prices and profit margins. The first flat-panel computer monitors and TVs were made available roughly 10 years ago and consumers were willing to pay the premium for technology that, compared to traditional CRTs, saved space and offered higher resolutions. A few years later, technology dubbed 'Full-HD' or '1080p' became the central message, enticing consumers to spend more for potentially higher image quality.
The next evolution in flat-panel image quality - be it a TV or computer monitor - is known as '4K' or 'Ultra HD.' The industry hopes that the introduction of such screens will reinvigorate the premium market and convince consumers to spend more for cutting-edge technology, just as they did for Full-HD.
It's all about pixels
Modern LCD monitors work by packing in a large number of pixels on the screen and then generating the appropriate colours by shining light, usually from LEDs, through colour filters. Each pixel can therefore be set to a different colour, and the combination of different-coloured pixels make up the image you see. Text tends to use black-coloured pixels, the background is usually set to white, and menus are often grey. Look very, very closely at the text and you may be able to identify individual pixels.
A typical Full-HD or 1080p screen has a total of 2,073,600 pixels (1,920x1,080). These are usually present on computer monitors ranging from 22-27in or TV screens from 32in to 60in. As you sit closer to monitors than to the living-room TV, the pixel density - just how many pixels you can fit into a given size - is necessarily higher for the PC monitors, which makes it nicer and easier to read text and view high-quality images.
What is 4K, and why is it important to me?
4K is the industry buzzword that encapsulates greater detail and more lifelike images and video on the next generation of TVs and monitors. An increased number of pixels are at the heart of 4K, too. TVs and computer monitors tend to regard 4K, or Ultra HD, as a screen possessing a 3,840x2,160-pixel resolution - or exactly 4x the available pixels on a Full-HD display. This means there are 8,294,400 pixels (8.3MP) on the screen.
It's generally accepted that perceived image quality improves as the pixel-count is increased, so having more pixels, if possible, is advantageous. Drawing an obvious analogy, an 8MP digital camera tends to take more detailed, lifelike pictures than a 2MP one; the same is true in terms of display, because an 8MP screen can provide more vibrant and realistic images.
Why isn't 4K here already?
If it is clear and obvious that more pixels make for a better viewing experience, why isn't the market awash with 4K screens, you may ask? There are significant manufacturing complexities in ensuring screens with 8.3-million pixels are produced in a cost-effective manner. 2013 appears to be the year of 4K, though, as the major TV producers are likely to have premium 4K sets available in the next few months.
The other wrinkle to significant 4K adoption is content. 4K screens work best when fed with video recorded and transmitted in a native 4K format. This is still relatively thin on the ground, especially for live-sports events, and most expert commentators agree that it will take two or three years until there is widespread transmitted and pre-recorded 4K available.
And just as the manufacturing complexity increases with 4x the number of pixels, 4K introduces bandwidth limitations with respect to transmission, as pushing that much data - 4x Full-HD, remember - puts a strain on current compression techniques. New video-compression techniques, such as HVEC (aka H.265), will help in ensuring that 4K transmission is possible without overburdening networks.
4K on a computer monitor - makes sense now
While it can be argued that 4K for TVs is still in its infancy, the high-resolution technology does make immediate sense for computer monitors. The extra pixels, over and above Full-HD, enable more applications to be opened and viewed at the same time, which is a definite plus for power users who need multiple programs running concurrently.
Modern games engines, too, scale to the 4K setting (3,840x2,160) with ease, providing ultra-realistic rendering when run on high-end cards.
Component giant Asus is one of the very first to put its name behind 4K computer monitors. Touted as the 'world's first consumer 4K monitor' and initially available as a 31.5in unit with a 39in model to follow, the Asus PQ321QE was officially released in July 2013, with a shipping date of August 2013.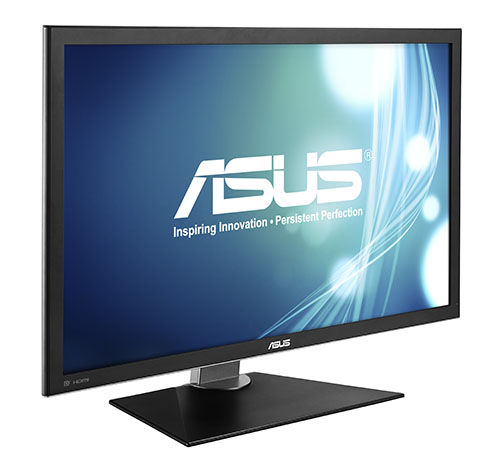 The 31.5in screen is built using Sharp's anti-glare, LED-backlit IGZO panel technology. The use of Indium Gallium Zinc Oxide (IGZO) in the LCD panel enables the PQ321QE to be quite thin, measuring only 35mm at its thickest point, and the technology helps reduce energy consumption, which is less than 93W when in use. As well as the vast number of pixels on show, the monitor uses 'deep' 10-bit RGB (over a billion colours).
Driving 8MP can also cause potential issues from a connectivity point of view, so Asus uses either two dual-link DVI ports (ganged together) or the very latest DisplayPort technology, one that can drive the 4K resolution from a single cable.
The cost of such pixel luxury and cutting-edge technology isn't cheap, as you would expect, with the 31.5in monitor retailing for £3,000. But the lure of running the same resolution as present four regular monitors ganged together, on one screen, is sure to tempt the deep-walleted enthusiast.
The future
With all the major industry TV and monitor manufacturers and a large number of broadcasters and content providers putting their collective weight behind 4K it is only a matter of when, not if, the new resolution becomes the standard for premium displays. It is estimated that 62,000 4K-compatible displays were sold in 2012, rising to 780,000 in 2013 and a staggering 22 million by 2017.
Asus has already jumped on the 4K bandwagon by offering technology aficionados the possibility of running an ultra-high-resolution display right now, with the PQ321QE on pre-order from the following retailers:
Read more HEXUS content on 4K displays and ASUS