The sheer convenience of a high-speed USB 3.0 device cannot be underestimated. Creative types have files measured in gigabytes, and even Joe Average is consuming high-definition content at a frenetic pace. Transferring between devices is easy over a decent network but onerous if you're limited to, say, 100Mbit/s. This is where large-capacity, super-fast USB 3.0 comes in handy. Corsair's latest Flash Voyager GTX USB 3.0 sticks aim to be the go-to solution for premium portable sticks.
Voyager GTX supplants Voyager GS at the top of the USB pecking order. Keeping it premium, they are available in 128GB (£90) and 256GB (£170) alone; there's little point in producing the very best drives in smaller capacities because their price-to-performance ratio would be financially unreasonable. We have the 128GB version in for review today.
Build, look and feel
Corsair made a radical style departure when introducing the Voyager GS last year. Gone is the soft-touch, ovalised rubber coating we had become familiar with. In came straighter lines and a scatch-resistant aluminium housing that, presumably, acts as a giant heatisnk for the NAND chips contained within.
Though suitably light and easily pocketable due to the slim form factor, the Voyager GTX is certainly not the smallest USB 3.0 stick around. Measuring 78mm long and 27mm wide, Corsair needs adequate room to house the fast NAND and controller chip. Speaking of which, the Voyager GS's Phison PS2251 controller has been upgraded to the PS3109 here. Tipping the scales at 23g, you're unlikely to feel it in a pocket. The cap is firmly attached on the port side, with little chance of coming away accidentally, and it can be moved over to the rear when in use. Be warned though, the fitting on the rear is nowhere near as tight and secure, thus running the risk of losing the cap at some juncture.
The red-and-black colour scheme works well, harking back to previous generations of premium Voyager drives. We like the understated writing on the side and the small activity light on the back, though it's sometimes hard to see through the red coating. Corsair backs the drive with a limited five-year warranty.
Corsair Flash Voyager GTX Specification

Capacity

Read Speed

Write Speed

Price

128GB

450MB/s

360MB/s

£90

256GB

450MB/s

360MB/s

£170
A wider-than-normal profile means that it can block adjacent USB ports on laptops that have little space to spare in the first instance. There's no getting around this, so make sure you won't be compromising too many ports if opting for this drive.
Corsair would rather you think of this as an SSD-on-a-stick than a regular USB drive. Sequential throughput is the highest we've seen on a USB device, with the company claiming peak speeds of 450MB/s read and 360MB/s write - all-but saturating the USB 3.0 bandwidth ceiling.
Both capacities are rated to the same speed, which is good to see, but don't be dazzled by the headline sequential figure, for it's derived from running the ATTO benchmark, one that historically provides the highest performance often not in line with what you see when transferring within a Windows environment. Corsair also quotes a 430MB/s and 190MB/s read/write speed achieved on CrystalDiskMark.
The necessary bridge over to USB means that performance won't always be analogous to using a SATA SSD, especially when dealing with a multitude of small files. The higher latency - at around 8x that of SATA on this model and 24x on the GS - inhibits performance enough for the difference between SATA and USB to be discernible to the user. That said, the speedy nature of the Voyager GTX makes it one of the better candidates for running Windows directly from it. Though not certified as Windows To Go, a feature part of Windows 8 Enterprise, there are easy ways of making this into a boot drive.
A new standard for USB 3.0
Fresh out of the box, the drive works just as expected. Pre-formatted in FAT32 for the widest possible compatibility, users may want to reformat in NTFS to remove the 4GB-per-file capacity limit.
Sequential performance is excellent when examined in the AS SSD benchmark. Trouncing the previous Corsair champ, Voyager GS, by a healthy margin in the read examination, the Voyager GTX is a very fast drive when pulling large files back over on to the host PC. Bear in mind you will need a capable SSD or RAID setup to ensure that PC-side writing is not the bottleneck. The writing speed, however, is no better than other premium drives we have previously reviewed.
Our File Copy tests reveal that performance is a little lacking for large-file ISOs but simply excellent for the Game and Program profiles, representing mixed-file and small-file sizes. A case in point, the Voyager GTX is almost 5x faster at munching through the Program test than the Voyager GS.
Adding a little more colour to performance proceedings, we moved a 23GB folder composed of 17 large movie files from the Voyager GTX back to our test platform's Samsung 840 Pro SSD in 58 seconds. This translates to an average speed touching 400MB/s. Moving the other way, after a reboot, took 285s, or just 80MB/s. Mixing it up, quite literally, we also moved a 5.34GB file containing 2,927 files - some big, lots of small - and the Voyager GTX returned 210MB/s read and 57MB/s write.
Up against an SSD
Touted as an SSD-on-a-stick solution and with due consideration that it's a premium solution, how does it compare to a decent SSD connected to the PC via regular SATA 6Gbps? We undertook the same real-world transfer speeds, this time substituting the Voyayer GTX USB 3.0 for a Corsair Force LX 512GB SSD.
USB 3.0 vs. SATA

Capacity

Large-file read

Large-file write

Mixed-file read

Mixed-file write

Voyager GTX 128GB

396MB/s

81MB/s

210MB/s

57MB/s

Force LX 512GB

450MB/s

396MB/s

223MB/s

223MB/s
Voyager GTX puts up a good showing when reading out to another fast drive. Averaging over 200MB/s when reading almost 3,000 files is impressive for a USB stick. Writing speed isn't as good, likely caused by a combination of higher latencies present over USB 3.0 and a lack of die parallelism inside the GTX stick. That said, reviewed in context, the Voyager GTX is one fast USB 3.0 drive.
Bottom line: Suitable for folk who need to move large amounts of data from machine to machine, Corsair's Flash Voyager GTX is one of the fastest USB 3.0 sticks around. Particularly adept at sky-high read speeds approaching 400MB/s in a real-world environment, we can recommend it for users where speed really matters.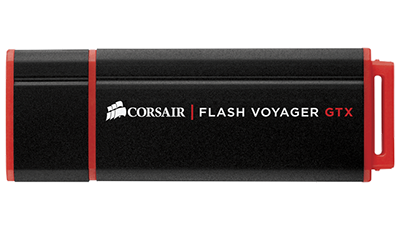 The Good
Great performance with large files
Available in capacities up to 256GB
Sturdy brushed-metal enclosure
Five-year warranty
The Bad
May obstruct adjacent ports
HEXUS.awards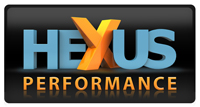 Corsair Flash Voyager GTX (128GB)
HEXUS.where2buy
The Corsair Flash Voyager GTX USB 3.0 flash drive is available to purchase in a choice of capacities at Scan Computers*.
HEXUS.right2reply
At HEXUS, we invite the companies whose products we test to comment on our articles. If any company representatives for the products reviewed choose to respond, we'll publish their commentary here verbatim.