It's often said that necessity is the mother of invention. This proverb certainly resonates with the computing industry, particularly with reference to Apple products, as manufacturers look to circumvent the limitations imposed by the Cupertino company's locked-down approach.
Limitations in Apple device storage have spawned an entire industry whose purpose it is to improve the user experience. One of the most popular accessories is the wireless media streamer that beams content over to an Apple device, thus getting around storage problems that, with installed applications aplenty, are all too obvious on entry-level phones and tablets.
These wireless media streamers typically use WiFi networking as the means by which to transfer USB or SD card content over to multiple devices. Storage specialist PNY now plies this market with the aptly-named Wireless Media Reader priced at £50.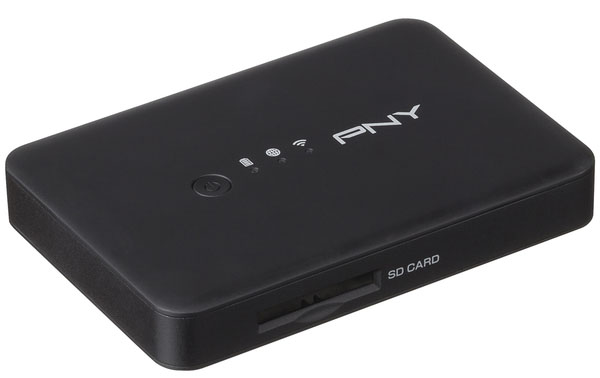 Look, feel and features
A soft-touch rubber covering provides a suitably premium feel. On the front is a standard-sized SD card slot - PNY also includes an adaptor for microSD card usage - and round back a micro-USB port for charging and a regular USB 2.0 port for connecting the ubiquitous sticks. A central power button sits to the left of three status lights signifying charging, WAN and WiFi activity, respectively.
PNY's sleek package measures 95mm x 65mm x 14mm and is therefore about the same size as a pack of playing cards. It's unobtrusively light, too, weighing just 94g and can easily be slipped into a pocket. Keeping it small means foregoing internal storage, but PNY thinks ahead by integrating a dual-purpose 2,000mAh battery that acts as both a charge for the reader and, should you so wish, as a standalone powerbank via the regular USB (1A) port; you simply change the cable around and plug the micro-USB port into the phone/tablet.
In use - generic hub
It takes about six hours to fully charge the Wireless Media Reader's internal battery when the device is connected to a PC's USB port. Full charge is signified by the flashing light turning a solid green. However, there's no way of knowing the reader's remaining charge without consulting the tablet or smartphone app.
PNY's multi-purpose box of tricks can be used as a simple media reader when attached to a PC. Note that wireless beaming to devices cannot be used in concert with the PNY when in either the powerbank or media-reader mode; it is one or the other. As a reader, the device works well enough. FAT32-formatted USB sticks and SD cards show up just as expected in Windows Explorer, with an ADATA Class 10 SDHC card averaging about 20MB/s when reading and writing large files to-and-fro the PC.
In use - wireless media streamer
But the real purpose, we believe, is in using it as a wireless hub from which you beam content to, potentially, five devices simultaneously. Pressing the power button for three seconds activates (and deactivates) the wireless mode, which then creates its own WiFi network identified as 'WMR-XXXX.' The free-to-download iOS (Apple) and Android apps act as the interface between PNY reader and client device once connected via WiFi; there's no support for Windows Phone, sadly. We tested with an Apple iPad (3rd Gen).
The iOS interface is simple and easy to use. The reader can also piggy-back on any available Internet connection by setting it up in the Settings menu, meaning you can surf the web whilst attached to the Wireless Media Reader. Bridging through the device does cause maximum speed to drop - from 50Mb/s to 35Mb/s, but that's neither here nor there in the grander Internet sense, as it's limited by the real-world speeds of the baked-in 802.11n connection rather than the device. Various security modes can be set, and WPA2-PSK is supported. It's in this same section that the password can be reconfigured, too. Perhaps the only feature missing is a battery-level indicator.
Upon loading, any connected storage is shown in the left-hand panel. Whether media plays correctly is wholly dependent upon the host iPad player; the PNY Wireless Media Player, at its most basic sense, is a passthrough device. The media player uses the same streaming technology to allow files to be transferred from the reader to iPad. Clicking on the My Device setting on the bottom-left of the screen enables pictures, movies and files to be moved back in the opposite direction. For example, the Camera Roll pictures are easily uploaded to the SD card. In terms of speed, we averaged about 35Mb/s - again, likely limited by the 802.11n connection - when copying a 1.5GB movie from reader to iPad, and vice versa.
1080p movies encoded in .mp4 format play flawlessly from a device-to-iPad distance of 20 feet. There's no discernible difference between streaming - and scrubbing - and having the content contained on the iPad's built-in flash memory. Attaching a second device doesn't diminish performance either, and we imagine that a five-device setup will only run into rendering problems if they cumulatively exceed the available 802.11n bandwidth.
Run with one iPad connected and streaming a 1080p movie from the Wireless Media Reader whilst also connected to the Internet, the device lasted approximately five-and-a-half hours before the 2,000mAh battery was exhausted. Note that the reader cannot be used as a streamer and powerbank at the same time, so you cannot watch videos and charge a phone concurrently.
Conclusion
How would we improve it? We'd make it simpler to change from streaming to media-reader/device charging mode, perhaps using a dedicated switch on the device. We'd also encourage PNY to include a battery-level indicator either on the device or in the software. Rival products, such as the Kingston MobileLite Wireless MLW221, are significantly cheaper, too, priced at £30 or so.
That said, the PNY Wireless Media Reader is a handy bit of kit, enabling multiple tablets and smartphones to take advantage of content stored on readily-available USB sticks and SD cards.
Bottom line: a handy bit of kit for those running out of space on, primarily, Apple iPads and iPhones.
The Good
Really easy to use
Small and eminently pocketable
Multi-purpose device, includes powerbank
Sleek, high-quality finish
Internet-passthrough function
Slick iOS interface
The Bad
No battery-level indicator
Cannot stream and use powerbank/PC reader concurrently
Dearer than rival products
HEXUS.awards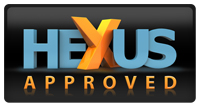 PNY Wireless Media Reader
HEXUS.where2buy
The PNY Wireless Media Reader is available to purchase from Currys.co.uk and Amazon.co.uk.
HEXUS.right2reply
At HEXUS, we invite the companies whose products we test to comment on our articles. If any company representatives for the products reviewed choose to respond, we'll publish their commentary here verbatim.