The proliferation of fixed-capacity smartphones and tablets has led to enterprising manufacturers releasing all manner of supporting products that feature storage expandability and easy sharing of content between devices. Almost all non-Apple handsets and smartphones feature a micro-USB connector used for charging the device and synchronising data when plugged into a computer via a compatible cable.
It doesn't require a leap of the imagination to figure out that the same micro-USB connector can be used to connect a ubiquitous USB drive, thus increasing the device's capacity and making it simple to transfer videos and photos from your PC to tablet or phone, or vice versa.
This disarmingly simple technology is called USB On-The-Go (OTG), and it is presented via a double-ended USB drive that has micro-USB on one side and regular USB on the other. Connect it to your PC in the regular way, load it up with content, and then use it as a storage go-between.
The praxis isn't quite as straightforward, however. OTG-compatible devices need to be able to act as either a host or slave device, depending upon circumstance, and the USB stick needs to be able to interface with the OTG-enabled device. Currently, this feature is present on most Android-powered devices - v3.1 and later - but is not available on, surprisingly, Windows Phone or, unsurprisingly, on Apple products.
But Android-based products represent a huge slice of the mobile pie, with OTG-compatible hardware numbering in the hundreds of millions.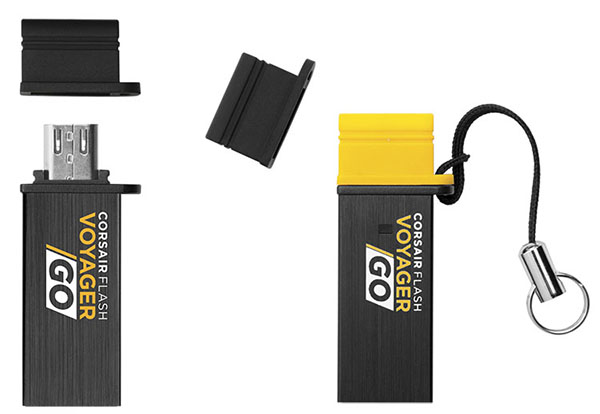 Corsair has seen the merits of OTG and launched a specific line, Flash Voyager Go, around it. Available in 16GB (£24), 32GB (£28), and 64GB (£38) capacities, thus attracting a not-unreasonable premium over USB-only drives, the tiny Go drives measure just 37mm x 12mm. The 64GB's dimensions can be inferred by the relative size of the micro-USB port on the top - yes, it's tiny.
Corsair provides a second (yellow) cap and a small lanyard in the package. Build quality is good and the cap fits snugly over the top. Keeping up with the times, the Voyager Go connects to the PC via a USB 3.0 port on the opposite side to the micro-USB.
Hooked up by USB 3.0 and to our test platform the Voyager Go performs just like any other pendrive. We can evaluate its speed against some premium offerings.
It's not the fastest USB drive around, far from it, but that's not the purpose here. It took approximately 13 minutes to write 30GB of movies and photos to the Voyager Go but merely four minutes to read them back to the system's SSD.
Once the data is stored and the drive connected to a Samsung Galaxy S4 smartphone, accessing files is as simple as if they were on the microSDXC card. In-phone performance generally mirrors that achieved in the file-copy tests, that is, approximately 25MB/s read and 10MB/s write.
The inherent benefit of USB over the phone's expandable storage, of course, rests with the ease of moving large files over without having to use a USB cable or remove and then reinstall an add-in card.
Primed for the user who needs to frequently move data between computers and mobile devices, the Corsair Flash Voyager Go is a simple solution to a long-standing problem.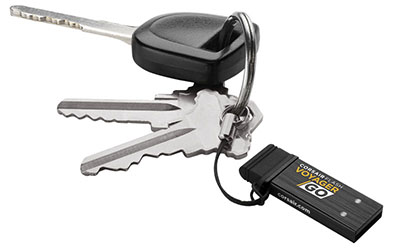 The Good
Plain useful with OTG-compatible devices
Available in capacities up to 64GB
Small and eminently pocketable
USB 3.0 connection to PC
The Bad
Writing performance a tad slow

HEXUS.awards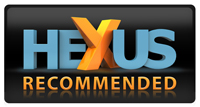 Corsair Flash Voyager Go (64GB)
HEXUS.where2buy
The Corsair Flash Voyager Go USB 3.0 flash drive is available to purchase in a choice of capacities at Scan Computers*.
HEXUS.right2reply
At HEXUS, we invite the companies whose products we test to comment on our articles. If any company representatives for the products reviewed choose to respond, we'll publish their commentary here verbatim.