High-speed USB 3.0 flash drives are one of life's little treasures. Small enough to fit into your pocket, spacious enough to store masses of content, and fast enough not to keep you waiting: they're the sort of accessory that every regular PC user should have.
And as we've often said in the past, you needn't break the bank to step into the world of USB 3.0 devices. 32GB flash drives are readily available for under £20, and these cheap-and-cheerful solutions tend to be sufficient for most consumers. But the technology is moving forward on a couple of key fronts - both speed and capacity are on the up, while NAND flash prices have fallen - so high-end users may want to try something a little more advanced.
Corsair's Flash Voyager GS, available in 64GB (£70), 128GB (£90) and 256GB (£190) capacities, ought to fit the bill.
Introduced as the company's latest high-performance, high-capacity model, the Flash Voyager GS is a visible departure from the firm's usual drive design. The rubberised shell of older models such as the Voyager GT has been replaced by a brushed-metal enclosure that claims to be scratch resistant.
We quite like the feel of our 256GB review sample and it does a good job of repelling fingerprints, but the drive does look awfully familiar. There's a reason for that, as it seems both Corsair and Patriot have been shopping at the same manufacturer - the Flash Voyager GS is housed in the same chassis as the Supersonic Magnum that's already on the market.
Corsair's business-like black-and-grey body is in our estimation more stylish than Patriot's black-with-blue-highlights, and in addition to the sleeker colour scheme, Corsair has included a helpful activity LED in the back of the device. Other than that, both drives are physically identical. Each measures 0.9cm (D) x 2.7cm (W) x 7.8cm (H) in size and tips the scales at 25g, making the drive convenient to carry around.
Corsair Flash Voyager GS Specification

Capacity

Read Speed

Write Speed

MSRP

64GB

260MB/s

70MB/s

$95

128GB

260MB/s

90MB/s

$135

256GB

260MB/s

105MB/s

$255
Yet, while the design is suitably light, there is room for improvement and some of the bugbears we identified with the Patriot drive are still present here. If you decide to attach a lanyard to the loop at the rear, you lose the ability to stow the cap, and even when the cap is stowed, it doesn't feel particularly secure and we suspect lost caps are going to be a common thing.
And while the Voyager GS is reasonably small, it's still a bit bigger than we'd like for a USB flash drive. During use on a couple of different laptops, we found that the above-average width would obstruct adjacent ports, so that's worth bearing in mind if your laptop's I/O ports are particularly close together.
It's worth noting, also, that high-performance users will be wary of the fact that it's cheaper to purchase, say, a 256GB SSD and a high-quality external enclosure. Depending on the specification of the drive, performance is likely to be far greater. But Corsair's Voyager GS is a balancing act, and it attempts to find an optimum blend of portability, convenience, capacity and speed.
Despite the size constraint, the Voyager GS series is able to cram in up to 256GB of storage, and read and write speeds are officially rated at up to 260MB/s and 105MB/s, respectively. The smaller-capacity models will see write performance reduced as a result of having fewer NAND flash memory chips interfacing with the associated controller, but overall speeds are decent for a drive of this ilk.
In our own benchmarks on a fresh Intel Haswell test platform running Windows 8.1, we were able to record specification-beating maximum sequential read and write speeds of 284MB/s and 188MB/s, respectively. The numbers are, unsurprisingly, a mirror of what's available from the Supersonic Magnum, though the Voyager GS does have one real advantage over the immediate competition: Corsair's £190 asking price is more competitive than Patriot's £215.
Both drives are quick when hooked-up to a USB 3.0 interface, yet as we've seen in the past, these high-capacity models achieve optimal speeds when dealing with large file transfers. Our File Copy tests reveal that performance is excellent with large data types such as ISOs, but when transferring a game directory (mixed-size files) or a program directory (small files), performance drops off noticeably.
Bottom line: Well adept at transferring large quantities of data at pace, Corsair's Voyager GS can be recommended to users who crave USB 3.0 speed and up to 256GB of storage in a package that's barely bigger than a pack of Wrigley's. Factor in the sub-£200 price tag, and this becomes one of the more attractive high-end flash drives available today.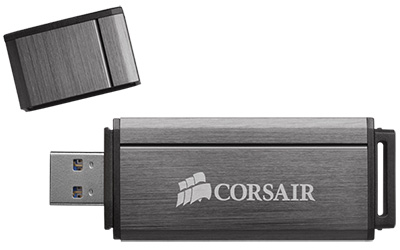 The Good
Great performance with large files
Available in capacities up to 256GB
Sturdy brushed-metal enclosure
Five year warranty
The Bad
May obstruct adjacent ports
Performance drops off with smaller files
HEXUS.awards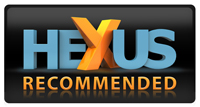 Corsair Flash Voyager GS (256GB)
HEXUS.where2buy
The Corsair Flash Voyager GS USB 3.0 flash drive is available to purchase in a choice of capacities at Scan Computers*.
HEXUS.right2reply
At HEXUS, we invite the companies whose products we test to comment on our articles. If any company representatives for the products reviewed choose to respond, we'll publish their commentary here verbatim.