What is there to know about portable hard drives? Step into any PC component store and you can pick up a compact drive that offers generous capacity and swift USB 3.0 connectivity for less than 50 nicker. Job done.
But if you do like to push the boat out, there are a range of drives tailored for specific customers; some offer over-the-air access from smartphones and tablets, while others tout a much higher capacity.
Taking a different approach, ADATA is setting its sights on "the unique taste and professional image of successful businesspeople" by introducing an external hard drive that claims to be the world's thinnest.
It's dubbed the DashDrive Elite HE720, and it aims to offer 500GB of USB 3.0 storage in an ultra-sleek package priced at £60. Straight away, that means you're paying a £15-£20 premium for the looks, but if you're specifically after something that's more elegant than your everyday plastic enclosure, you're in luck; the DashDrive Elite is very smart.
Measuring 117mm x 79mm x 8.9mm in size and weighing 164g, ADATA's drive is slim enough to slip easily into a pocket, but it uses a brushed stainless steel chassis that, while attractive, makes it heavier than expected. It actually weighs more than an iPhone 5, so while it will fit your pocket, you'll probably feel more comfortable keeping it in a bag.
Some may prefer a lighter drive, but if sophistication is the order of the day, the DashDrive Elite's record-breaking 8.9mm profile looks particularly sleek. It's almost 4mm thinner than the competing WD My Passport Edge, and the 'scratch-resistant' brushed stainless steel is robust; there's hardly any flex in the chassis and the tapered edges make it comfortable to carry.
The polished strip across the middle is a nice touch, and the single blue LED, positioned near the front edge, is nice and bright. There's little to disrupt the clean design and users have only two points of real interest; the USB 3.0 port and an accompanying one-touch 'backup' button that can be used to launch ADATA's basic Sync utility (should you choose to install it).
On the inside, the DashDrive Elite is armed with a 500GB Seagate Momentus Thin Hard Drive plumbed to a SuperSpeed USB 3.0 interface. The Seagate disk offers a basic 5,400RPM spindle speed and a SATA 3Gbps interface, but measures just 7mm thick, enabling ADATA to produce the lavish design.
Only a 500GB model is available at the time of writing, and the drive is completely bus-powered; attach the bundled USB 3.0 cable and you're good to go, and, of course, it is backward-compatible with USB 2.0, though speeds will be limited via the latter interface.
While we're on the subject of speed, we hooked up the DashDrive Elite to our Intel Ivy Bridge test platform via USB 3.0 to determine just how fast it will go.
Our first test uses the AS SSD benchmark to gauge sequential read and write performance, and it pegs the ADATA drive to 109MB/s and 107MB/s, respectively. The USB 3.0 interface is capable of more (as evidenced by the Flash-based Corsair Voyager GT), so it's clear that the internal Seagate hard disk is the limiting factor, but nonetheless, read and write speeds in excess of 100MB/s are strong for a portable 500GB drive.
ADATA's good performance is backed up in the File Copy test. Whether we're dealing with a few big files (ISO), lots of small files (Program) or a mixture of file sizes (Game), the DashDrive Elite offers decent speed and is on par with a WD My Passport.
Strong performance, stylish design and an ultra-slim profile are the DashDrive Elite's most obvious plus points, and ADATA backs it up with an above-average three-year warranty that offers added peace of mind.
The Good
Attractive and sturdy stainless steel design
Ultra-slim 8.9mm profile
Good USB 3.0 performance
Ample 500GB capacity
The Bad
Basic bundled software
Not particularly light
HEXUS Rating

ADATA DashDrive Elite
HEXUS Awards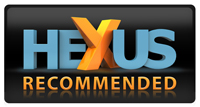 ADATA DashDrive Elite
HEXUS Where2Buy
The ADATA DashDrive Elite portable hard drive is available to purchase from Amazon UK.
HEXUS Right2Reply
At HEXUS, we invite the companies whose products we test to comment on our articles. If any company representatives for the products reviewed choose to respond, we'll publish their commentary here verbatim.