The price of flash memory has continued to drop throughout 2012. A search on any bargain-finding website reveals that USB sticks commonly retail at what would have seemed ludicrous levels just a couple of years ago. For example, a 16GB pendrive only offers perceived value if it's priced at £5, or barely more than the cost of a pint around these parts.
Such savage pricing and associated flooding of the market presents a headache to established memory manufacturers and retailers alike. The slim per-unit profit margins are fast eroded if the wholesale price of flash chips drops by a fraction, and such market volatility has caused firms to have a hard look at their pendrive proposition.
A name now synonymous with high-quality PSUs, chassis, peripherals and SSDs, Corsair has a six-family USB drive line-up. Rather than indulge the market by having a myopic focus on price, each family of sticks offers something a little different. The fastest (and most expensive) sticks fall under the USB 3.0-totin' Voyager GT line, which is further sub-divided into five main offerings.
Corsair Flash Voyager GT Series

Capacity

Read speed

Write speed

16GB

79MB/s

21MB/s

16GB²

140MB/s

45MB/s

32GB

220MB/s

55MB/s

64GB

220MB/s

110MB/s

128GB

220MB/s

130MB/s
Ranging in capacity from 16GB to 128GB and offering speeds that increase with capacity, Corsair offers two newer short-body sticks in the 32GB and 64GB flavours, though specifications remain the same.
Our review stick is the 64GB model, offering sequential read and write speeds of up to 220MB/s and 110MB/s, respectively, and such on-paper performance elicits a street price of around £60.
This figure is expensive by the standards of run-of-mill sticks, granted, but is competitive against other performance pendrives that tout similar speeds and feeds.
A peek at the stick highlights the rubberised housing that's been a mainstay of high-end Voyager drives for years now. Shockproof, waterproof and idiotproof to a reasonable degree, build quality remains excellent. Slip off the cap - which has a habit of going missing - and the blue highlights indicate that it's a USB 3.0-compatible drive.
Unlike the first generation of large-capacity pendrives, which had a proclivity towards super-sizing the housing due to using a number of low-density chips, the Voyager GT is standard in size and weight, measuring 65mm and tipping the scales at a pocket-friendly 18g.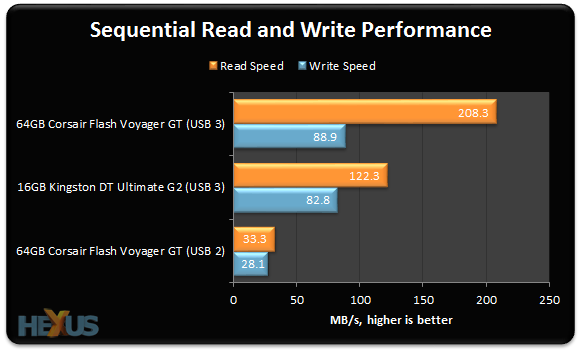 Jumping straight into the numbers with a look at sequential read and write performance through the popular AS SSD benchmark, we've compared the 64GB GT's performance against Kingston DT Ultimate G2 USB 3.0-compatible stick and, underscoring the obvious benefits of the SuperSpeed interface, also plugged the Corsair into a USB 2.0 port.
Corsair's claims of maximum sequential read and write speeds of 220MB/s and 110MB/s, respectively, are a little higher than the numbers produced on an ASUS P8Z77-V Deluxe motherboard. Significantly faster at reading than the also-USB 3.0 Kingston stick, the overall performance is, as expected, way better than on the bandwidth-stifling USB 2.0 interface.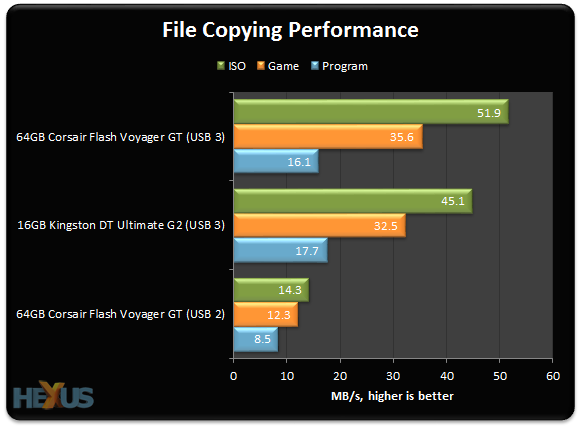 The same AS SSD program carries built-in file-copy tests that purport to mimic the kinds of speeds achieved when copying different-sized files. We're certainly not seeing the sky-high numbers as shown on the previous graph, but one thing is clear; Corsair's 64GB Voyager GT is a speedy stick.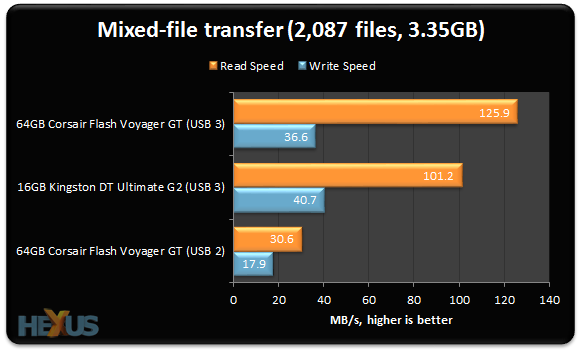 Putting a real-world slant on testing, we copy over the entire install directory for Windows 8, encompassing over 2,000 files and weighing in at 3.35GB. The read test involves ferrying the files over to a host Samsung 830 Series SSD, while the read test copies them back to the USB stick.

The write speed of the Voyager GT is about one-third its read speed, which turns out to be slower than the Kingston DT, and this is one area where USB pendrives tend to lag behind their full-blooded solid-state drive (SSD) counterparts.

Bottom line: Corsair's Voyager GT 64GB USB 3.0 pendrive is fast, robust and competitively priced against other premium sticks. Consider it if your work involves moving large files around on a frequent basis.

The Good

Impressive read performance
Excellent build quality
Good capacity

The Bad

Write performance isn't stellar
HEXUS Rating

Corsair Flash Voyager GT USB 3.0 64GB Flash Drive
HEXUS Awards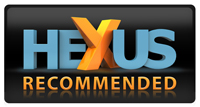 Corsair Flash Voyager GT USB 3.0 64GB Flash Drive
HEXUS Where2Buy
The Corsair Voyager GT 64GB USB 3.0 Flash Drive is available to purchase from Scan Computers*.
HEXUS Right2Reply
At HEXUS, we invite the companies whose products we test to comment on our articles. If any company representatives for the products reviewed choose to respond, we'll publish their commentary here verbatim.
*UK-based HEXUS community members are eligible for free delivery and priority customer service through the SCAN.care@HEXUS forum.