Final thoughts and rating
Now available to buy from your favourite retailer, Intel's 3rd Generation Core chips are sure to attract the interest of the enthusiast. The chips' release is also an opportune time for memory manufacturers to launch optimised dual-channel kits, and G.Skill has done just this with the all-new TridentX DDR3 range.
Starting at a lofty 2,400MHz and reaching 2,800MHz the TridentX family looks good on paper. Delve a little deeper and the loose timings and 1.65V operating juice - both necessary evils at this end of the spectrum - rear their ugly heads, as does pricing, which is reckoned to be at least double that of regular DDR3 memory that runs at 1,600MHz.
Genuinely high-end products are released with the lure of exceptional performance. Our benchmarks show an 8GB (2 x 4GB) TridentX pack of DDR3-2,400 memory to be barely any faster, if at all, than well-tuned DDR3-1,600 memory. The explanation for what seems like a performance anomaly is actually quite simple: Intel's recent chips integrate smart, efficient caches that blunt the hoped-for benefits of running premium RAM.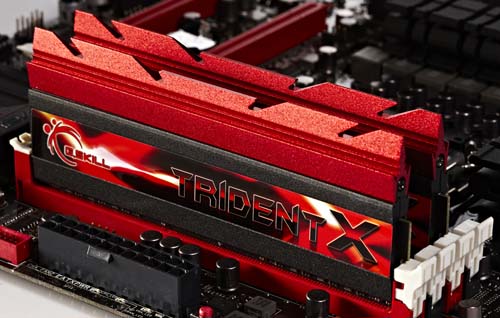 The G.Skill TridentX 8GB DDR3-2,400 memory pack does exactly what it says on the tin, with utter stability, but the very architecture of the latest Intel processors does it no favours, especially as it costs over twice as much as memory that performs just as well. We're struggling to find compelling, obvious reasons for recommending it, frankly.
The Good
Works flawlessly, easy to setup (XMP 1.3)
The Bad
Costs over twice as much as quality DDR3-1,600 memory
Shows little real-world benefit over cheaper RAM

HEXUS Rating

G.Skill TridentX F3-2400C10D-8GTX memory
HEXUS Where2Buy
The reviewed memory can be purchased from here.
HEXUS Right2Reply
At HEXUS, we invite the companies whose products we test to comment on our articles. If any company representatives for the products reviewed choose to respond, we'll publish their commentary here verbatim.