Software and Summary
While EVGA likes to dabble in a variety of product categories, it hasn't yet opted to unify its various software solutions. The package relevant to the Z20 is dubbed Unleash RGB and weighs in as a relatively lightweight 30MB download.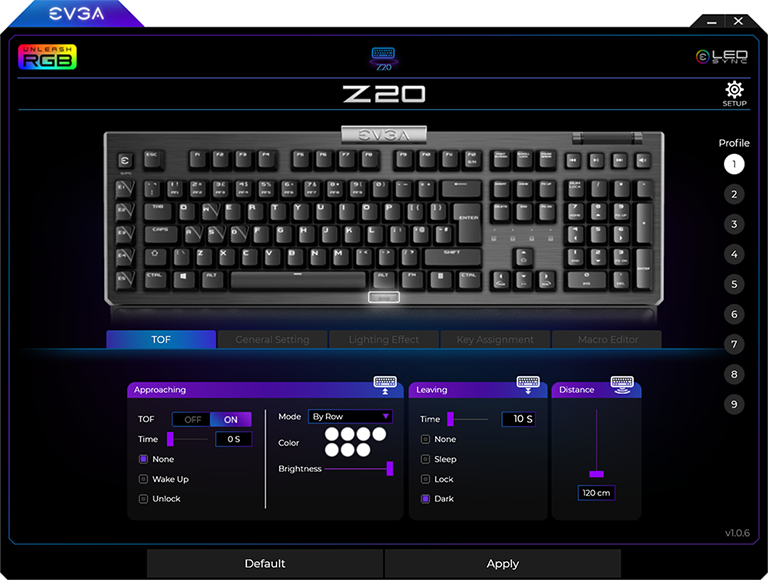 Presentation is tidy enough throughout and all of the customisations you'd expect to find are logically spread across five central tabs. The first, TOF, can be used to configure the sensitivity of the proximity sensor and choose from a limited predefined list of actions. Wake Up and Unlock are the only two options when approaching the keyboard, and we'd like to see EVGA expand on this; perhaps even add the ability for users to select their own shortcuts or macros.
General Setting is where you'll be able to locate the much-advertised 4,000Hz polling rate. Appreciating that game support isn't quite up to speed, selecting anything over 1,000Hz results in a pop-up window informing users that higher settings "may lead to compatibility issues with some games." The Lighting tab, pictured below, isn't as exhaustive as, say, Corsair or Razer, but has a decent selection of presets as well as the ability to create custom multi-layered effects.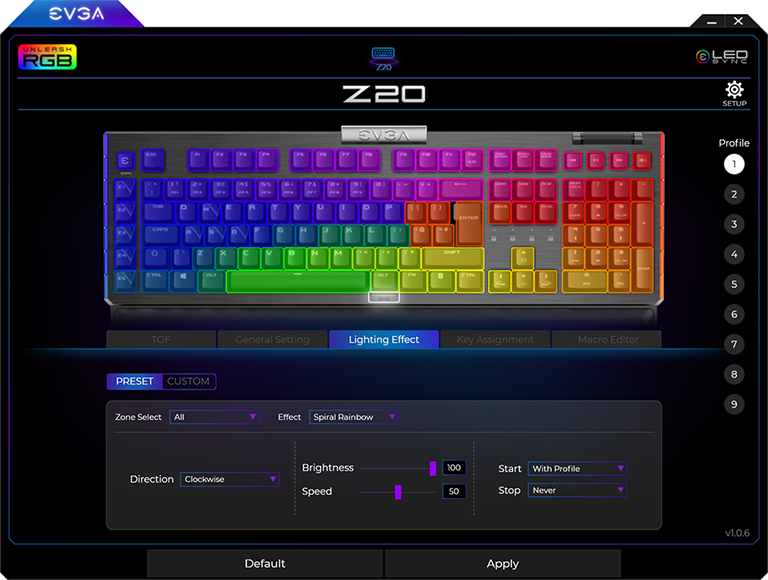 Key assignments for either primary or secondary (Fn) functions are easily remapped, and last but not least, the built-in Macro Editor is reasonably comprehensive, with combined mouse inputs, configurable delays and the ability to repeat. Creating a custom setup to suit your needs shouldn't take long at all, and if you prefer not to keep any extra software on your system, there's enough onboard memory to store nine hardware profiles that will carry across between PCs.
Summary
There's always a sense of fascination when EVGA announces plans to introduce a product that isn't a graphics card. The firm's motherboards, laptops and peripherals have historically offered something different to the norm, and in a market brimming with formulaic solutions, it's nice to see a manufacturer use innovation as a means to stand out from the crowd.
It is a risky strategy, however, as different isn't always better, and with the Z20 keyboard there are one too many niggles for a premium product. Most of EVGA's value-adds work as advertised - the proximity sensor does what it says on the tin, as does 3.5mm audio passthrough - but much like the peak 4,000Hz polling rate, these enhancements don't do enough to gloss over some of the other shortcomings. ABS keycaps feel out of place at this price point, the multimedia keys fall flat, and the bundled wrist rest simply isn't all that comfortable.
Readers who have heard whispers of a 50 per cent discount for EVGA Elite Members may have envisaged a cheap route to high-performance hardware, but that promotion has come to an end, and the regular $175 fee is hefty for a product that's clearly rough around the edges.
Bottom line: we get the impression EVGA has gone to great lengths to try to make the Z20 stand out in a crowded market, yet higher-quality stabilisers, PBT keycaps and USB 3.0 passthrough is perhaps all it would have taken for this to be a viable alternative to established brands.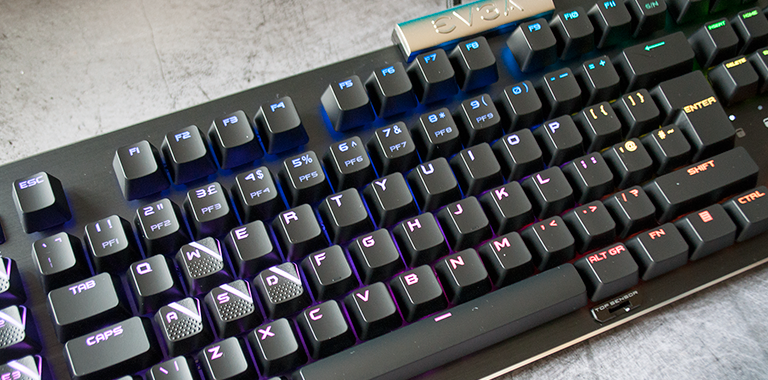 The Good

The Bad

High-performance components
Proximity sensor works as advertised
3.5mm audio passthrough

ABS keycaps feel out of place at $175
Multimedia keys have hardly any travel
Wrist rest needs more filling
HEXUS.where2buy
The EVGA Z20 keyboard is available to purchase from Scan Computers.
HEXUS.right2reply
At HEXUS, we invite the companies whose products we test to comment on our articles. If any company representatives for the products reviewed choose to respond, we'll publish their commentary here verbatim.