Software and Summary
Stream Deck integration is a highlight for the target audience, however its inclusion does necessitate the use of two software utilities; Stream Deck and iCue. The latter continues to govern customisation for a wide range of Corsair peripherals, but it is worth noting that Stream Deck won't recognise the keyboard without iCue installed, and going forward we'd like to see Corsair offer a one-stop app that covers both bases.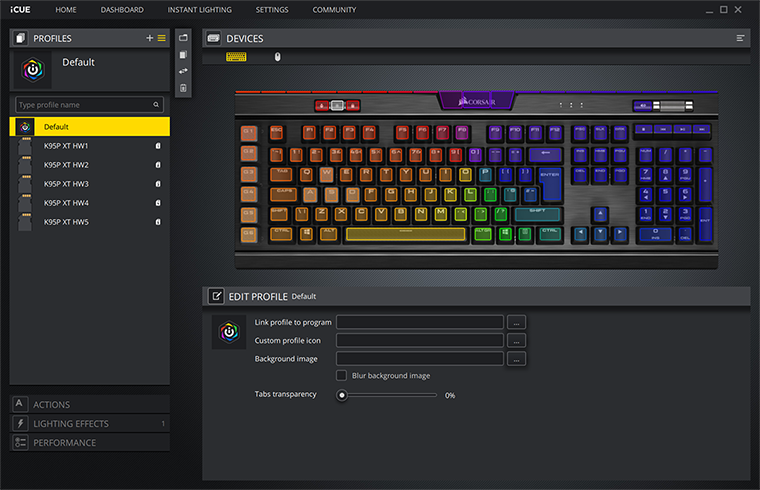 iCue's usability has improved over time, and all of the essential features are split across three self-explanatory sections; Actions, Lighting Effects and Performance. We like the fact that actions can be assigned to every key, including the multimedia keys and volume roller, and Corsair's macro-recording engine is about as comprehensive as they come. Lighting effects are plentiful, though the creation of complex custom patterns requires a fair amount of patience, and the Settings tab now includes an option to increase key switch debounce time to help prevent unwanted double presses of a single key.
Last but not least, K95 RGB Platinum XT comes equipped with 8MB of onboard memory as standard, resulting in the number of hardware profiles increasing from three to five. Handy if you want specific actions or RGB profiles linked to multiple games.
Summary
...adding Stream Deck functionality makes perfect sense, and Corsair's first attempt is easy for both amateurs and experienced creators to get to grips with.

Corsair has built upon the foundations of the 2017 K95 RGB Platinum to launch a new-and-improved model armed with a handful of much-needed value adds.

The resulting XT, priced at £210, employs PBT double-shot keycaps that are better suited to guard against wear and tear, a highly comfortable cushioned wrist rest, and your choice of three popular Cherry MX switches, two of which tout a 100-million keystroke guarantee. Five hardware profiles are another welcome addition, however the star attraction is the integration of Elgato Stream Deck.

Given the popularity of streaming among today's gamers, adding Stream Deck functionality makes perfect sense, and Corsair's first attempt is easy for both amateurs and experienced creators to get to grips with. There's still room for improvement - USB-C passthrough and dedicated OLED streaming keys are high on our list of requests - but Corsair has done enough to make this a worthwhile addition to the range.

Bottom line: want an enthusiast keyboard that juggles both gaming and streaming? Corsair's K95 RGB Platinum XT ought to be on your shortlist.

The Good

The Bad

Feels more robust than ever before
Elgato Stream Deck integration
Choice of three Cherry MX switches
Onboard memory for five profiles
Dedicated macro and multimedia keys
Comfortable cushioned wrist rest
Dazzling lighting possibilities

Costs £210
Relies on two separate apps
Still only USB 2.0 passthrough
Keycap font an acquired taste




Corsair K95 RGB Platinum XT




HEXUS.where2buy*

The Corsair K95 RGB Platinum XT gaming keyboard will be available to purchase from Scan Computers.

HEXUS.right2reply

At HEXUS, we invite the companies whose products we test to comment on our articles. If any company representatives for the products reviewed choose to respond, we'll publish their commentary here verbatim.