Software and Summary
We tend to get by with iCue as we've used it often enough to know where the relevant settings are and how to get around any quirks, but we wouldn't go as far as to say that we love using Corsair's companion app. Geared toward power users, the app is best suited to those willing to invest plenty of time in customising each peripheral to the nth degree.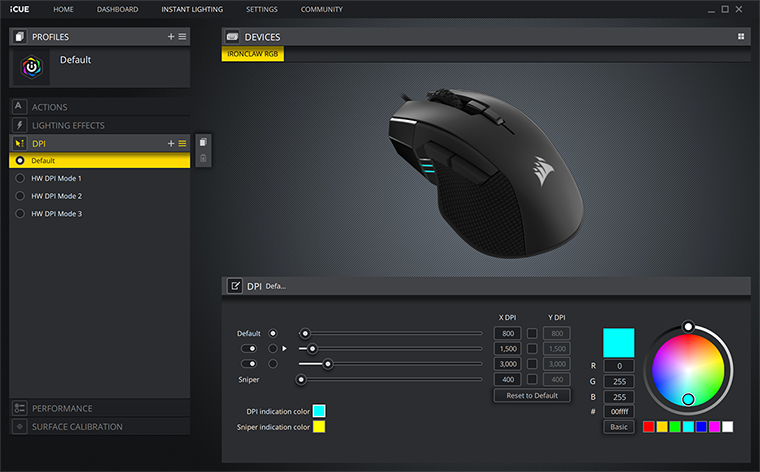 Tweaking every available setting can feel like a chore, yet it's worth doing as Ironclaw RGB has enough onboard memory for three hardware profiles that can roam wherever you take the mouse. Lighting options are ample, buttons are easily remapped, and Corsair has a neat little trick where one button can be assigned two macros; the first is triggered when the button is pressed, the second kicks in when the button is released.
Sensitivity can be configured in 1 DPI increments, for both the X and Y axis, and you can disable certain DPI stages if, say, you only want to switch between two on the fly. It's also worth noting that Ironclaw RGB does support a sniper function - whereby a user-defined low DPI setting is toggled during gameplay - but without a dedicated switch you'll need to remap another button to take advantage of the feature. Corsair's software might not be the most user friendly, yet it certainly isn't lacking in options.
Summary
...though this remains a gaming mouse at heart, the sleek matte-black styling looks the part on any desktop.

If I were to place an order for a custom gaming mouse, it would probably look and feel a lot like the Corsair Ironclaw RGB. The size, shape and layout is near perfect for a righty with large hands, and though this remains a gaming mouse at heart, the sleek matte-black styling looks the part on any desktop.

A custom 18,000 DPI PixArt optical sensor and seven programmable buttons combine to deliver high-end performance that can be comprehensively fine-tuned using the iCue software utility. Corsair has ticked the right boxes for both work and play, and the overall level of comfort is such that I'm going to continue using the Ironclaw RGB as my daily driver.

There is room for improvement - weight adjustments wouldn't go amiss, and iCue still takes some getting used to - but the Ironclaw is a noteworthy option for users who struggle to get to grips with smaller gaming mice.

The Good

The Bad

Very comfortable for large hands
High-end PMW3391 optical sensor
Plenty of customisation options
Subtle yet helpful RGB lighting

No weight adjustment
Software takes some getting used to




Corsair Ironclaw RGB




HEXUS.where2buy*

The Corsair Ironclaw RGB gaming mouse will be available to purchase from Scan Computers.

HEXUS.right2reply

At HEXUS, we invite the companies whose products we test to comment on our articles. If any company representatives for the products reviewed choose to respond, we'll publish their commentary here verbatim.