Introduction
You don't have to wait long for new tech in 2019 as a huge number of manufacturers are gearing up to present their wares at the annual Consumer Electronics Show in Las Vegas. Corsair is using this very stage to launch a bevy of products, including the Ironclaw RGB wired gaming mouse.
Heading to retail stores carrying a £54.99 MSRP, the Ironclaw RGB appreciates that one size doesn't fit all and is aimed squarely at right-handed users with large paws and a preference for a palm-style grip. Such a formula is decidedly more niche than the small-and-nimble gaming mice that have flooded the market, but as a user whose hand spans just over 20cm from fingertip to wrist, Corsair's latest has me intrigued.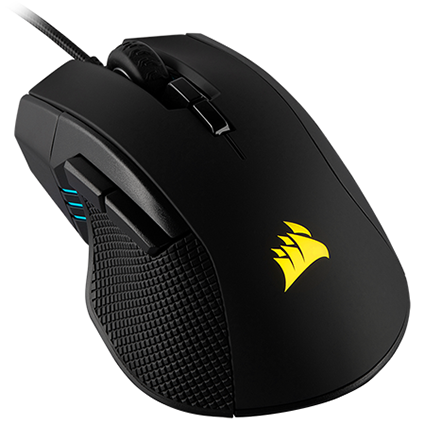 Right off the bat, the sculpted and contoured shape feels both familiar and likeable. It reminds of an old Microsoft Explorer Mouse that I used for many years. The bulbous hump, comfortable textured thumb rest and flared right side serve as an excellent base for a palm grip, and as per Corsair's promise, the plus-sized 130mm (L) x 80mm (W) x 45mm (H) form factor is spot on for large hands.
Putting RGB in the product name suggests gaudy illumination, but thankfully that isn't the case. Lighting is primarily limited to two zones - the Corsair logo and the scroll wheel - and it's easy to synchronise effects with other Corsair hardware via the free-to-download iCue utility. The lighting is tidy enough, but what we really like are the three status LEDs on the left side that show which DPI stage or user profile is currently selected. These small bars are well placed so as not to be obstructed by your digits, and if the default colour (cyan) isn't to your liking, you can assign any other solid colour via the software app.
Size, shape and layout are all very good, and the 105g weight is a safe bet, however the mouse doesn't quite manage to convey a feeling of high-end luxury. The plastics are a little on the light side, the matte black finish has a tendency to attract fingerprints, and though there are no creaks nor rattles, the mouse feels hollow during use and could benefit from an additional weighting mechanism. Nitpicking somewhat, I'm not overly fond of the textured pattern on the notched scroll wheel - it's too pronounced and feels rough beneath the finger - and my OCD won't let me overlook the fact that the right mouse button is flush to the side panel while the left side isn't. The left button is slightly raised, resulting in a small crevice for dust and grime to gather.
Minor quibbles aside, Ironclaw RGB has proven suitably comfortable for both gaming and everyday use, and it has the hardware chops to cater for both scenarios. You get seven programmable buttons - including the clickable scroll wheel - and the two primary buttons are are backed by Omron switches that actuate at 0.45mm and are said to be good for "more than 50 million clicks." Flipping the mouse over reveals a custom PMW3391 optical sensor developed in partnership with PixArt and marketed as "Corsair's most advanced optical gaming sensor yet."

DPI adjustment ranges from 100 to 18,000, with five preconfigured stages set at 800, 1,500, 3,000, 6,000 and 9,000, and the sensor supports mouse acceleration of up to 50G. Tracking proves to be consistently accurate for precision work and highly responsive during fast-paced gaming, and as you'd expect, Ironclaw RGB supports a polling rate of 1,000Hz via its 1.8m braided USB 2.0 Type-A cable.
Getting the most out of the mouse entails a bit of customisation via the iCue software utility, and Corsair is also eager to suggest a suitable surface. To coincide with the release of its 2019 mice, the manufacturer has introduced a new range of MM350 mouse pads touting a thicker 5mm construction. We've been able to test Ironclaw RGB on the Extended XL size (930mm and 400mm), and while it's ultimately just a very large mouse pad, it is a particularly nice one with a beautifully smooth surface, good construction and a sleek graphic that ought to blend with most environments.