Just how well does it work?
Image quality



Fire it up and the VG236H excels in reproducing uniform colour across the panel with only miniscule amounts of backlight leakage. Look head-on and whites and blacks are even and consistent. ASUS employs an anti-reflective coating but the monitor is prone to exaggerate reflections, which can be problematic in brightly-lit rooms. Shipped from the factory, the image is unusually bright, appearing to be over the 400 nits advertised by the company. Put the 3D glasses on and the screen appears to dim down to reasonable levels.

ASUS, too, does a good job of getting around the TN panel's lack of colours compared to 8-bit screens. Watch a Blu-ray film and the VG236H is only tripped by scenes that have very subtle changes in colour - mainly from dark greys to absolute blacks. But one area where the default settings require tweaking is with the degree of saturation for bright colours. Turning down the contrast helps here.

The literature quotes 170° horizontal and 160° vertical viewing angles, but real-world use doesn't seem to match up to that. Look at the screen from any great deviation from head-on and colour/brightness is thrown out of kilter, with whites being tinged with hints of blue. Then again, we imagine most people won't be viewing a 3D monitor from a one-quarter vantage point.

The 120Hz refresh rate, ostensibly specified for 3D, is a boon when pootling around in 2D mode. Move windows across and there isn't the merest whiff of lag, while cursor movements are precise and trail-free. But you wouldn't really buy this panel for its 2D qualities, would you?



3D love



Bundled with NVIDIA's 3D glasses and transmitter, the fun comes when gaming. Being topical and firing up Call of Duty: Black Ops - a title described as having excellent compatibility in NVIDIA's 3D Vision list - the game is genuinely more engrossing in 3D. The feeling of depth is excellent and, reiterating a cliché, you feel more part of the action. In fact, play it in 3D for 30 minutes and it's difficult to go back to 2D.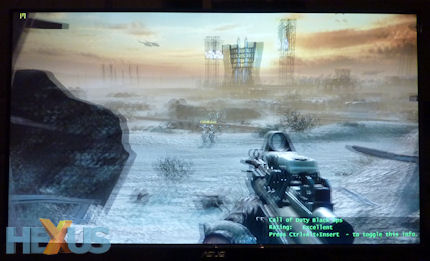 Yup, you need the monitor and glasses to see the real effect

The additional load imposed by rendering in 3D means you'll need a high-powered graphics card if running with all the eye-candy on - we tested with a suitably speedy GPU, the GeForce GTX 580. Playing Just Cause 2, Mafia II and Battlefield: Bad Company 2 reinforced the notion that while 3D gaming on a PC is a burgeoning activity, there's potential if implemented correctly and run on decent hardware.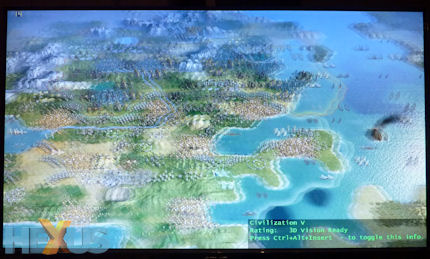 But it's not just fast-paced shooters that benefit from the 3D treatment. Fairly static-looking games such as Civ 5 are also better in 3D, with the 'extra' dimension providing the all-crucial depth that 2D inherently lacks. 3D can be hit-and-miss in low-visibility titles, with crosshairs not rendered correctly or multi-monitor support not up to scratch, but that's an issue which is extraneous to ASUS and in the hands of NVIDIA.



Rounding it up



The ASUS VG236H is a 23in, 1,920x1,080-pixel monitor that's outfitted with a super-fast 120Hz refresh rate, making it an ideal fit for NVIDIA's 3D Vision ecosystem. Shipping with the 3D kit - glasses and transmitter - and coming in at almost £400, its raison d'être is in producing believable 3D imagery once hooked-up to a compatible GeForce graphics card. The monitor's 3D qualities are good, especially for gaming, and the screen is a competent performer for regular 2D work, if not in the same league as the best non-3D panels.

ASUS, then, has done a good job with the VG236H. Being based on a nascent technology means that price is always going to be an issue, and £390 - or £270 without the 3D kit - is a large chunk of change to pay for the privilege of 3D. If you can stomach it and intend to build a high-end rig with all the trimmings, based around NVIDIA hardware, we can recommend the VG236H as a 3D screen.



The Good

Good 3D performance
Clear and vibrant in 2D
Well-built and good-looking screen

The Bad

£390 is a hefty introduction to NVIDIA's 3D Vision
Viewing angles aren't great
HEXUS Rating

ASUS VG236H 3D monitor
HEXUS Awards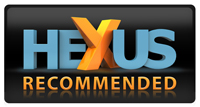 ASUS VG236H 3D monitor
HEXUS Where2Buy
The ASUS VG236H monitor can be purchased from SCAN.co.uk* with and without the 3D Vision kit.
HEXUS Right2Reply
At HEXUS, we invite the companies whose products we test to comment on our articles. If any company representatives for the products reviewed choose to respond, we'll publish their commentary here verbatim.
*As always, UK-based HEXUS.community forum members will benefit from the SCAN2HEXUS Free Shipping initiative, which will save you a further few pounds plus also top-notch, priority customer service and technical support backed up by the SCANcare@HEXUS forum.