How gaming improves with faster RAM
The real purpose in using better-than-generic memory rests with the supposed improvements in IGP performance.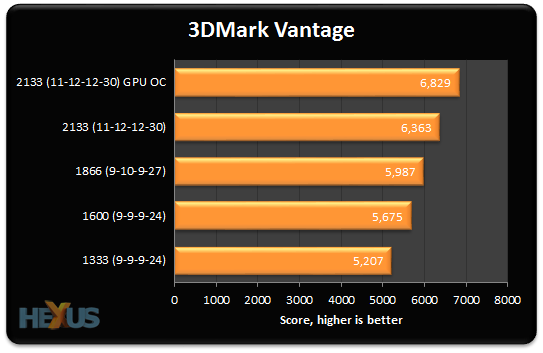 This is more like it. There's definite improvement through a change in the memory frequency/timings. DDR3-2,133 is over 20 per cent faster than DDR3-1,333! The best score is obtained by running the fastest memory in conjunction with an overclock for the GPU frequency; we increased it from the shipping 800MHz to 1,000MHz.
A few key-presses in AMD's Overdrive utility and sensible choice of system memory can avail a performance boost of over 30 per cent, and do remember that the A10-5800K's integrated graphics are, quite easily, already the best on the market.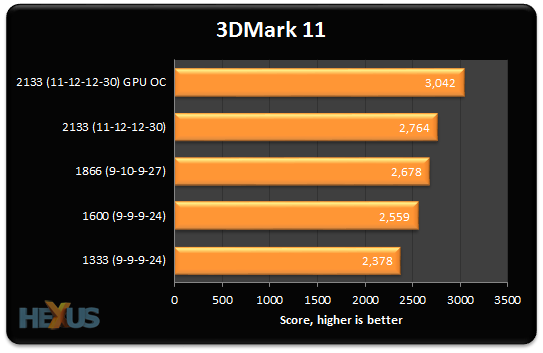 There's also definite improvement in 3DMark 11. Here, overclocking the GPU and letting it breathe - by using DDR3-2,133 memory - enables it to crash through the 3,000-mark barrier.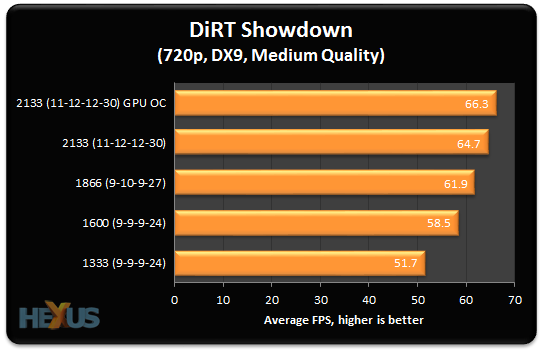 Comparing apples to apples shows a 25 per cent uplift from DDR3-1,333 to DDR3-2,133. You can add icing on this particular IGP cake by overclocking the GPU.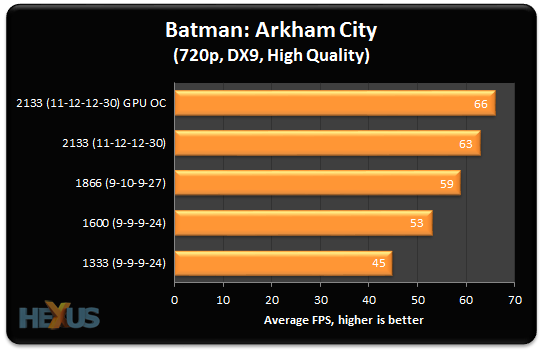 This one benchmark will have memory manufacturers looking for the nearest Kleenex. Batman: Arkham City really, really loves memory bandwidth when run on an IGP. Can you say no to 40 per cent extra perf?
Here's the same game but run via the DX11 path. We played through portions of the title with memory speed at 1,333 and 2,133, and it's immediately obvious that the latter configuration produces a far more fluid gaming experience.
Summary
After reading the initial review of the AMD A10-5800K APU you'll know that it combines merely average CPU performance to best-in-class integrated graphics. AMD latest APUs, then, are in a good position to take advantage of steadily-increasing reliance on the GPU for everyday computing.
But enthusiasts always want a little more for free. Appreciating that the built-in Radeon HD 7660D graphics need fast system memory to function at an optimum level, it really does make a lot of sense to look at DDR3-1,600-plus RAM. Pay the £10-15 premium for an 8GB DDR3-2,133 dual-channel set and there are substantial performance improvements to be had over DDR3-1,600 memory.
Increasing the memory speed has a greater impact than overclocking the GPU alone, though the most benefit is derived from super-fast memory and a GPU overclock. We believe that any system integrator even contemplating marketing the A10-5800K as a gaming-grade GPU needs to take these basic steps into account, and we'll be on the lookout for well-optimised review systems in due course.
Understand that while the integrated graphics' performance can be boosted by a few simple tweaks and investment in better RAM, which we recommend wholeheartedly, the IGP is no substitute for a proper discrete graphics card. AMD, however, has another trick up its sleeve: Dual Graphics, where the IGP is combined with an add-in 6-series Radeon card for even-better performance. We'll be taking a look at just how it performs in a separate article tomorrow.