Test Methodology
AMD Ryzen Threadripper 3960X and 3970X Specifications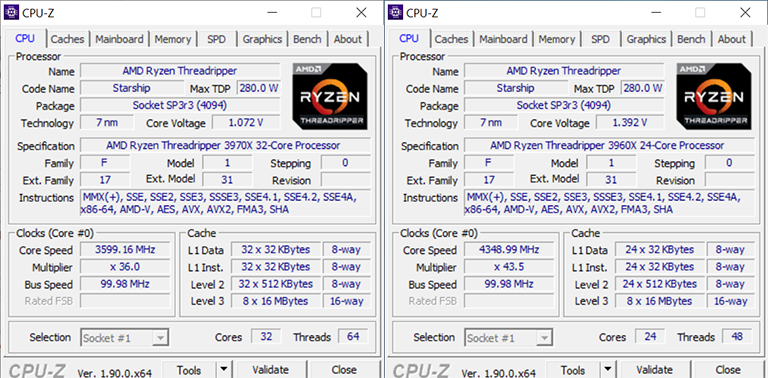 AMD Ryzen Processor Configurations

CPU
CPU Base Clock

3.5GHz

3.0GHz

3.8GHz

3.7GHz

CPU Turbo Clock

4.7GHz

4.2GHz

4.5GHz

4.5GHz

CPU L3 Cache

64MB

64MB

128MB

128MB

CPU Cores / Threads

16 / 32

32 / 64

24 / 48

32 / 64

CPU TDP

105W

250W

280W

280W

Integrated Graphics

-

-

-

-

IGP Base Clock

-

-

-

-

IGP Turbo Clock

-

-

-

-

Socket

AM4

TR4

TRX40

TRX40

Lithography

7nm

12nm

7nm

7nm

Motherboard

Asus X570 Crosshair VIII Hero WiFi

MSI MEG X399 Creation

MSI Creator TRX40

BIOS

1105

7B92v13

7C59v11

Memory

Corsair Dominator Platinum RGB DDR4-3600

Memory Config

64GB (4x16GB)

Memory Timings

14-14-14-34-1T

Memory Speed

3,200MHz

2,933MHz

3,200MHz

Disk Drive

SK hynix Canvas SC300 (512GB)

Power Supply

be quiet Dark Power Pro 11 (1,000W)

Graphics Card

Nvidia GeForce RTX 2080 Ti Founders Edition (441.20)

CPU Cooler

Noctua NH-D15S

Fractal Design Celsius S24

Operating System

Microsoft Windows 10 (64-bit) 1909
Intel Core Processor Configurations

CPU
CPU Base Clock

4.0GHz

2.6GHz

3.0GHz

CPU Turbo Clock

5.0GHz

4.4GHz

4.8GHz

CPU Cache

16MB

24.75MB

24.75MB

CPU Cores / Threads

8 / 16

18 / 36

18 / 36

CPU TDP

127W

165W

165W

Integrated Graphics

UHD 630

-

-

IGP Base Clock

350MHz

-

-

IGP Turbo Clock

1.20GHz

-

-

Socket

LGA 1151

LGA 2066

Lithography

14nm

Motherboard

Asus ROG Strix Z390-I Gaming

MSI Creator X299

BIOS

2603

7B96v10

Memory

Corsair Dominator Platinum RGB DDR4-3600

Memory Config

64GB (4x16GB)

Memory Timings

14-14-14-34-1T

Memory Speed

2,666MHz

2,933MHz

Disk Drive

SK hynix Canvas SC300 (512GB)

Power Supply

be quiet Dark Power Pro 11 (1,000W)

Graphics Card

Nvidia GeForce RTX 2080 Ti Founders Edition (441.20)

CPU Cooler

Noctua NH-D15S

Fractal Design Celsius S24

Operating System

Microsoft Windows 10 (64-bit) 1909
Benchmark Suite

CPU Benchmarks

HEXUS PiFast
Our number-crunching benchmark stresses a single core by calculating Pi to 10m places
Cinebench R20
Using Cinebench's multi-CPU render, this cross-platform benchmark stresses all cores
HandBrake 1.2.2
Free-to-use video encoder that stresses all CPU cores (64-bit)
Blender 2.80
Running the Gooseberry benchmark
Keyshot 9.0
Running Camera.bip benchmark
V-Ray 4.10.03
Running built-in raytracing benchmark
POV-Ray 3.70
Running the benchmark.pov at 1,920x1,080 16:9 AA 0.3
Corona 1.3
Running the built-in benchmark
SPECwpc 3.0.2
Running the CPU component of Energy, Life Sciences, Financial Services and General Operations benchmarks

Memory Benchmarks

AIDA64
Benchmark that analyses memory bandwidth and latency
System Benchmarks
3DMark Time Spy
Graphics benchmark run using the Time Spy test
PCMark 10
System test using the standard preset
Civilization VI: Gathering Storm AI Test
CPU test to determine turn speed
World of Tanks
Graphics benchmark run at FHD to determine CPU involvement

Gaming Benchmarks - Discrete

Civilization VI: Gathering Storm
1,920x1,080 ultra settings
Far Cry 5 New Dawn
1,920x1,080 ultra settings
Shadow of the Tomb Raider
1,920x1,080 ultra settings
Total War: Three Kingdoms
1,920x1,080 ultra settings

Miscellaneous Benchmarks

Power Consumption
To emulate real-world usage scenarios, we record system-wide mains power draw when idle, when rendering via KeyShot 9 and while playing SOTTR
Notes
We have redone the benchmarks from scratch. Windows has been updated to v1909, we're using newer Nvidia drivers (441.20), system memory is pushed to 64GB (4x16GB) and most importantly, we have a greater number of CPU tests than in our regular processor suite. All chips are run with their correct Turbo frequencies and motherboards with the latest BIOSes.
In particular, Blender is updated to 2.80 and uses a different, more intense workload, KeyShot, V-Ray, POV-Ray, Corona, and SPECwpc all make an appearance, and we only look at gaming performance at 1080p. The purpose is to test these HEDT CPUs with the kinds of applications digital creators and workstation users may use.
A few comparisons ought to be interesting. How 3rd Gen Threadripper compares against the 2nd Gen 2990WX. How Threadripper compares against Intel's finest HEDT chip, the Core i9-10980XE, released today and reviewed over here, and how do the value and efficiency metrics play out in this space.