Introduction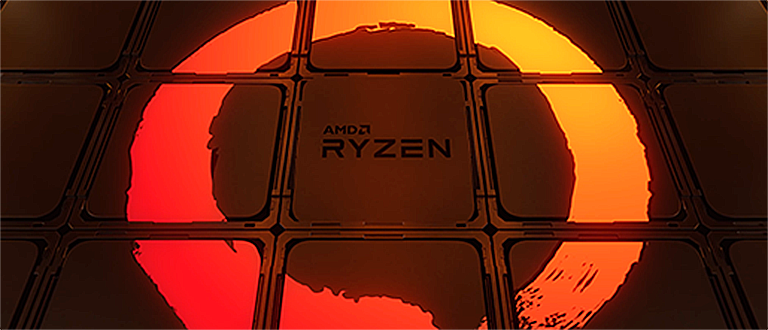 Remember when having an eight-core CPU was considered firmly high-end desktop (HEDT) territory? It can be argued that AMD changed the notion of HEDT when it launched the mainstream 8C16T Ryzen 7 1800X in March 2017. The underlying Zen architecture was the genesis for greater core counts in 2017, leading to the 16C32T Ryzen Threadripper in August 2017.
Improvements in manufacturing processes at GlobalFoundries and greater know-how from AMD culminated in the Ryzen Threadripper 2990WX in August 2018, which shoehorned 32 cores and 64 threads for the first time in a non-server environment. Just this month, moving the mainstream stack up to 16C32T via Ryzen 9 3950X has paved the way for greater-core Threadrippers that take advantage of the two major weapons in AMD's arsenal: Zen 2 architecture and 7nm process production.
This brief Ryzen history lesson is fundamental into understanding how and why AMD is building 3rd Generation Ryzen Threadripper CPUs, released today. Initially launching with the 24C48T 3960X and 32C64T 3970X, AMD will unleash the full might of the design with the 64C128T 3990X some time in 2020, mimicking the general technology make-up of nine-chip Epyc 7742 processors already in the wild for the high-performance server space.
As a summary, the main reason why AMD is able to scale to more cores more easily than rival Intel is the chiplet design that has evolved over time. AMD groups CPU cores together into what are known as Core Complex Dies (CCD), where each is home to two four-core CCXes. That means eight cores and 16 threads of 7nm Zen 2 CPU across each CCD, which also contain 32MB of L3 cache. AMD scales the CCDs to produce processors with more cores and threads, and can also switch off select cores to achieve a certain overall count. Each CCD is connected via high-speed Infinity Fabric to a centralised I/O die known as IOD, which carries the memory controllers, USB, PCIe, and miscellaneous features. The IOD die is produced on a cheaper, more mature fabrication process.
AMD Ryzen Threadripper product range

Model

Cores / Threads

TDP

L3 Cache

Base Clock

Turbo Clock

Process

PCIe (usable)

DDR4

Package

Price

AMD Ryzen Threadripper 3rd Gen

Threadripper 3990X

64 / 128

280W

256MB

TBC

TBC

7nm

56, Gen 4

Quad 3200

TRX4

TBC

Threadripper 3970X

32 / 64

280W

128MB

3.7GHz

4.5GHz

7nm

56, Gen 4

Quad 3200

TRX4

$1999

Threadripper 3960X

24 / 48

280W

128MB

3.8GHz

4.5GHz

7nm

56, Gen 4

Quad 3200

TRX4

$1399

AMD Ryzen Threadripper 2nd Gen

Threadripper 2990WX

32 / 64

250W

64MB

3.0GHz

4.2GHz

12nm

60, Gen 3

Quad 2933

TR4

$1799

Threadripper 2970WX

24 / 48

250W

64MB

3.0GHz

4.2GHz

12nm

60, Gen 3

Quad 2933

TR4

$1299

Threadripper 2950X

16 / 32

180W

32MB

3.5GHz

4.4GHz

12nm

60, Gen 3

Quad 2933

TR4

$899

Threadripper 2920X

12 / 24

180W

32MB

3.5GHz

4.3GHz

12nm

60, Gen 3

Quad 2933

TR4

$649

AMD Ryzen Threadripper 1st Gen

Threadripper 1950X

16 / 32

180W

32MB

3.4GHz

4.0GHz

14nm

60, Gen 3

Quad 2666

TR4

$999

Threadripper 1920X

12 / 24

180W

32MB

3.5GHz

4.05GHz

14nm

60, Gen 3

Quad 2666

TR4

$799

Threadripper 1900X

8 / 16

180W

16MB

3.8GHz

4.0GHz

14nm

60, Gen 3

Quad 2666

TR4

$229
Making sense of the 3rd Gen Threadripper chips
Understanding this chiplet-architecture design is key into appreciating how AMD builds 3rd Gen Threadripper. The 3960X and 3970X each use the same silicon, which accumulates four CCDs around the central IOD. A fully-populated five-chip architecture provides the 32 cores and 64 threads of the 3970X, while disabling two cores in each CCD brings the 24C48T 3960X to life. Speaking of the monster 3990X, AMD will use the same eight CCDs and single IOD setup of the aforementioned Epyc 7742.
Each 7nm, 74mm² CCD is home to 3.9bn transistors, and the central I/O, built on 12nm from GlobalFoundries, carries 8.34bn and measures 416mm². Doing the maths indicates the total crystal area to be around 712mm² and transistor budget just shy of 24bn. The IOD statistic is the most interesting, as the Ryzen 3rd Gen IOD is only 2.09bn and 125mm². Why the difference? AMD actually uses the 2nd Gen Epyc IOD for 3rd Gen Threadripper, rather than construct a specific one for the task, and switches off any non-relevant features.
Such a move means the new Threadripper IOD runs with a quad-channel ECC memory controller (down from eight channels on Epyc), albeit at increased speed of 3,200MHz, chops PCIe 4.0 lanes down from 128 to 64, and is not able to be paired with another for a 2P solution.
New Chipset and higher TDP
AMD has made a lot of noise about how, unlike Intel, it is the bastion of socket longevity. AMD's engineers jumped through silicon hoops to ensure that both generations of server-optimised Epyc processors are able to run on the same SP3 socket. All Ryzens share the AM4 socket - though not all work on certain boards - but it's good to see an inexpensive B450 board able to support the 16C32T Ryzen 9 3950X.
3rd Gen Threadripper breaks this continuity by changing sockets compared to its predecessors. Though still using an SP3r2 (4,094-pin) form factor like Epyc and older Threadripper's TR4, AMD requires anyone interested in these new chips to invest in new motherboards housing the revised TRX4 socket and TRX40 chipset.
The reason for doing so, according to AMD, is to enable content creators unfettered access to the bountiful PCIe lanes present for Threadripper. If you think back to 1st and 2nd Gen TR on the X399 chipset, it houses eight PCIe 2.0 lanes for expansion, and connects to the CPU via four-lane PCIe 3.0. Such a figure is at odds with the 60 usable PCIe 3.0 on the processors themselves, so most creators and motherboard designers tended to put high-speed SSDs on M.2 ports connected directly to the CPU.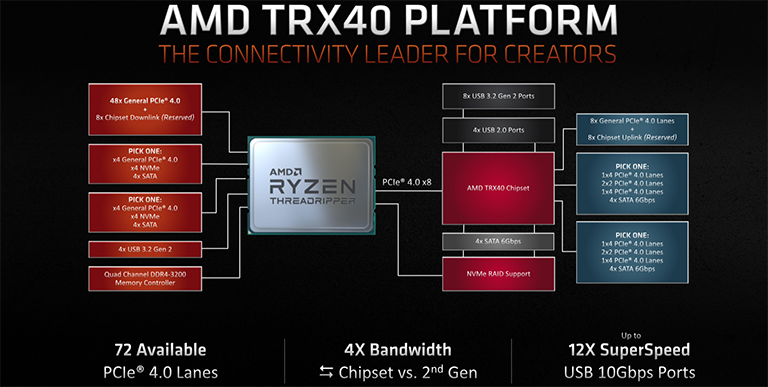 This time around, AMD still carries the same 64 PCIe lanes on the 3rd Gen TR CPUs but doubles bandwidth by moving from Gen 3.0 to Gen 4.0, as it did with 2nd Gen Ryzen to 3rd Gen. In that respect, the X399 feels like a vastly poorer cousin, so it's the reason why TRX40 has been introduced. AMD bumps up the chipset-to-CPU bandwidth from 4x PCIe 3.0 to 8x PCIe 4.0, so quadrupling the amount of traffic that can flow in either direction. Remember the eight PCIe 2.0 on X399? TRX40 ups that to 24 (16 usable) PCIe 4.0, and therefore enough for motherboards to include lots more full-speed M.2 slots for the latest array of drives. There's also eight USB 3.2 Gen 2 ports present, up from just two on X399.
Though there are a total of 88 PCIe 4.0 lanes emanating from CPU and chipset, only 72 are usable, because 16 are reserved for the two-way traffic between CPU and chipset. That said, the total amount of peripheral support is unsurpassed in the HEDT space, though given the 15W peak chipset rating, expect all TRX40 chipsets to use active cooling.
Put simply, the decision to increase bandwidth everywhere is why a new chipset is needed. The upshot is that 1st and 2nd Gen Threadrippers will not work on these boards, nor will 3rd Gen TR on X399. Do we like AMD breaking its upgrade-path cycle that has persisted across generations? Absolutely not. Do we think it was done for the right reasons for those that really need HEDT platforms - bandwidth, PCIe 4.0, increased TDP, etc? Yes.
Speaking of power, one might expect the 7nm process to yield improvements in the TDP. The 24- and 32-core 2nd Gen chips share a 250W budget, so one ought to expect 200W or so for this generation. That's not the case, as AMD plumbs the pair with a 280W TDP. Having more power on tap enables these new TR chips to push their frequencies higher than we'd ordinarily expect. For example, our 2nd Gen Ryzen Threadripper 2990WX maintains an average 3.34GHz frequency across all-core-aware benchmarks. Both of these new chips scale to 3.85-4.0GHz under the same all-core load, thanks to the elevated power budget. That's an extra 20-plus per cent improvement right there, without taking architecture enhancements into account.
With a bit of overclocking, as you will see later on, we have easily been able to pull north of CPU-only 400W under load. AMD reckons the more-robust nature of the TRX40 platform lends itself better to overclocking, hence another reason for its arrival.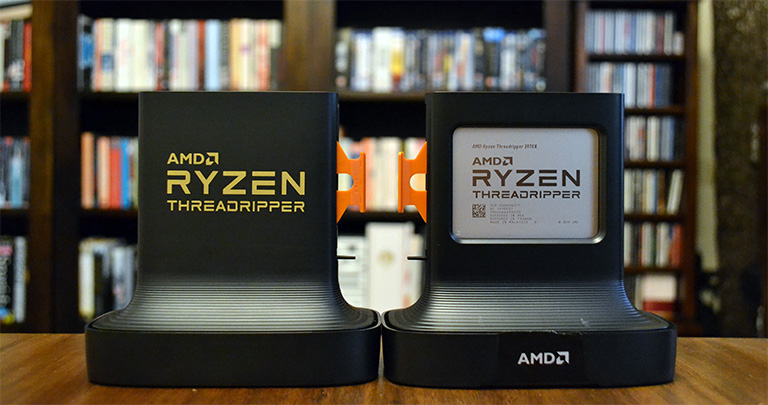 As usual, AMD supplies the 3rd Gen Ryzen Threadripper CPUs without coolers in the package. Pricing is suitably premium given their potential performance, with the 3960X coming in at $1,399 and the 3970X at a whopping $1,999. AMD says that 2nd Gen Threadripper CPUs will fill the gap between the mainstream $749 Ryzen 9 3950X and entry-level 3rd Gen TR.
Given that you will also need to buy a motherboard, which certainly isn't cheap, one is looking at a $2,000 investment before factoring memory and storage into account. This is AMD's way of saying that if you want top-tier HEDT performance, be prepared to pay for it, handsomely.
In a strange turn of events, it is AMD that is more expensive in the HEDT space. Also announced today, the 18C36T Intel Core i9-10980XE retails for a 'mere' $979, while the Xeon W-2295, ostensibly the same chip but with a few additional features, costs $1,333 in bulk. The closest in terms of core count is the outlier 28C56T Xeon W-3175X retailing for around £3,000.
Summarising, AMD brings its chiplet design, Zen 2 architecture, and 7nm process to bear on 3rd Gen Ryzen Threadripper. Offering up to 64C128T next year, this year's duo carries the same 24- and 32-core topology as 2018's champions... but improves upon them by offering higher frequencies, more IPC, and much better chipset support.
Let's now see if the sum of these advantages makes them the HEDT chips to own.