Intel is today expanding its range of workstation-specific Xeon W processors by releasing eight 2200-series chips priced from $294 to $1,333. They are noteworthy insofar as they're based on the latest Cascade Lake architecture, albeit still manufactured on longstanding 14nm technology.
The new uniprocessor Xeons effectively replace the 2100-series, which are based on Skylake-W, and continue to offer support from 4C8T to 18C36T as well as four DDR4 memory channels. They also use the established LGA2066 socket that's also home to a select range of HEDT processors.
That said, Intel continues to split its Xeon W chips into two distinct lines. The dearer Xeon W-32xx pack up to 28C56T, house six memory channels, and use the LGA3467 socket, meaning they are much more like the Xeon Bronze/Silver/Gold/Platinum models destined for the datacenter.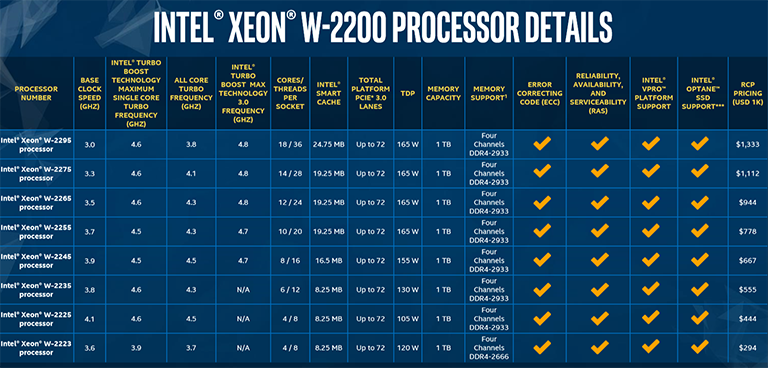 Click to enlarge
As expected, the Xeon W-2200-series have far more in common with the just-announced quartet of desktop Core i9 10-series, known as Cascade Lake X, and the top four W-22xx share the same core/thread/cache/TDP/memory topology as the HEDT chips. In fact, they share the same base/boost/all-core speeds, too, and just like their enthusiast counterparts, Xeon W-3200 extends the Turbo Boost Max 3.0 technology to the fastest for cores, up from two on the previous generation. There's also Intel Optane SSD and Thunderbolt 3 support thrown into the mix.
So, why would someone consider these Xeons over the cheaper HEDT chips that use the same socket but different motherboards - C422 vs. X299? A few reasons. Chief amongst them is support for twice the memory - up to 1TB - for housing huge datasets more prevalent in the workstation space. There's also support for ECC memory, a bunch of reliability, availability and serviceability features, as well as Intel vPro and vROC.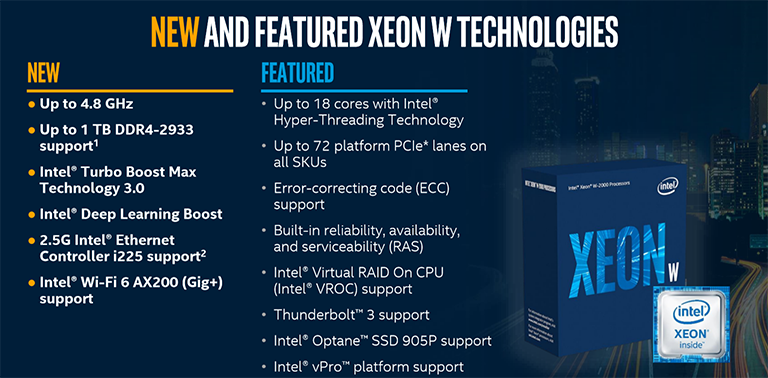 Click to enlarge
Intel has set its entry-level workstation and HEDT stall out for the remainder of 2019 by releasing a slew of processors based on its latest Cascade Lake architecture. The Xeon W-2200-series improves upon its immediate W-2100 predecessors by boosting frequencies, integrating newer technologies, including Deep Learning Boost, and, most importantly of all, reducing price by close to 50 per cent - top-line Xeon W-2295 costs $1,333 compared with Xeon W-2195's bloated $2,553 fee.
Better than what they replace in every meaningful metric, due to be available in November, we conjecture the Xeon W-2200-series is a pre-emptive strike against AMD's upcoming Threadripper 3 CPUs. High-end processors just got a bit more interesting.