Chip company AMD is banking on the success of its Accelerated Processing Units (APUs). These APUs integrate the CPU and GPU elements on to a single piece of silicon and enable a modern computer to function without requiring an external graphics card. Pushing forward with a new generation, AMD detailed its 2013 APU line-up at the start of this year.
It is already known that AMD is splitting the APU offering into three families: Temash for low-power tablets/hybrids; Kabini for entry-level laptops, and Richland for mainstream/performance laptops. And while the Richland APU is also being produced for the desktop, it's abundantly clear that AMD sees APUs as the best fit for a wide range of portable devices. AMD revealed further details on all three APU architectures at a briefing in London last week.
Sub-25W TDP chips
The APUs codenamed Temash and Kabini are both based on a system-on-a-chip (SoC) architecture. This means that the CPU, GPU, IO and memory controller are all integrated into a single chip. The fundamental energy-saving benefits accruing from running the power-hungry components on a single piece of silicon are an ideal fit for tablets and laptops that are, by nature, more reliant on battery power.
AMD says there are significant performance and power-efficiency advantages for the Temash and Kabini APUs (or SoCs, if you prefer) when compared to the last-generation 'Ontario, Zacate and Hondo' APUs. These arrive from using upgraded 'Jaguar' CPU cores and by implementing the Radeon HD 7000-series-like GCN architecture for graphics. Let's take a closer look.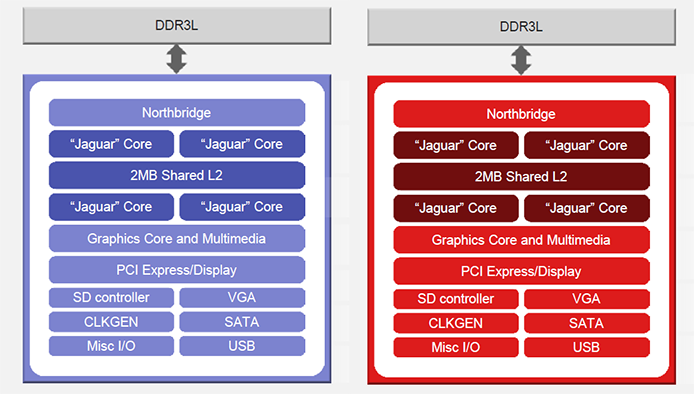 The picture shows a highly simplified, high-level block overview of the Temash (left) and Kabini APUs (right). In their fullest form both have an identical architecture. The Kabini APUs operate at higher frequencies and wattages, providing more performance. It's sensible to split the APUs via TDPs, with Temash variants populating the sub-10W space and Kabini taking over and running up to around 20W.
Quad-core x86 SoC and GCN graphics
Perhaps the most interesting part rests with AMD providing an x86 quad-core SoC that, according the company, fits inside a 5W TDP. Allied to a goodly number of GCN-imbued graphics cores, the top-line Temash chip has the potential to run fanless inside a thin tablet. AMD has previously showcased a Temash-equipped tablet, sub-10mm-thick, running DiRT Showdown, though the exact hardware specification remains unknown.

Three Temash APUs are to be released in the first instance. The A4-1200 appears, on paper, to be a better chip than the 4.5W Z60 'Hondo' that it effectively replaces. Shipping with an even lower TDP but with better CPU potential and, certainly, faster graphics, AMD believes it to be a much better fit than Intel's current-generation Atom-based chips. But the Santa Clara chip giant may well have something to say about that soon enough. Keeping overall power low, AMD mandates that low-power DDR3 (1.35V, or less) be used in Temash-based products.
AMD, too, is bullish on the power-efficiency/performance ratio of these new sub-10W chips and is positioning them between Intel's Atom and current-generation Core i3 chips. Pricing is not currently known and, being designed for tablets/hybrids, chances are that they won't be released as standalone parts.
Kabini
Running up the performance stack brings the Kabini APUs into play. Designed for the cheaper end of the notebook market - £200 upwards - AMD is at pains to point out that Kabini-powered laptops offer greater power efficiency than previous-generation models and more overall performance than the competing Intel Pentium chips.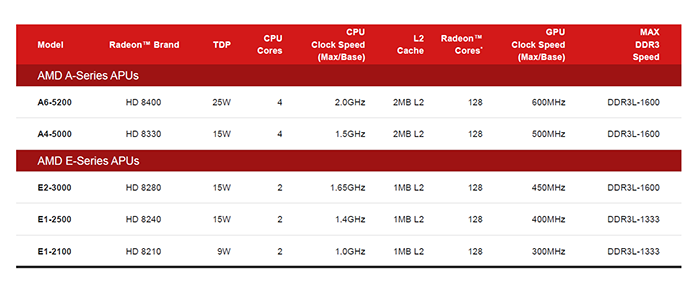 Split between E1 and A4/A6 parts and ranging from 9W to 25W, Kabini APUs need to scale in both physical cores and frequency. The 9W model can almost be thought of as a Temash APU, while at the top end, the A6-5200 touches on the performance of the full-on laptop APU for 2013: Richland. We've previously written about Richland, whose GPU cores, somewhat anachronistically, are not based on the latest GCN architecture.
Not all about hardware?
It has become fashionable of late not to talk about speeds and feeds and, instead, focus on features and benefits of a new chip line-up. AMD is no different in this regard and, as a company, prefers to delineate a raft of real-world advantages. The two that strike a chord are Turbo Dock and the as-yet-undefined AMD wireless technology, which is similar - but better, AMD says - than Intel's WiDi technology.
And then AMD is leading the charge on defining a chip's performance by how well it runs GPGPU tasks, primarily via OpenCL. It's fair to say that GPU-accelerated applications are becoming far more pervasive in 2013, helped by the hardware industry's move to more compute-centric architectures, and the upgraded, OpenCL-compatible graphics of Temash, Kabini, and Richland are well-suited to exploit the performance uplift possible in the latest software.
AMD and the elephants
It's clear that AMD is putting significant resources and focus on providing the very best APUs for the ever-changing mobile market. The popularity explosion of tablets, hybrids and low-power laptops means that it is crucial to have compelling hardware in the sub-25W space that is now populated by Temash and Kabini APUs.
It remains sensible to take PDF presentations with a healthy dose of salt, but going by what we have seen, AMD has improved both the performance and energy efficiency over last-generation APUs without the need for an expensive change to smaller process geometries: a handy trick if you can pull it off.
Temash and Kabini use upgraded CPU and GPU cores - Jaguar and GCN, respectively - to deliver solid x86 performance for truly portable devices. But there are at least two rather large elephants in AMD's room. The first is rather obvious: Intel is set to release its fourth-generation Core parts in the next week or so, and though doubtless more expensive than AMD's newest APUs, we may have to reassess just how competitive Temash and Kabini really are.
Beating on an old drum, AMD's always produced good, sensible hardware - mating its CPU expertise with the knowledge gained from ATI graphics. AMD has always talked a good technical talk about the advantages of its hardware over Intel's, mostly with truth on its side, but getting technical excellence translated to increased sales in, say, PC World, remains a large impediment.
Purchase a low-power AMD-based notebook or tablet in the next few months and you'll receive more performance with less power than just a year ago.
The next few weeks will inform us, and you, whether AMD has made large-enough strides to warrant serious consideration for the next cycle of Windows-based tablets and low-power, cheap laptops.