It looks like AMD's 'Bristol Ridge' AM4 socketed systems are very close to becoming available in retail. Someone has already spotted an HP Pavilion Desktop PC based upon AMD's latest processors on sale in Costco (US). Reddit user starlightmica spotted the $599.99 system up for sale in his/her local Costco, reports TechReport.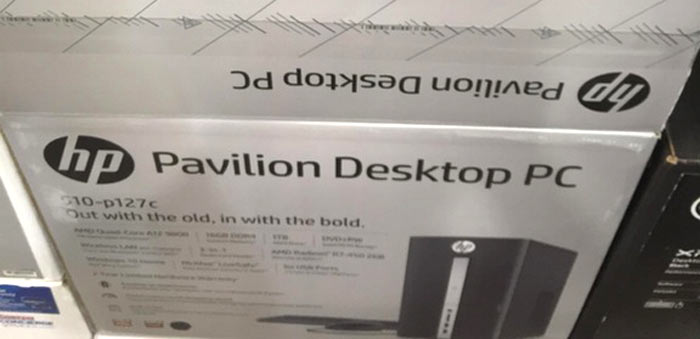 The new HP PC system on the retail shelf has the product code 510-P127C and HP promotes the new machine with the strapline "Out with the old, in with the bold". Inside are the following components:
A12-9800 APU with AMD Radeon R7 graphics
16GB DDR4 RAM
1TB 7200rpm HDD
SuperMulti DVD writer and card reader
802.11ac Wi-Fi
2x USB 3.0 and 2x USB 3.0 ports around the back
Windows 10 installed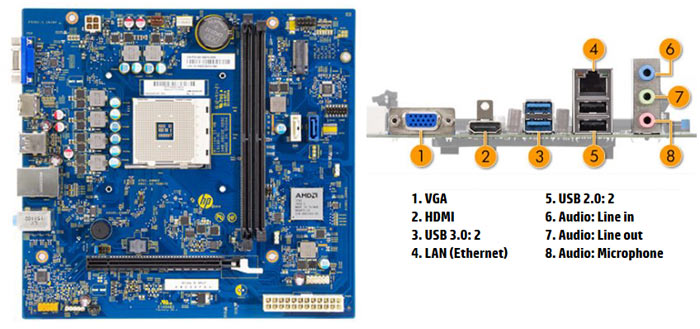 The HP Pavilion, as specced above, is based around the uATX HP Willow motherboard. This board is designed to support the A12-9800, A10-9700, and A8-9600 quad-core APUs, all of which are 65W parts. It features a pair of DDR4 UDIMM (288-pin) sockets, one PCIe x16 slot, one A-keyed M.2 socket, a Realtek RTL8161 1000BASE-T LAN chip, ALC3863-CG Azalia 5.1 channel audio, and the back panel as shown above. As noted by TechReport, any variety of USB 3.1 ports, Type-C or otherwise, seem to be lacking.
AMD A12-9800 APU overclocked to 4.8GHz
In related news, South Korean tech enthusiast Nam Dae Won has posted a video (on Facebook) of an AMD A12-9800 APU based system booting up. The system is based around a new Asus Octopus motherboard. A linked page on hwbot.org shows that Nam Dae Won has already managed to overclock this APU (on air) by over 25 per cent to reach 4,798.88MHz.