InFocus has just announced the latest in its range of large screen all-in-one PCs, the 70-inch 4K MondoPad Ultra. According to a PCWorld report on the launch, the new MondoPad slots nicely in between the Microsoft Surface Hub 55-inch and 85-inch models and can even boast some advantages over Microsoft's biggest Hub.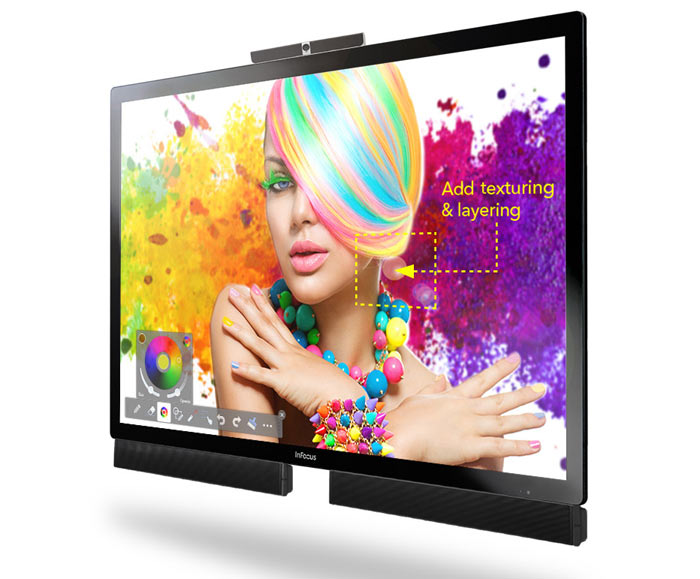 The 70-inch InFocus 4K MondoPad Ultra is described by the maker as an all-in-one video conferencing and whiteboard solution. This model is the first in InFocus's range to combine projected capacitive touch technology with a 4K screen. The capacitive touch technology is said to be similar to that used in your smartphone, not IR-based like some rival solutions. However, the MondoPad is limited to 16-points of touch while the Surface Hub can cope with up to 100-points. That's one of the few areas where the Surface Hub beats the MondoPad.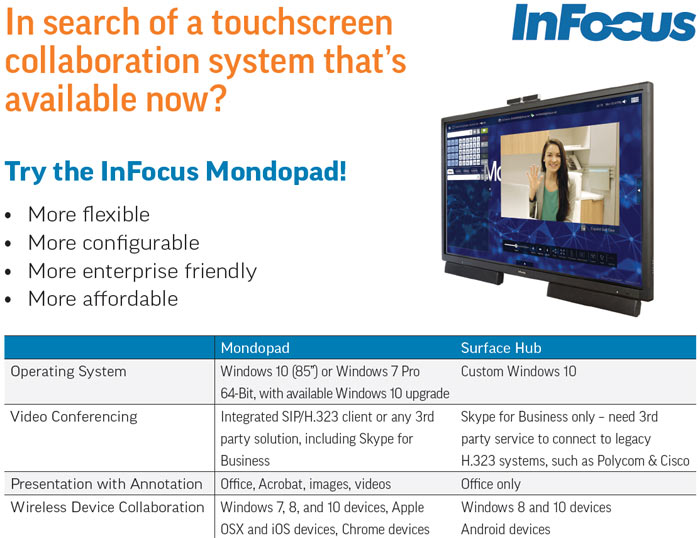 Points in favour of the InFocus MondoPad include the use of the modern Intel Core i7-6700T processor (and Q170 chipset with Intel vPro technology), a standard storage capacity of 256GB (SSD), advanced wireless casting (via AirPlay, Chrome, and Miracast), and its general affordability. The 70-inch INF7023 comes with Windows 10 Pro installed.
Many accessories are available for the MondoTouch including, extra cameras, microphones, soundbars, remotes, styli, speakerphone adaptors, mounts, and stands.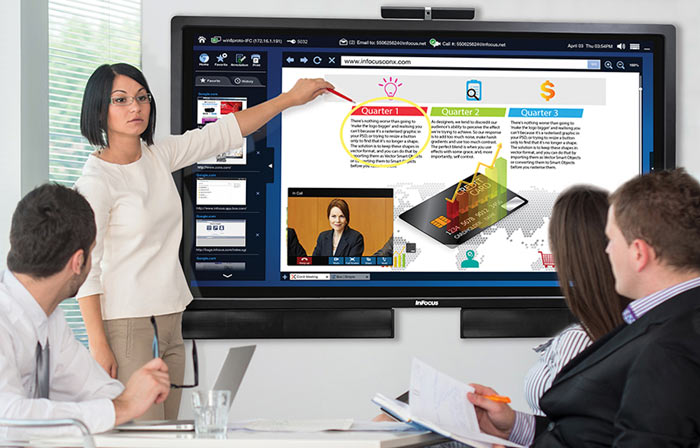 Pricing for the 70-inch 4K MondoPad Ultra might hit the sweet spot for some. It will cost $13,999, with availability from October. Microsoft's 55-inch 1080p Surface Hub is priced at $8,999, while the 85-inch 4K Surface Hub costs $21,999. Microsoft's machines are Haswell based. Overall there's little difference in functionality and connection ports between InFocus and Microsoft large screen AiO PCs. InFocus has previously released MondoPad AiO PCs with screen sizes between 57- and 85-inches.