We saw lots of new laptops announced at the start of the week coinciding with the launch of Nvidia's GeForce GTX 10-Series GPUs for mobile computers. Now you might not be interested in laptops but instead may be interested in a pre-built PC featuring Nvidia's latest and greatest graphics – if so we have good news for you. Both HP and Lenovo have just launched new custom designed desktop PCs at Gamescom, sporting choices of powerful processors and GPUs including the GeForce GTX 1000 series.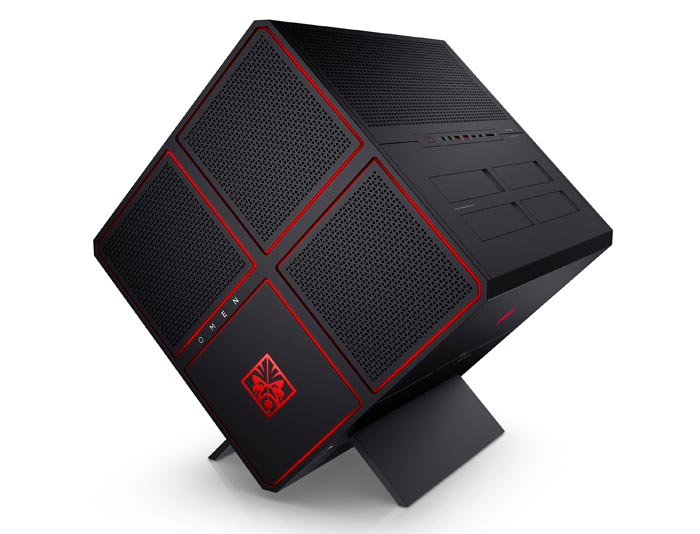 HP OMEN X Desktop
HP has produced a cube shaped desktop to appeal to the style conscious high-end PC gamer. Built in conjunction with Maingear, the HP OMEN X's cube is stood on one corner thanks to its special stand, as you can see above. It is said to offer tool-less access, clean cable management, and both easy customisation and upgrade options. For DIY enthusiasts the Microsoft Blog says that you can buy the chassis on its own.
Specifications for the HP OMEN X are as follows:
Powered by Windows 10
DirectX 12 capable for stunning gaming visuals
Four different modes: Single Colour, Colour Show, System Monitor and Audio Show
The OMEN Control software provides complete design control, allowing for custom LED light modifications and brightness adjustments in real time.
6th generation Intel Core i5/i7 overclockable processors and the latest graphics technology, up to dual NVIDIA GeForce GTX 1080 and up to dual AMD Radeon R9 Fury X
NVME PCIe connected SSDs
Includes support for up to three 120mm liquid cooling radiators with with top mounted exhaust vents and a stand that lifts the case off the ground to help pull cool air in, allowing for maximum ventilation.
The HP OMEN X should be available online from today in the USA, with pricing starting at $1,799. The standalone chassis will be sold from $599.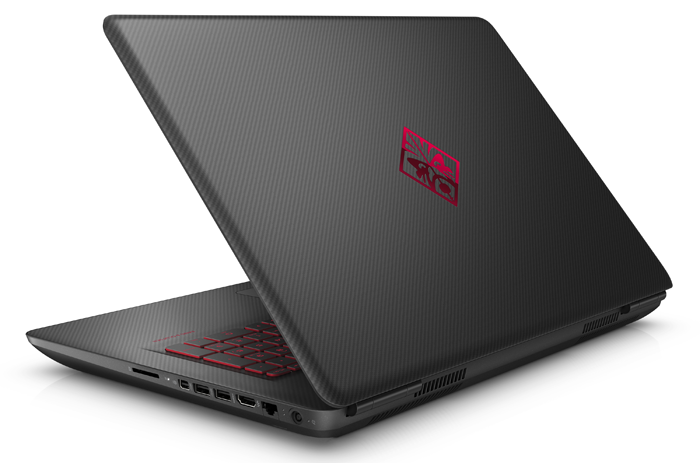 In other new HP product news the systems maker introduced the OMEN 17 laptop with a choice of Nvidia GeForce GTX 1060 or 1070 GPUs (pictured above), the OMEN X by HP curved display, and a range of OMEN by HP with SteelSeries accessories (and example is pictured below). You can see and read more about all these PC gaming products on the Windows Experience Blog.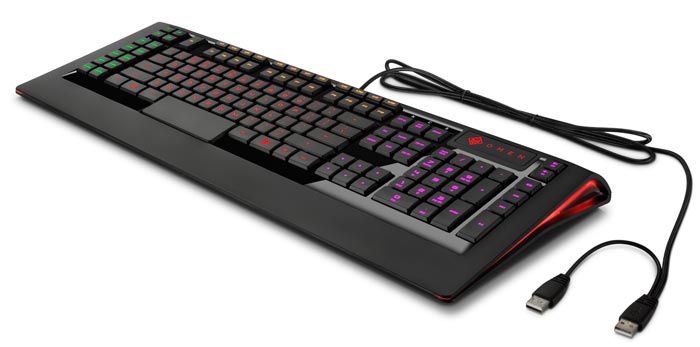 Lenovo IdeaCentre Y710 Cube
Lenovo is targeting its IdeaCentre Y710 Cube at gaming and VR on the go. This machine appears to be more compact than HP's desktop offering and it sports a built-in carry handle. It offers modest portable appeal, weighing in at 16lbs (7.25Kg).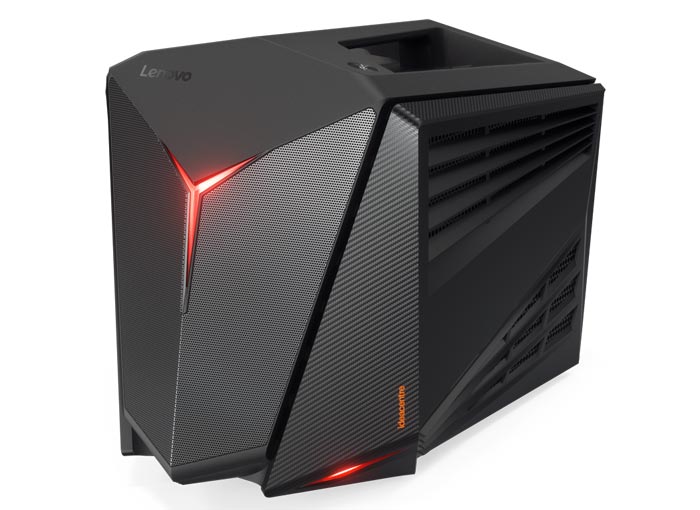 Specifications for the Lenovo IdeaCentre Y710 Cube are as follows:
Powered by Windows 10
Integrated Xbox One Wireless receiver supports up to eight Xbox One controllers simultaneously
Up to NVIDIA's latest GeForce GTX 1080 graphics
Up to 6th Gen Intel Core i7 processor
Killer DoubleShot Pro Wi-Fi reduces in-game lag
Up to 32GB of DDR4 RAM
Up to 2TB HDD (hard disk drive) or up to 256GB SSD (solid state drive) storage
Available with option to bundle with Lenovo YSeries Gaming Mechanical Keyboard and Precision Mouse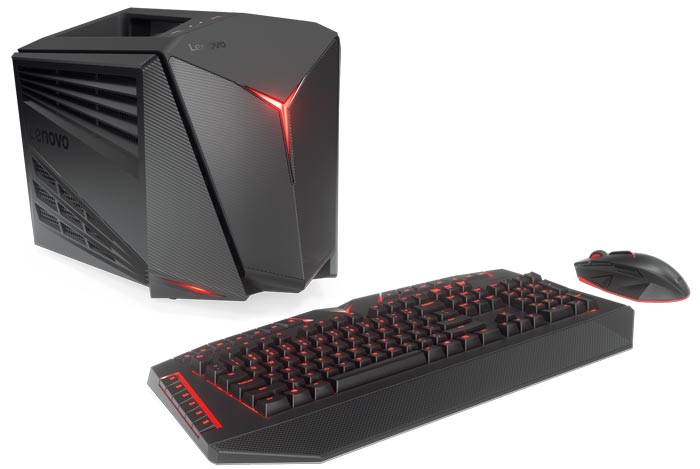 Lenovo is making the Y720 desktop available from October, priced from $1,299.
In other Lenovo Gamecom product news, the firm launched the VR-Ready IdeaCentre AIO Y910, pictured below. This machine sports a 27-inch Quad High Definition (2560×1440) borderless display and features up to a 6th Gen Intel Core i7 processor, and up to an Nvidia GeForce GTX 1080 (or AMD Radeon RX 460) graphics. This machine also becomes available in October, priced from $1,799. You can see and read more about Lenovo's VR-Ready desktop PCs on the Windows Experience Blog.