Asus is one of the first companies to present in the run up to Computex 2016. The show proper starts tomorrow but some companies like to try and get one up on their rivals using these pre-show presentations. Back in early May Asus promised to show us a Zenvolution, and a few hours ago its presentation completed. As you would guess from the banner title, this show was dominated by the Asus Zen style consumer PCs and devices. Gaming wares, much of it under the wing of Asus RoG, will be showcased a little later today.
ZenFone 3
Asus has not one but three distinct ZenFone 3 variants to offer. There's the 5.5-inch standard feature-packed smartphone, a larger (6.8-inch) model called the ZenFone 3 Ultra, and a flagship 5.7-inch model called the ZenFone 3 Deluxe. While the screen sizes vary, they all offer 1920 x 1080 Full HD resolution.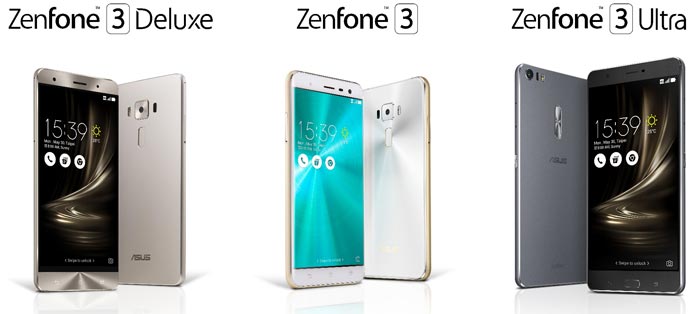 The standard ZenFone 3 is said to provide premium design and powerful performance to everyone. Winner of a Computex 2016 d&i Award, it sports a Super IPS+ display with up to 500cd/m2 brightness. The smooth, rounded, Corning 2.5D Gorilla Glass encased device provides a 77.3 per cent screen-to-body ratio with narrow bezels. Inside you will find a Qualcomm Snapdragon 625 octa‑core 14nm FinFET processor, integrated X9 LTE modem, and 802.11ac MU-MIMO Wi-Fi connectivity, "PC-grade graphics" and up to 4GB RAM. A fingerprint sensor is positioned on the rear of the phone.
The slightly larger screened ZenFone 3 Deluxe raises the bar in most of the key specs mentioned above. Users will benefit from a Super AMOLED display, a full-metal unibody chassis without antenna lines, a 23MP camera with f2.0 aperture and OIS, and a fast charging battery. Powering the Deluxe is a Qualcomm Snapdragon 820 Series processor, Adreno 530 GPU, and integrated X12 LTE modem, as well as up to 6GB RAM. Asus touts great audio to complement the visuals. A reversible USB 3.0 Type-C port is present.
Asus touts the ZenFone 3 Ultra as a device for multimedia lovers. Its substantial screen and powerful speakers aid enjoyment of media on the move. It features a slim metal unibody chassis and slim bezel with a 79 per cent screen-to-body ratio. To get user imagery in, the Ultra sports a 16MP main camera with Asus Tri-Tech focus system.
Powering the Ultra is a Qualcomm Snapdragon 652 octa-core processor, Adreno 510 graphics, and up to 4GB of RAM. A high-capacity 4600mAh battery is equipped for long-lasting performance with Quick Charge 3.0 technology to rapidly top up.
ZenBook 3
With the latest ZenBook, the aim is as it always has been; to shoehorn the most powerful Intel mobile technology into the smallest and lightest aluminium chassis with a useable screen size.
The ZenBook 3 is very slim at 11.9mm and weighs just 910g. Despite its slight dimensions, Asus says it is strong due to the use of premium alloy. Asus has equipped a high-resolution 12.5-inch slim-bezel display covered in Gorilla Glass 4. Inside you will find up to an Intel Core i7 processor, 16GB of 2133MHz RAM, up to a 1TB PCIe Gen 3 x4 SSD, a next-gen USB Type-C port, and powerful quad-speaker audio by Harman Kardon.

A fingerprint reader is equipped for easy password-less access. Battery life is up to 9 hours and fast-charge tech allows you to top up to 60 per cent capacity in just under 50 mins.
Transformer 3, Transformer 3 Pro and Transformer Mini
As regular HEXUS readers will be aware, the Transformers are Asus' range of 2-in-1s. The regular and Pro models have a lot in common; the 12.6-inch screen of 2880 x 1920 pixels, choice of up to an Intel Core i7 processor, Thunderbolt 3, Harman Kardon audio and fingerprint readers as standard. The Pro has double the maximum RAM (up to 16GB) and offers faster PCIe x4 storage options but is also thicker (8.35mm instead of 6.9mm).
The Asus Transformer Mini is a 10.1-inch device with integrated kickstand. Asus claims it is the lightest 2-in-1 PC at just 530g (tablet portion) and it measures 8.2mm thick. Asus hasn't detailed the the processor, RAM or storage specs of the Mini at this time.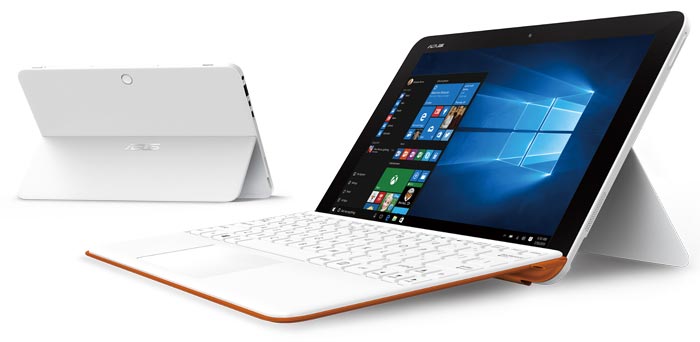 ROG XG Station 2
This is an external graphics-card dock "that turns a laptop into VR-gaming powerhouse". It works with the Transformer 3 and Transformer 3 Pro, detailed above. You can fit your own choice of latest AMD or Nvidia graphics card into this dock which is equipped with a 680W power supply. Further docking enhancement comes from the XG Station 2's four USB 3.0 ports and gigabit LAN socket.